BY PETE MOHR | AUGUST 24, 2011
2011 Football Falcons will live and die by their team slogan: "WE. US. OURS."
At August 18 scrimmage at Millennium, Cheerleaders and their parents hopefully forged a new beginning: "ONE SCHOOL…ONE TEAM…ONE SPIRIT!"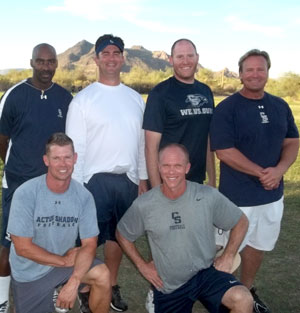 Photo by Pete Mohr
CSHS – August 22. Expectations. A very wise man once counseled this writer, "When your expectations depend upon someone else's response, you set yourself up for hurt, disappointment or rejection." Head Coach Greg Davis, only days before the start of his inaugural season this Friday evening at Boulder Creek , rightfully has high expectations of both his staff and the Football Falcons; but, in my opinion, his team will be fairly served by fans reining in their expectations until the team's performance in their first two games, both tough road challenges against Division I opponents, BCHS and Pinnacle, is on the books. To their credit, the Falcons will proudly go to war proclaiming togetherness under their slogan, "WE. US. OURS."
Boulder Creek and Pinnacle are close-by geographic rivals. The Jaguars, playing at home, are sure to be out to win their first match-up with the Falcons. And I can guarantee you that Pinnacle Head Coach Dana Zupke hasn't forgotten the 32-0 embarrassment laid on his Pioneers by the 2006 State Champion Falcons, the last time the two teams met, after Pinnacle had dominated the series, 2002-2005. Renewal of "The Desert Ridge Bowl," so named by former CSHS Athletic Director Dale Nicol, is a scheduling "plus" for both schools. So, "Welcome back, Pioneers!" And "Hello, Jaguars!"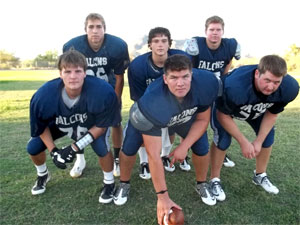 I'm a sucker for traditions: Cross Country's pre-season "meet" against alumni, parents and friends; and during Coach Tom Scala's seven years as head coach of the Baseball Falcons, his seniors ran the Falcon Field bases one last time as part of the awards evening at the end of each season. Last Thursday, Aug. 18, at the Millennium scrimmage (seemingly halfway to L.A.!), after surviving a fringe brush with the latest haboob, Cactus Shadows Cheer, generously funded by Cheer parents, saluted the Football Falcons (who had acquitted themselves encouragingly well) with post-scrimmage water melon slices and liquid rejuvenation (water and Gatorade).
And come this Thursday evening, Varsity Cheer will join the football squad at its training meal -- camaraderie to be repeated before every game. Congratulations to Head Coaches Rika Cuff and Greg Davis for jump-starting these new traditions.
For Cactus Shadows athletics, across-the-board, I see a new energy emerging: "ONE SCHOOL…ONE TEAM…ONE SPIRIT!"
And for this week, "JACK THE JAGS!"
BY PETE MOHR | AUGUST 24, 2011
Meet the Football Falcon seniors … Travis Potuznik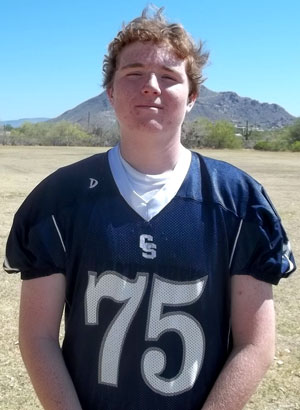 I'd never met Travis Potuznik (Puh-tuse-nik) until I photographed and scheduled him for this, his senior profile. He is a very articulate, engaging young man. And I find commendable his candor about himself – and his abbreviated-by-choice football career.

Travis was born April 2, 1994 in Woodridge, Illinois. He is the only child of Creekers Ken and Teresa Potuznik, who moved to the Valley in 1998. Travis first played organized football at age 10. He found himself in a bind between being oversized and under-aged, which would sideline him until the end of his sophomore year at Cactus Shadows.

Now full-grown at 6'5" and 220 lbs., Travis told this writer, "I got heavy (translate "fat") and lazy. I got tired of being both, so I came out again for football." He shed 30 pounds. "How?" I asked him. "Football – pain and simple." But he recognizes that his long layoff from football has cost him experience and technique training as a defensive lineman.

In this hotter-than-hot fourth week of August's triple digit, Travis continues to work hard on defense as a member of the "scout" team. The Falcons have recently suffered some, let's call 'em "defections." Travis Potuznik won't be among them. He accepts that his playing time this season will likely be minimal, but he continues to practice his butt off: "If my name is called," he states pointedly, "I've got to be ready."

Why? "I just love football," enthuses Travis, a self-proclaimed "football nerd." On any given Sunday," you can find Travis settled in at Gallagher's from 8 a.m. until well into the NFL afternoon.

At July's football camp in Winslow, Travis and his fellow senior Falcons set golas of winning all homes games and making the state playoffs. "We've stuck together for a long time. I believe we're underrated. Our coaches have been pouring their hearts into getting us ready for the season. They're really good for us."

After surviving scholastically what Travis terms his "sophomore slump," he's rebounded to become a solid student. Post-graduation, he plans to attend U of A, where he'll pursue a business management major.

I can't predict exactly when; but at some point during this 2011 season, Defensive Line Assistant Coach Anthony Williams is going to call out, "Travis! Go 'get' (Player's name):" When that happens, Travis Potuznik's football "stars" will be – for him – in satisfying alignment. I see football as having taught Travis the initiative to improve himself – and perseverance, both valuable life lessons.
Travis, I'm pulling for you.