BY PETE MOHR | AUGUST 17, 2011
Meet the Football Falcon seniors …
Ashton Elletson
Ashton Blake Elletson was born March 12, 1994 in Tucson; moved to Colorado six years later; and then to Cave Creek with his father, Lonn Elletson, in 2007. Mom Nancy Elletson and older sister Devin, 19, live in Denver. He's already looking forward to their coming down to celebrate "Senior Night" on October 21.

Ashton first played organized football as a Desert Arroyo 8th grader, progressing quickly to letter as a defensive lineman in both his sophomore and junior seasons at Cactus Shadows. His favorite football memories to date? "Being a part of the 2009 team that went 10-0 in the regular season and appeared on Bruce Cooper's 'Friday Night Fever' after we beat Cienega in our first game."

"Representing the whole school" is his primary football motivation, followed quickly by citing CSHS Assistant Coach Norman Williams' observation that "playing defense is the only opportunity to physically assault another person and get away with it!" At 6'2", 215 lbs., Ashton is plenty big enough to do that, although he'd like to top out at a playing weight of 230. He'd hoped to start at left DE, but recognizes that his hand injury might postpone his achievement of that personal goal. Ashton tells me, "I want to do something special that everyone in the stands will remember." He charges himself and his senior teammates with the responsibility "to prep the juniors and sophomores for championship caliber teams in the future."

For this season, Ashton expects the Falcons to at least break even by winning all five home games. Told by me that The Republic's Richard Obert recently blogged that the Falcons will finish 0-10, he flashes, "That's (expletive deleted)!" He points out that his team is "learning a completely new system," praising Head Coach Greg Williams and his staff for their "dedication and time."

After "pulling good grades" at CSHS, he hopes to attend Colorado University (Boulder), then go into Army Rangers training. Ashton is open to playing at "the next level," but, at this point, isn't expecting to. He asks that I record his "appreciation for both my parents supporting me," and then made sure that I include his very special lady, CSHS sophomore Makayla Spinas.

Almost as an afterthought, I asked Ashton what jersey number he expects to wear. "Number 66," he answered. It was my privilege to tell him about (the late) Morgan Boisson [CSHS '06] who, as a defensive lineman for the 2005 "comeback" Falcons, wore number 66. "Well," he quietly responded, "I guess that means I'll just have to work even harder."

Then I encouraged Ashton that "Frenchy" and his family, parents Cyril and Elizabeth Boisson and sisters Alix [CSHS '11] and Christine [CSHS '13], will find him worthy to wear Morgan's number 66.

And I'm sure he will be.
BY PETE MOHR | AUGUST 17, 2011
2011 Falcon Cross Country off and running!
CSHS – August 15. Following Cross Country's Monday afternoon practice, this writer exclaimed to Head Coach Patty Egan, "Coach! My car's temperature dial reads 104 degrees!" She responded, almost nonchalantly, "Is that all?!" Minutes earlier, Boys Tri-Captain David Tze had explained that depending upon a runner's age and level of experience, the distance run at each practice can range from three to eight miles. Anybody out there want to complain about the heat? These Cross Country runners are tough – and then some!

At 6:30 a.m. last Saturday, squad members, coaches, alumni and parents ran the CSHS 3.1-mile competition course in the annual pre-season "Classic," Varsity's Tze and junior Terri Baker turned in the fastest times. A hearty "Welcome back!" and thanks to returning alumni Kyle Short, Shannon Durkin, Cody Williams, Nick Zalewski and Jared Mansell. The annual run around Black Mountain is on tap for this Saturday, Aug. 20, 6:30 a.m. start.
Falcon CC will open its regular season, Saturday, Sept. 3, by competing in the "Sole Sports Cross Country Classic," hosted by Saguaro CC over the Silverado course (off Scottsdale's Indian Bend Road, just west of Hayden Road).

Sonoran News wishes the Falcon runners a successful season, with special congratulations to Coach Egan as she begins her 19th season as cross country head coach.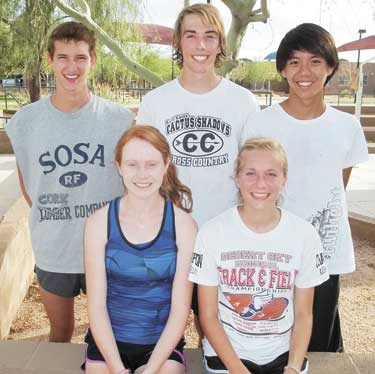 "Phenomenal leadership from our seniors!" Coach Egan to Sonoran News. (Front, l-r) Girls Co-Captains Savannah Alexander, Jenny Gormley; (back, l-r) Boys Tri-Captains Brandon VanBibber, Dylan Lenzen, David Tze. Chicago White Sox fan VanBibber is wont to needle Coach Egan, a Cubs devotee, by wearing his Sammy Sosa "corked bat" T-shirt.

Photo by Pete Mohr