BY PETE MOHR | AUGUST 11, 2011
"America's Team," baseball and softball, enjoy their travel to Italy
ITALY – July 20-29. Whether touring ancient sites (Rome's Colosseum) or refreshing with a gelato in Verona, the accompanying photos show that "America's Team," high school baseball and softball players, banked lifetime memories on their recent "expedition" to Italy. The baseball players hailed from north Scottsdale and Rio Rancho, N.M. and were coached by CSHS Head Baseball Coach Guy Gianni and Rio Rancho's Ron Murphy. The softball ladies, also from north Scottsdale and Plano Texas, were led by Lady Falcons Head Coach Danica Gianni and Plano's Kelly Archer.

"America's Team" organizes travel abroad for high school athletes. The company, based in Overland Park, Kan., is the enterprise of Mr. Brigham Joy, his inspiration being a similar trip he enjoyed in his high school years.

Against older opposition, baseball broke even at 3-3. The gals fared better, winning five of their six games played. Both teams found international competition an interesting experience, the same for the hospitality extended by their Italian hosts.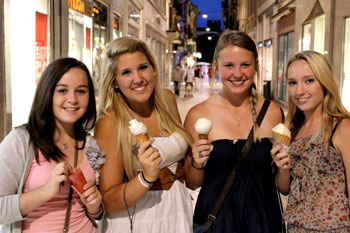 Cooling off on their gelati "break" in Verona were (l-r) Courtney Hunter, Tayler Nealy, Brooke Theif (a Plano senior) and Kendall Anderson. Hunter, Nealy and Anderson are Cactus Shadows Juniors.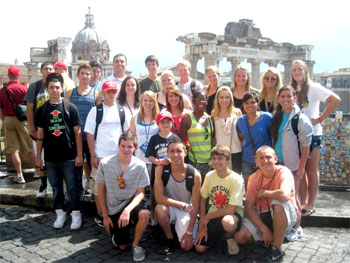 The Coaches Gianni to Sonoran News: "We all – coaches, chaperones and especially the kids – had a fabulous trip!" But after a week's experience shepherding high schoolers in a different culture, Danica Gianni appreciatively exclaimed, "God Bless the USA!"
BY PETE MOHR | AUGUST 10, 2011
Coach Peter James "P.J." Green comes on board as Falcons defensive coordinator
CCUSD's Janet Holt-to CSHS Principal Steve Bebee-to Head Football Coach Greg Davis results in a critical hire for the 2011 Falcs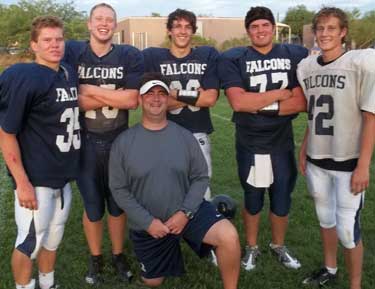 Five Falcon defenders for the new "Mean Green Machine!" (l-r) junior linebacker "R.J." Anderson; senior DE Tommy Pritchard; junior cornerback Matt Hartlen; senior linebacker/DE Saul Monteon; and senior strong safety Ben Souva. Gone – but certainly not forgotten – are "The Bradshaw Bad-Asses" from the 2006 State Championship season. Their leader, (then) Defensive Coordinator Matt Bradshaw, is now at (Mesa) Mountain View High School as assistant head coach for the Toros new Head Football Coach Chad DeGrenier. Sonoran News welcomes CSHS Defensive Coordinator "P.J." Green (foreground), confidently nicknaming his "3-5" defense the "Mean Green Machine." Falcon fans can see "The Machine's" debut in the Blue vs. White intra-squad scrimmage, Saturday, Aug. 13, 5:30 p.m., at Falcon Stadium. Varsity and JV parents: an important meeting will follow at 7:30 pm. Photo by Pete Mohr

After Tuesday's afternoon practice, Head Football Coach Greg Davis thoughtfully introduced this writer to his new defensive coordinator, Peter James "P.J" Green, 40, a native of Ann Arbor, Michigan, where his father, Jeff Green, was on the staff of legendary Michigan head football coach (now deceased) Bo Schembechler, before coaching the offensive line at the U of A, 1973-1976. He presently coaches the Malberg (Germany) "Mercenaries" in the German Football League, which allows only three U.S. players on each roster.

"P.J." to Sonoran News: "Football's been in my blood," as he laid out a gridiron "pedigree" that would "choke a goat!" His most recent coaching position was 2007-2009, at Gilbert's Williams Field High School, where he mentored the Black Hawks' defense, special teams and quarterbacks.

But perhaps his most meaningful "coaching" post came last year at Chaparral High School where he taught landscaping skills to "special needs' students. He worked on a pilot project with CCUSD's Ms. Janet Holt, who directs the District's programs for "special needs" children. Aware that Cactus Shadows was looking to hire an English teacher, she introduced "P.J." to Principal Steve Bebee, who knew that Head Football Coach Greg Davis was still searching for a defensive coordinator. "P.J." was hired for both posts on August 1, which, by coincidence, was his 13th wedding anniversary. He and wife, the former Katie (Fennell), were married in 1998. They currently live in south Scottsdale, parenting young sons Charlie, turning six in December, and Andy, two in November.

Coach Green is "doubling up to catch up" on installing his preferred "3-5" defense: three down linemen (two defensive ends and a nose tackle), five linebackers and a three-member secondary (two cornerbacks and one free safety). In this defensive scheme, the two outside linebackers are termed "bullets," required to drop back into pass defense, when necessary. "We have the tools … good kids. It's always up to the kids," he pointedly told this writer. "We've made huge strides the last couple of practices."

Sonoran News welcomes Coach "P.J." Green. His hiring by Coach Davis represents a "huge stride" for Cactus Shadows Football.
BY PETE MOHR | AUGUST 10, 2011
1st Annual "Falcons Fairway Classic" will raise funds for CSHS athletics at Dove Valley Ranch Golf Club, Saturday, Aug. 20
Falcon coaches and players are expected to provide "creative" innovations at designated tee boxes and greens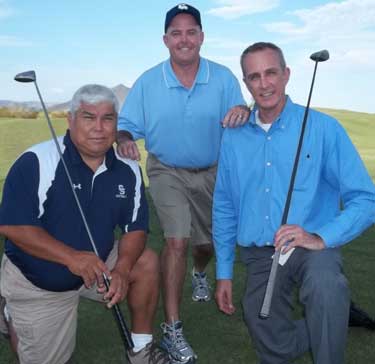 This "threesome" (CSHS children in parentheses) is coordinating the Falcons Athletic Club's "Fairway Classic" fundraiser at Dove Valley Ranch Golf Club, Saturday morning, Aug. 20: (c.) FAC President Brad Mayer (junior Connor); (l.) Joe Daniel (senior Saul Monteon); and (r.) Pat Goulet (sophomore Reilly). A 7 a.m. shotgun start will beat the heat, so c'mon, golfers! Sign up (no later than 6 p.m., Aug. 18) to support Cactus Shadows athletics and meet Falcon coaches and players, who'll be on hand to greet you at various stations on the course. Photo by Pete Mohr

CAVE CREEK – August 9. "The early bird gets the worm." So holds the familiar adage. But at Dove Valley Ranch Golf Club, 7 a.m., Saturday, Aug. 20, the "early birds" will be golfers who'll tee off in the 1st Annual "Falcons Fairway Classic," sponsored by the Falcons Athletic Club. Proceeds from the not-so-serious "Classic," will benefit Cactus Shadows athletics while giving participating golfers a chance to meet Falcon coaches and their players who'll be stationed at designated tee boxes and greens.

FAC President Brad Mayer to Sonoran News: "This is a fun opportunity for Falcon fans who are golfers to support Cactus Shadows athletics – and to meet the coaches and certain of their players – at least those young athletes who're willing to rise and shine for a worthy cause before 7 a.m. on a Saturday morning!"

Register online at www.falconsathleticclub.org no later than 6 p.m., Thursday, Aug. 18. At the event, check-in will open at 6 am. Cart and range balls are included. Remittances should be directed to FAC, P.O. Box 2692, Carefree, AZ 85377.

The $125 entry fee will be allocated as follows: $50 will be contributed to the CSHS sport of the participant's designation; $50 in vouchers to be invested (at the participant's choices) in the corporate-sponsored contests at designated holes; and $25 toward the course fee and noontime buffet lunch, which will be served after the last "scramble" foursome has completed play.

Great friends! Great golf! Great fun! Great cause! Great eats! "F-O-R-E!" for the Falcons.
BY PETE MOHR | AUGUST 10, 2011
Fledgling 'Birds (JVs) in good coaching hands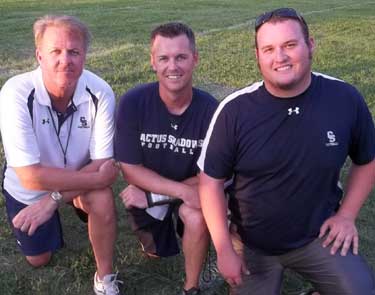 Head Football Coach Greg Davis (c.) introduced his JV coaches to Sonoran News following Tuesday's practice. Defensive Coordinator Andy Gladstone (l.) and Offensive Coordinator Tanner Marano (r.) will lead the JV squad as co-head coaches. A strong and talented JV is an important source of manpower/depth for the varsity Falcons, especially in the first five "hot weather" games of the season. Watch these younger Falcons fledge!
Photo by Pete Mohr