AUGUST 10, 2011
Desert Foothills Theater Earns 32 ariZoni Award Nominations for 2010-2011 Season
Prestigious ariZoni Theatre Awards of Excellence to be presented Mon., Sept. 19; General Auditions for the new 2011-2012 Season set for Aug. 20 and 21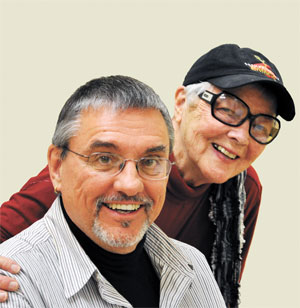 Desert Foothills Theater received 32 ariZoni award nominations for its 2010-2011 season. Dee Dee Wood and Dan Kurek, nominated for Direction/ Choreography and Music Direction respectively for DFT's Production of A DAN-DEE Musical Revue.

CAVE CREEK – The nominees for the prestigious ariZoni Theatre Awards of Excellence have been announced and Desert Foothills Theater (DFT), a division of the Foothills Community Foundation, earned a whopping 32 nominations for its 2010-2011 season. Since the 1993-1994 season, DFT has received 120 ariZoni nominations and 24 ariZoni awards.

"We're so proud and honored to have worked with 23 outstanding theater professionals who deserve the credit for these nominations, many whom received multiple nominations," said Meribeth Reeves, DFT managing director. "They range from actors, directors, and choreographers to lighting and sound, costume, and set designers. The 19 nominations our adult theater has received are the most received since I have worked with DFT. And, our technicians have received more nominations than in the past. We are particularly excited about our youth theater nominations. This is only the second year DFT Gecko Teatro has been adjudicated."

Two of DFT's six adult productions were nominated for Best Overall Production: DAN-DEE Musical Revue for Musical, Non-Contract Theatre and The Dixie Swim Club: Play, Non-Contract Theatre. Seussical, Jr., DFT's third ariZoni adjudicated youth production, was nominated for Best Overall Production, Youth Musical. A full list of the award nominations can be seen at www.desertfoothillstheater.com.

The ariZoni Theatre Awards is a not-for-profit organization devoted to promoting the visibility and growth of theatre in the Valley of the Sun and Maricopa County. Some 20 cities around the country have "local Tony" programs along the lines of the ariZonis.

The 21st annual ariZoni Theatre Awards of Excellence will be presented on Mon., Sept. 19, 2011 at Tempe Center for the Arts. More than 150 productions from Phoenix area theaters were judged for the award nominations.

Gearing up for its 37th season, DFT will hold general auditions by appointment from 11 a.m. to 4 p.m. on Sat. & Sun., Aug. 20 & 21 at the FCF Holland Community Center, 34250 N. 60th Street, Building B, in north Scottsdale.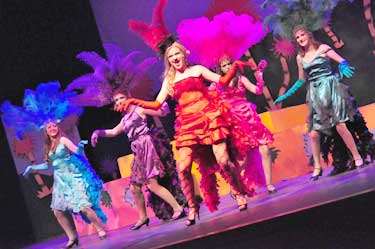 The auditions will be with various directors including D. Scott Withers, Ben Tyler, Diedre Kay, and Mark Clemente. The general auditions are for: You're A Good Man, Charlie Brown, (Oct. 28 – Nov. 6); The Music Man (Nov. 10 – 20); In The Devil's Frying Pan (Feb. 2 – 12); The Wallace & Ladmo Show (March 15 – 25); and Picnic (April 12 – 22). Show-specific auditions for specific roles may happen later in the season. To schedule an audition, call 480-488-1090.

To learn more about upcoming auditions, purchase a subscription or order tickets, visit www.desertfoothillstheater.com or call 480-488-1981.

Mayzie La Bird (center, played by Megan Mahoney, nominated for Actress in a Leading Role, Youth Musical) sings about her gorgeous tail in DFT Gecko Teatro's 2011 production of Seussical, Jr.
Photo courtesy Jeremy Andorfer, Vangelis Productions