BY LINDA BENTLEY | AUGUST 3, 2011
Fressadi ticks off bankruptcy judge
'Based on a review of Plan E and the entire record in the case … it is clear that the debtor filed his Chapter 11 petition in bad faith …'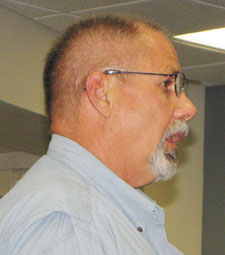 PHOENIX – On July 19, U.S. Bankruptcy Judge Eileen W. Hollowell dismissed Arek Fressadi's bankruptcy case, based on her memorandum decision issued four days earlier.

Fressadi filed for Chapter 11 bankruptcy protection immediately after a Maricopa County Superior Court ruled in favor of M&I Marshall & Ilsley Bank in a judicial foreclosure action. However, Fressadi's plans for reorganization all utilized collateral no longer his, derived from his School House Road property, the subject of that judicial foreclosure.

Since January 2010, Fressadi has continued to collect rent for the property while not making any payments to M&I.

After M&I prevailed in its foreclosure action, Fressadi recorded quit claim deeds on the property to Scenic Vistas, LLC, an entity whose name was changed from Arek Fressadi, LLC in March 2011, and which Fressadi owns with his sons Derrack and Gaired.

In her July 15 memorandum decision addressing M&I's motion to convert Fressadi's case from Chapter 11 to Chapter 7, Hollowell instead ordered the case dismissed.

In summarizing the facts of the case, Hollowell began by stating, "The debtor has been embroiled in litigation regarding approximately five acres of real property in Cave Creek, Ariz. for almost a decade. The litigation includes banks and the town of Cave Creek. It involves reciprocal easement claims and other claims related to the property."

After summary judgment was entered against Fressadi in the judicial foreclosure action complaint filed by M&I, Fressadi filed a Chapter 11 petition on Jan. 17, 2011.

Although Fressadi was originally represented by counsel, on the eve of a final hearing on M&I's motion for relief from stay, so it could continue to proceed with its judicial foreclosure, Fressadi's attorney filed a motion to withdraw and Fressadi sought to continue the final hearing.

The court granted his attorney's motion to withdraw but denied Fressadi's request to continue.

Fressadi subsequently filed numerous pleadings, which included five different versions of a plan of reorganization.

Several of those pleadings were subsequently removed and remanded to state court since none of the cases involved the court's jurisdiction and were not part of the estate's counterclaim to creditor claim.

On April 28, 2011, M&I moved to convert Fressadi's case to Chapter 7, which was joined by Real Estate Equity Lending, Inc. (REEL), and sought an expedited hearing due to Fressadi's transfer of the property to a related entity.

Both Fressadi and Scenic Vistas lodged objections.

However, because stay relief had already been granted to M&I, permitting M&I to seek relief in state court regarding any unauthorized transfer, and because the expedited hearing had not been set as an evidentiary hearing, the court denied M&I's request for expedited relief.
The motion to convert was continued to July 13 and was set as a combined hearing for approval of a disclosure statement and plan of reorganization.

After the court ordered Fressadi to file a disclosure statement for his previously filed Plan D, he did as requested but attached a new Plan E.

Plan E indicated Fressadi not only transfered his property to Scenic Vistas, he also transferred, post-petition, his equity interest in various entities to family members, none of which were approved by the court.

Like all the preceding plans filed by Fressadi, Hollowell stated, "Plan E's feasibility depended on debtor successfully prosecuting and prevailing on all the removed cases – even ones where final judgments and rulings adverse to the debtor had previously been entered."

In answer to whether or not Fressadi's plan could be confirmed, Hollowell stated, "Based on a review of Plan E and the entire record in the case, including but not limited to the debtor's admitted unauthorized transfers of estate property, it is clear the debtor filed his Chapter 11 petition in bad faith to avoid, set aside, or re-litigate judgments entered in the litigation."

Hollowell stated Fressadi "has been manipulating and abusing the bankruptcy process," and concluded the case was filed in bad faith with the terms of Plan E submitted simply for the purpose of continuing the litigation in another forum.

She ordered Fressadi, and any entity in which he has any interest, subject to a 180-day bar against filing any petition, other than a Chapter 7 petition, in the U.S. Bankruptcy Court.

She also found it appropriate, due to the circumstances of this case, for the clerk to assign any bankruptcy case filed by Fressadi to her court for the next three years.