AUGUST 1, 2011
Can you or someone you know help this mare?
Dolce Has Anhidrosis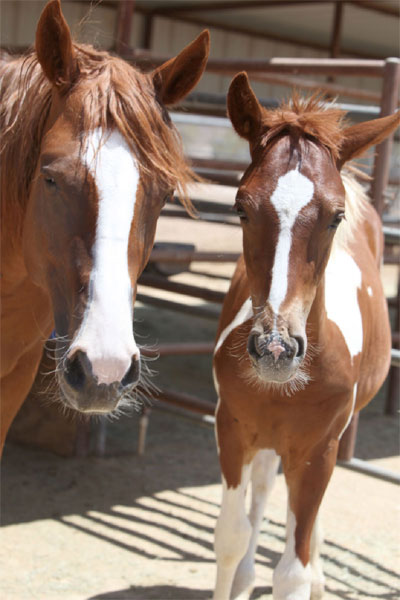 Dolce is a 4 year old paint horse that was rescued off of a truck headed to Mexico. Her baby is being weaned, and has recently been adopted. It has been discovered that Dolce has anhidrosis, which means that she has lost the ability to sweat.

LUV Shack Ranch Horse Rescue is looking for a foster or adoptive home for Dolce in a cooler climate. They would like to move her as soon as possible. She is currently at the rescue in the Phoenix area where the temperatures are regularly over 100 degrees. If you are able to help, please contact the rescue at 602-400-0826.

LUV Shack Ranch Horse Rescue
At Rockaway Hills Ranch · 6206 E. Rockaway Hills Road · Cave Creek, AZ 85331

www.LUVShackRanch.org
JULY 27, 2011
Emergencies
Minutes can mean the difference between life and death when an emergency arises, and a walk around the block or a hike through the woods may be dangerous or even prove fatal if you lack the right knowledge to care for a pet in an emergency situation.

Dr. Sonya Gordon, associate professor at Texas A&M University's College of Veterinary Medicine & Biomedical Sciences gives pet owners some helpful tips on taking care of an animal when time is limited.

There are many every day activities that can be hazardous for pets if the right action is not quickly taken. One of the most common emergency situations is when an animal is involved in a car accident. Any time an animal collides with a motorized vehicle, it should be taken immediately to a veterinarian, even for what appears to be minor bumps and bruises.

"Dogs and cats do not have the ability to tell us where it hurts and there may be internal problems that cannot be noticed by the owner," said Gordon.

When the damage caused by an accident leaves the pet immobile, Gordon suggests using a large towel or heavy blanket held tightly to simulate a stretcher to carry the animal. Never pick up an injured animal and hold it unless it is very small and can be sufficiently restrained.

It is important to be careful when working around injured animals that are in pain because they may accidentally bite or become aggressive even toward their owner.

Remember to keep the pet warm and use clean fabric like a towel, a bandage, or a T-shirt to cover any open wounds. This will help keep the wound clean and allow the blood to clot to help limit bleeding.

If there is profuse bleeding from a wound, firmly apply a clean towel or some other fabric to the area and apply continuous pressure.

"It is best not to use a tourniquet, but if one is applied, release it every ten minutes," Gordon added.

Danger can also occur on routine hiking and camping trips and immediate veterinary care may not be available. If a pet receives an open wound during the journey, use clean tepid water to cleanse the area. Dishwashing liquid, detergents, astringents, and alcohol are too abrasive for use on open wounds and can actually cause additional damage to the tissue.

A veterinarian should treat any infections that arise. Gordon advises against administering any human pain relievers or other medications to an animal unless directed by a veterinarian because many human drugs are not safe for animals and can lead to severe complications such as ulcers, liver failure or even death.

While exploring the great outdoors, be wary of snakes. If an owner suspects a pet has been bitten by a venomous snake, examine the animal closely and try to identify the location of the bite, and if possible, the type of snake (take a picture with your phone if possible). This information is extremely helpful to the veterinarian when deciding how to care for the pet.
Face and neck bites are by far the most serious, and require immediate veterinary care because severe swelling in this area can cause difficulty breathing.

"Ice packs will help control the swelling and blood vessel dilation that allows the venom to spread," said Gordon.

Lakes and the ocean can present problems if a pet falls in and is not a strong swimmer. It is best to purchase a lifejacket for your animal to wear when participating in water activities such as boating.

"Most lifejackets come with a handle on the back allowing the owner to pick up the animal safely and easily from the water if it falls in," Gordon noted.

If traveling to a natural setting, especially during the summer months, it is best to bring a lot of water as well as a leash even if the pet is well trained to verbal commands.

"Pets and humans both require a lot of water and leashes provide important restraint in case an owner needs to control their pet in a dangerous situation," said Gordon.

Gordon explained that dangerous situations can arise outdoors but also inside a house. Hazardous chemicals and all medications should be kept out of reach at all times.

"Pets are like young children and the same precautions should be taken with both," advised Gordon.

Being aware of potential dangerous situations and keeping man's best friend in mind when emergency strikes is an important part of being a pet owner, and a special way of reciprocating the love that they provide every day.

Pet Talk is a service of the College of Veterinary Medicine & Biomedical Sciences, Texas A&M University. Stories can be viewed on the Web at http://tamunews.tamu.edu/.
JULY 27, 2011
Arizona Junior Olympians go for the gold in Kentucky
The countdown to the premiere North American equestrian competition for riders age 14 -21 and their horses, is almost at an end. Three Arizona dressage riders, Catherine Chamberlain, age 16, Taylor Lindsten, age 18 and Brandi Roenick, age 16 were chosen for the 2011 United States Dressage Federation (USDF) Region 5 team. The three traveled with their champion horses 1,800 miles to the Kentucky Horse Park in Lexington, Kentucky to compete at the 2011 Adequan FEI North American Junior and Young Rider Championships (NAJYRC), July 27 -31. The NAJYRC format is similar to the Olympics, with teams of riders invited from the United States, Mexico, Central America, the Caribbean Islands, and Bermuda to compete in the disciplines of dressage, eventing, show jumping, endurance and reining.

Often referred to as equine ballet because of its beauty and elegance, dressage represents the highest level of training a horse can achieve. Movements such as piaffe, passage and half-pass take years to perfect. Like show jumping and three-day eventing, dressage is an Olympic sport. Selection to the team make Chamberlain, Lindsten and Roenick part of an elite group of young dressage equestrians or "junior Olympians" who rank as best of the best in the United States.

The dressage teams at the NAJYRCs consist of four members each. A total of 55 juniors and young riders who represent each of the USDF's nine U.S. regions will be competing for both individual and team medals by demonstrating their mastery of Fourth Level dressage movements. Last year, the USDF Area 5 teams half-passed and pirouetted their way through Prix St. George tests to capture the team gold medal for the Young Riders division and a silver medal for the Junior division.

This year's Arizona team members are determined to be in the medals again: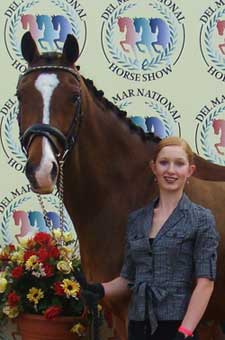 Catherine Chamberlain, from Chandler, Ariz., has been riding and competing in dressage for seven years. She's had her current horse, Verdicci, a nine year old Dutch Warmblood gelding, for four years. Together they competed in the junior division at both the 2009 and 2010 NAJYRCs, winning the Junior Individual and Junior Freestyle Silver medals. They were also crowned the Junior Reserve National Champions at Collecting Gaits Farm/USEF Festival of Champions.

This year Chamberlain moved up to the FEI Young Rider division and did well at many California CDI competitions. She currently trains with FEI competitor Ashleigh Luca Tyson and has had the opportunity to clinic with Shannon Peters, Conrad Schumacher, Christine Traurig, Kathy Connelly, Gina Smith, and Axel Steiner.

A serious competitor, Chamberlain attends the online school, Arizona Connections Academy to give her more flexibility to train and compete with Verdicci. In the future, she hopes to have a long and successful career in dressage.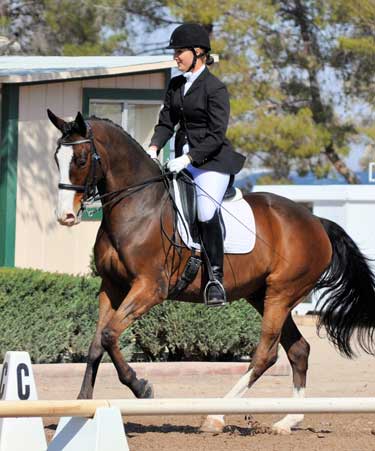 Taylor Lindsten, began riding horses at the age of 5, and was very active in 4-H, dressage, and hunter jumpers until she discovered Eventing about five years ago. As an Eventer, she schooled through the Preliminary level and competed through the Training level, including a traditional Training 3-day event which included a steeplechase portion. Last year, Lindsten acquired her current horse, Cookie, a 13-year-old Dutch Warmblood gelding. "The combined training regime helped Cookie stay fit and happy with his job," says Lindsten.

She trains with Paula Paglia, Paula Paglia Dressage and Alice Sarno, Desert Sport Horse. Lindsten is currently in the process of attaining a bronze medal, competing at 3rd level and schooling 4th level and Prix St. George.

A recent graduate of Cactus Shadows High School, Lindsten spent her summer rigorously training for the NAJYRC. After NAJYRC, Lindsten will travel to Bedford, New York to train under Lendon Gray for the summer. Lindsten then hopes to qualify for the 2011 Collecting Gaits Farm/USEF Dressage Festival of Champions in early September 2011.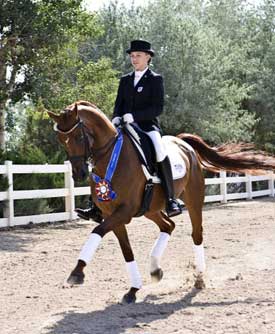 Brandi Roenick began her international Dressage career in 2008, with her 11-year-old Dutch mare Pretty Lady. During the 2008 season she and Lady won the Junior Individual and Junior Team Gold Medals at the 2008 NAJYRC and also won the 2008 National Junior Champion title.

In 2009, Roenick took a break from competition to focus on training for the 2010 NAJYR on her new horse, a 16-year-old Oldenburg, named Nobel. Her decision paid off, as she and Nobel qualified and were selected for the 2010 NAJYRC Region 5 Young Rider team and brought home the Gold Medal. Last year, Roenick and Nobel finished the season ranked 3rd nationally.

This season, she competed to be one of the top 15 to go to New Jersey for the Pan American Game selection trails and finished the season ranked 20th. Roenick qualified and was selected to go to the 2011 NAJYRC with her horse Pretty Lady. They are currently ranked 4th for the NAJYRC.

Roenick is looking forward to returning to the NAJYRC this month, and says that after the competition she will continue to train and compete in hopes of representing the United States one day at the Olympics.

The NAJYRC began in 1974 as an eventing challenge between the United States and Canada. A dressage championship was added in 1981, and show jumping was added in 1982. The first complete Young Riders championship was held in British Columbia, Canada in 1982. The Championships were expanded to officially include a championship division for juniors in 2006. The discipline of reining was added to the official schedule in 2008, endurance joins the championship for the first time in 2011.

The competition is run under rules of the FEI (Federation Equestre Internationale), the international governing body for equestrian sport, and is the only FEI championship held annually in this country. Many of North America's best equestrians, who now regularly represent their country on Olympic, World Championship and Nations Cup teams, got their first taste of International experience at NAJYRC. These include Olympic medalists, Greg Best, Karen O'Connor, Chris Kappler, Courtney King, and McLain Ward.

For more information about the NAJYRC and the Dressage Championships, visit www.youngriders.org