BY PETE MOHR | JULY 27, 2011
Former CSHS Football Assistant Coach Chris Frederiksen is Sonoran News 2010-2011 "Boys Coach of the Year"
"I'll always be a Falcon at heart," promises Chris, as he loyally follows Coach Chad DeGrenier to (Mesa) Mountain View High School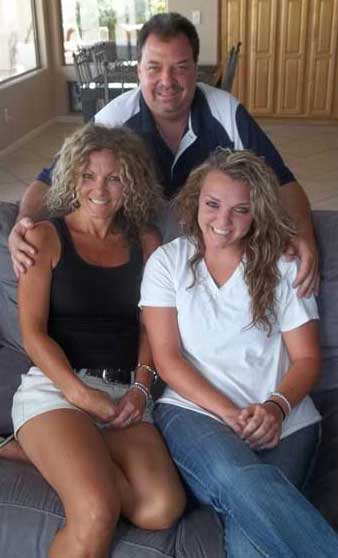 Behind every good man there can be two good women! Coach Chris Frederiksen photographed by Sonoran News at his Cave Creek "ranch" with equestriennes, wife Kristi (r.) and rising CSHS senior, daughter Paige. Photos by Pete Mohr



I first met Assistant Coach Chris Frederiksen in August 2004, shortly after he'd become Head Football Coach Chad DeGrenier's first staffing hire as assistant offensive line coach. I've been proud to know "The Big Guy" (6'5", 290 lbs.) as a friend ever since. For these last five years, he's been my "Coach of the Year" in many ways other than as a football coach. I'm beyond pleased that he accepted Sonoran News nomination as CSHS 2010-2011 Boys "Coach of the Year." To rate Chris Frederiksen as "deserving," doesn't even get me out of the Falcon locker room.

For those readers who may have never met Chris Frederiksen, he can be understood in three terms: good-humored, loyal and unselfish. "Good-humored," as when he hired a plane to fly over Camp Randall Stadium (University of Wisconsin) with a banner proposing marriage to a certain "Kristi," a University of Wisconsin-Lacrosse cheerleader: "KRISTI WILL YOU MARRY ME? LOVE FLICK." ("Flick" is a high school nickname too convoluted to explain.) She said, "Yes!" Last Wednesday, July 20, they celebrated their 27th wedding anniversary. Chris recalls that his aerial proposal cost $190 – the best investment he'll ever make!

"Loyal," as in volunteering, upon his hiring by then new CSHS Head Football Coach Chad DeGrenier, "I'll do whatever you want me to. I'll even fill the doggone water bottles!" And he's done just that, his calm, even-tempered demeanor a reassuring encouragement to seven seasons of Falcons.

"Loyal," as in accepting Coach DeGrenier's invitation to follow him (as an assistant Offensive Line Coach) to (Mesa) Mountain View. "It's just bigger," he describes Mountain View football. "Lots of kids. Five teams! Two freshman, one junior only, one JV and Varsity. Everything has to be more structured. Chad's doing a phenomenal job!" (Chris offhandedly reminded me that he was responsible for linking up Chad DeGrenier with Matt Bradshaw who became defensive coordinator, restoring order – and toughness – to the Falcon "D" in the 2005 comeback season. How many CSHS fans know that?)

"Unselfish," as in his generosity to Cactus Shadows and the Cave Creek community through Document Station, his printing/graphics business started in 2001, but sold in 2009.

Document Station played an important role in Don Dales' popular and informative publication, "Local Sports Beat." Also, photographer Adam Cogan, Don and Chris collaborated to produce (at a "sweetheart" price) a graphically-attractive program for Friday night home football games. But Chris Frederiksen never took any credit, because, for and about himself, he's a "no fuss, no muss" guy. Chris just being Chris.

Chris was born in Milwaukee, January 17, 1961. A three-sport letterman (football, basketball, baseball) at Wisconsin Dells High School, he played football for two seasons at UW– Lacrosse before, as one of eight children, he had to go to work. Chris progressed to owning a printing business, which he sold in January 1997 to Metagraphics, held by a Phoenix entrepreneur who hired him as Senior Vice President, Sales and Marketing.

That brought Chris and Kristi to the Valley in August 1997 with young children Brock and Paige. Brock, now 20, a former Basketball Falcon, is a rising junior at ASU – and successfully employed by Apple. Kristi currently teaches 1st grade at Horseshoe Trails and enjoys running an after-school equine program for CCUSD. Paige, 17, works for Safeway at The Summit.

From his Wisconsin upbringing, Chris learned long ago that a man does what he has to do. He is currently employed at Lowe's (Carefree) as a department manager. I've never heard Chris Frederiksen complain about anything. Chris just keeps on being Chris.

His favorite Falcon Football memories? Obviously, the 2006 State Championship game. He flew out from Wisconsin with his Mom, Thelma, and his younger brother, Scott, recently deceased (cancer) at a much-too-young 46. And then he warmly recalls Co-Captain Jimmy Manship's, CSHS '05, INT runback for a touchdown in the highlight-bare 2004 season. Chris Frederiksen understands – and quietly accepts – the ups and downs of life.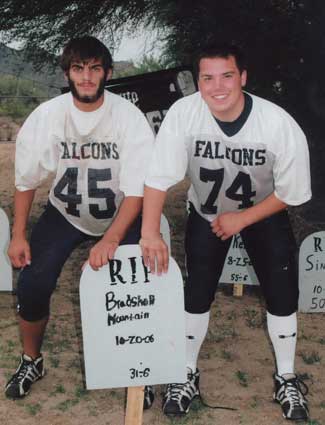 He enjoys kidding me again about my nickname, "Crow," bestowed upon me after I'd misfired on a Friday night prediction. And as he walks me to my car, he encourages, "Tell 'em to come into Lowe's and say 'hello' to the old coach!"

Good luck, Chris – and to every member/coach of the Falcon Alumni Association at Mountain View. All of you will be gratefully remembered by CSHS Football fans.

"Caw! Caw! Caw!"


In the Falcons' undefeated 2006 State Championship season, "The Graveyard" (northwest corner of the practice field) became the burial ground for all 15 opponents. Assistant Coach Frederiksen started the tradition; daughter Paige made the tombstones; and in this photo, the "undertakers" nominated by Coach Frederiksen from the 31-6 victory over Bradshaw Mountain were defensive end and Co-Captain Trace Stephens (l.) and offensive right tackle Alec Wightman.
BY PETE MOHR | JULY 27, 2011
Giannis' "synergy" in action: "America's Team" to Italy!
CSHS – Guy Gianni's recent decision to accept the head baseball coaching position at Cactus Shadows was reached after he and his wife, Head Softball Coach Danica Gianni, had mutually focused upon the possibilities of achieving synergy between the CSHS baseball and softball teams. "Coach Two" (Guy Gianni), while still at Notre Dame, had already been "recruited" by Mr. Brigham Joy, owner-proprietor of "America's Team," Overland Park, Kan. (Kansas City area), to lead a team of high school baseball players from the valley (and New Mexico) to Italy for a week's sightseeing and baseball.

As an unexpected bonus, Mr. Joy, whose company was started from his own high school baseball foreign travel experience, got two teams for the price of one when "Coach One" (Danica Gianni), at the encouragement of husband Guy, signed on to bring a group of Arizona softballers. They'll be joined in Atlanta by players from Plano, Texas (between Dallas and Fort Worth). The Lone Star gals will be mentored by Mr. Kelly Archer.

The trip is titled "Play Ball in Italy!" Rome, Florence, Siena, Verona: all travel and touring arrangements (Signore Mauro Tonelli, tour manager) made through American Council for International Studies, Boston, Mass. Danica Gianni promised to throw a coin in the Trevi Fountain for the ol' sportswriter, who needs all the romantic help he can get. C'mon now, older readers! Sing with me the last lines from the movie track by The Four Aces …"Thrown by three hopeful lovers, which one will the fountain bless?"

"Buon Fortuna!," Guys and Gals!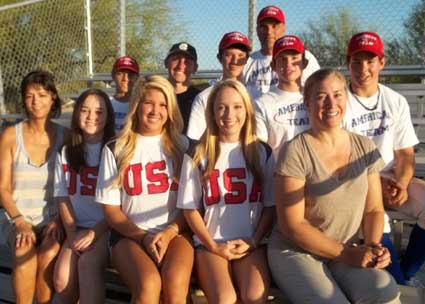 "Arrivederci, Arizona!" What an unforgettable way to end the summer! On Wednesday morning, July 20, 2011, CSHS Head Coaches Guy and Danica Gianni flew Sky Harbor-Atlanta-Rome with "America's Team," a contingent of baseball and softball players, for eight days' touring in Italy, including six games each (doubleheaders in Acilia, Siena and Verona) against their Italian counterparts.
They'll return to Sky Harbor, Thursday night, July 28.

(Front, l-r) Ms. Susan Willis (Notre Dame), chaperone, Lady Falcon rising juniors Courtney Hunter, Tayler Nealy, Kendall Anderson and Ms. Sheri Leff (Saguaro), chaperone; (back, l-r) rising sophs Tyler Willis (N.D.), Bruno Rodriguez (CSHS), Phil Leff (Saguaro) and N.D. rising juniors Derek Reznik, Nik Monteferrante. Coach Guy Gianni brings up the rear. Not available for photo: rising Ironwood senior Tori Gutierrez, Coach Danica Gianni, rising N.D. sophs Tyler Grobemier, Evan Guibera and rising Chaparral junior Mike McKalister. Ciao!