JULY 27, 2011
Currently on exhibit at Heard Museum North Scottsdale
Choices and Change: American Indian Artists in the Southwest
This long-term exhibit features paintings, sculpture, jewelry, baskets, katsina dolls and pottery from the renowned Heard Museum collection. The show contains a wide-ranging selection of pieces that reveal how individual artists create work that changes in response to new stimuli. See how work from multiple generations of artists bridges both a past rich in tradition and a dynamic and changing American Indian culture.



California Dreamin': Reflections on Land and Culture
California Indian artists have been and continue to be inspired by their land and the heritage of their traditional arts. This exhibit blends fine arts with the traditional including paintings, baskets and other cultural items from the Golden State. Held over by popular demand, don't miss this extra chance to enjoy this superb exhibit through November 13, 2011.

JULY 27, 2011
Arizona artist Joye DeGoede recently presented Governor Janice Brewer with her portrait
There was a private presentation with Governor Brewer, some of her staff and the artist's family for the unveiling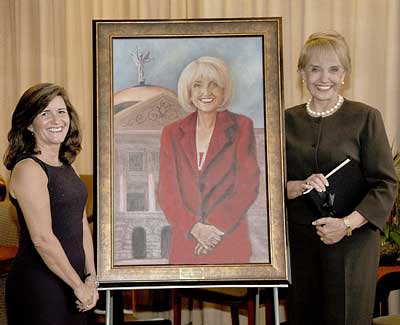 Governor Brewer and her staff met with Joye throughout the process for reference photographs and to advice on adjustments to capture the true personality and spirit of the Governor. Joye asked Governor Brewer how she wanted to be remembered in history and Governor's response, as she recalls, was to be remembered as kind, compassionate and a fair person.

Joye met Governor Brewer in 2009 when the artist won the People's Choice award for the Capitol Christmas Tree Art Competition. Joye's painting, 'Passing on the Gift of Nature to Future Generations' is part of the Arizona Governor's permanent collection and is displayed in the Governor's office.

The Artist is a juried member of the Arizona Art Alliance and Sonoran Arts League. Her work is currently on display at the Arizona Art Alliance Gallery and the Harris Bank sponsored by the Sonoran Arts League. Joye has won numerous awards, been a featured artist and has been juried into multiple shows in Arizona, Utah, New York, Washington DC and California. Her paintings hang in many private collections in the U.S. and abroad. She has created custom art, note cards and stationery for major hotels and resorts.

Joye, certified with an art endorsement, has taught art in Arizona private and public schools the past 17 years. She has a bachelor's degree in Fine Art with an emphasis in medical illustration from Westminster College. She also teaches private lessons to aspiring artist young and old who are looking to develop their creative abilities.

Joye says art and emotions are synonymous. I would like my work to inspire the viewer to slow down for a time to enjoy and experience what the piece tells them and allow it to enrich their minds.

Courtesy photo by Mark Butler