'MY VIEW' BY DON SORCHYCH | JULY 20, 2011
• C4 has had enough
• El Encanto's pond
Todd Newman, owner of Cave Creek Coffee Company (C4) is a stand up guy. Remember when he chaired the Political Action Committee to approve Walmart? How many business owners would have done that? Now he has the chutzpah to out a nasty, cowardly and lying villain:

Hey Don,
Based on all this backlash from "Your Neighbors," I have to stop advertising in all publications because they could be controversial!! NOT! Interestingly enough I received the email below March 17, 2011. I was just going to let it go but then I received a copy of the same letter you published in July 6th edition that was mailed to the coffee shop's P.O. Box. It was sent anonymously. I read your article and decided "bullshit," there are other businesses that may be afraid of this crap but if someone will stand up maybe they won't be. So here is my response, the only issue is I don't know where to send it because there was not a signature or return address.

Todd Newman
Cave Creek Coffee & Wine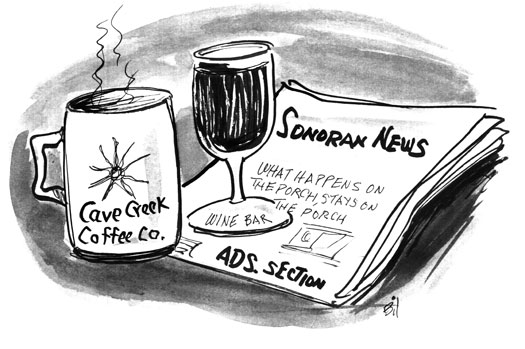 From: Geno [mailto:phxskylord@cox.net]
Sent: Thursday, March 17, 2011 5:19 PM
To: todd@cavecreekcoffee.com
Subject: Why I will no longer patronize your establishment

March 17, 2011

Dear Todd,
Since moving here in 2002 I have been a regular to C4; both before and after your purchase of the wine bar. Before I wrote this email I went back to see on the average, how much money I spend at C4 per month. We average twice a month for dinner and our bill is always right around $100. And that of course does not even include the coffee during the week. I must say we love the atmosphere, the wines and micro-brews and the food, especially the cheese plate. It will be sorely missed--- but missed it will be.

My wife and I have made a decision to no longer patronize establishments that advertise in the Sonoran News. That so called "newspaper" is nothing short of a disgusting rag of hate. The " Enquirer" has a higher standard of journalism ethics.

Your wine bar is a classy place, way to (sic) classy to advertise there. I have many friends that are Democrats and Republicans. We enjoy our healthy conversations which are built on mutual respect. Conversations we used to have over a coffee in the morning or wine in the evening at C4. And my friends are also in agreement---we are done. I will not speak for them--perhaps they too will let you know of their decision to also boycott C4.

If you ever decide to stop advertising in that disgusting and offensive rumor based, trash talking, mean spirited editorial rag please drop me an e-mail as we would love to come back someday.

Geno Riley
Cave Creek

Is there a Geno Riley in Cave Creek? We will see.

El Encanto's pond
History has a habit of repeating itself. Several years ago, I received a complaint about a ditch crossing Basin Street about 50 yards north of Cave Creek Road that smelled like a sewer. The complainant was worried about the health of kids on that street since they played in the ditch.

I visited the site and it did smell like a sewer. Since the drainage ditch extended east to town water plant property, I called Town Engineer Wayne Anderson. Anderson traced the flowage of the smelly water to a discharge from the El Encanto duck pond.

El Encanto is a very popular Mexican Restaurant in Cave Creek and a major attraction is a large pond, which hosts ducks, geese, turtles and gold fish. I used to tease Bill Nelson, who was the owner until he died, about wading in the pea green pool to do maintenance.

Anderson told Nelson to stop contaminating the wash and not to discharge any of the effluent from the pond into the Cave Creek sewer system.

Last week I noticed three trucks from RedJ Environmental Service with hoses running into the front entrance of El Encanto. The operators of the trucks were watching a man in the near empty duck pond sweeping the bottom. I asked if the pond was empty and one of the RedJ employees said "nearly." I asked where they were going to dump the effluent and he said in the landfill.

Apparently the pond issue went critical when the new sewer plant was bombarded with high BOD (Biochemical oxygen demand or B.O.D. is a chemical procedure for determining the amount of dissolved oxygen needed by aerobic biological organisms in a body of water to break down organic material present in a given water sample at certain temperature over a specific time period. It is not a precise quantitative test, although it is widely used as an indication of the organic quality of water) effluent that basically shut the sewage plant down. This waste was traced to El Encanto.

The sewer plant normally operates at a BOD of 150, while measurements of pond water BOD exceeded 10,000.

When RedJ began to pump water and sludge out of the duck pond, one of the sewer plant employees noticed there was about three feet of sludge remaining after most of the water had been pumped. When the owner, I assume that is Bill Nelson's daughter, came and found out that a town employee was there, she asked him to leave.

Although we have been unable to find any written complaints, there seems to be an understanding between El Encanto and the town. I have been told someone at El Encanto connected a pipe from the pond to a roof restroom vent and pumped the effluent into the sewer system. Clever, but illegal.

I am told the pond will be refilled and a permit to connect to town sewer plant will be applied for. I would assume some kind of a preprocessing would be necessary to avoid shock to the sewer plant.

On July 15 an El Encanto employee said the pond had been refilled and all the creatures were returned including the fish and turtles. So the attraction is alive and well.

I called Christine Nelson to get her side of the story but have not received a return call.