BY PETE MOHR | JULY 20, 2011
Meet the Football Falcon seniors … Colby Brown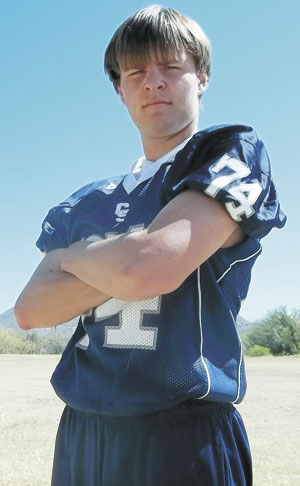 On an early-September Friday night, 2002, Colby Addison Brown was one of approximately 60 highly-excited young boys gathered in the north end zone at halftime to be introduced as the first players-to-be in the Desert Foothills' Youth Football program. I salute his Dad and Mom, Creekers Scott and Gail Brown, as the dedicated "Parents of Youth Football," which next month will begin practicing for its 10th Anniversary Season, independent and growing stronger now as "Cave Creek Youth Football & Cheer," the cornerstone team for "Junior Football of Arizona."

Colby was born October 26, 1993 in Springfield, Ill. The Browns moved to The Valley in 2001. Sister Shelby, a rising sophomore, is a varsity cheerleaDer. Colby's fiercely-determined senior profile pose comports with his recognition that "I have only one season left. I've got to make the best of it." And he's focused on the responsibility of CSHS 2012 on the football field. "We seniors have to mean a lot to the whole team, providing a core to help motivate the younger kids."

Starting at center and offensive guard on JV in 2009, Colby was chosen a permanent captain for the 2010 Jayvees and saw limited action as a defensive end. "I'd love to play some DE this season, but I'm more of an 'O-Line' guy." At 6', 185 lbs. ("on a good day"), his weight training goal is to make 200 by opening night (August 26), which would improve his chances of starting at center. "I definitely want to letter," he emphasized to this writer.

How does he evaluate these 2011 Falcons? "I believe we're gonna be great! Coach (Greg) Davis has us moving in the right direction to meet our goals. He's made the atmosphere like a brotherhood … a family. I think we'll go to State and have a shot to win the whole thing."

Colby rates himself "a solid student," citing history under Ms. Leslie Giedt as his favorite subject/teacher. After football, he'll try out for basketball. Post-graduation, his sights are set on U of A or NAU, majoring in geology or early elementary education. He acknowledges that this football season will probably be his last.

"Anything else?" I ask. "My Dad," he answers pointedly. "He's my biggest supporter. No matter what the sport, he's always there."

And with good reason, Colby Brown!

BY PETE MOHR | JULY 20, 2011
Creeker Max Gerston to Finland for dirt bike "Olympics"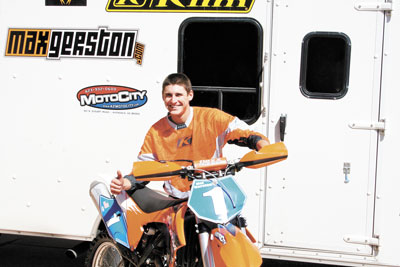 On July 31, 19-year old Max Gerston, CSHS '10, who's been dirt bike racing since age five, will fly to Helsinki, Finland to compete in the sport's "Olympics," the prestigious International Six-Day Enduro: six off-road "stages" of 180 miles each – no days off – with Max as his own one-man pit crew. Gerston will be one of only 28 Americans competing in the international field of 500 racers. "It's sure to be a mental and physical beat-down," Max told Sonoran News, "but I'm in my prime right now, so I'll be ready!" A top finish would bring Max a major boost to his resume, increasing his ability to attract cycle industry sponsors. C'mon, Creekers, give a financial hand to our own "Olympian!"

Contact Max at www.maxgerston.com.