BY MARIELLE D. MARNE | JULY 6, 2011
Have a cool day with Air Conditioning by Jay
SCOTTSDALE - It should go without saying, but the number one reason air conditioning (and heating) units fail is due to a lack of maintenance. And while the heat is upon us, it's not too late to schedule a checkup by Air Conditioning by Jay, a Better Business Bureau A+ rated company. Dispatch manager Jessica Morriston offered, "Schedule a precision tune up at a discounted rate of $59.95 per system and receive a clean bill of health from one of our certified technicians and we will guarantee your system will not fail during the summer months."

For those who may not wish not to heed the advice of preventative maintenance, AC by Jay has you covered there as well. They are offering a "3 or it's Free" deal. Call in with a breakdown and mention this promotion. Help is guaranteed to be there within three hours or the diagnostic is free. "My guys were out there until 2 a.m. on Monday and then they didn't come in until 11 p.m. the next day," service manager Kevin Morriston said of their commitment to cool.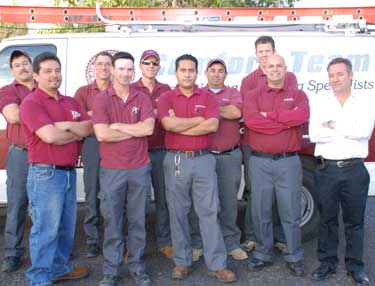 Whether it's repairs, preventative maintenance, installation, or newly added plumbing service, the techs at AC by Jay are, for example, licensed, bonded, NATE certified, APS and SRP qualified and basically overwhelmingly qualified and trained! Because plumbing goes hand-in-hand with heating and cooling, and because so many people called in seeking a referral for a plumber, it was decided that bringing a plumber on staff would be a logical move.

Roughly two months ago, "Tommy" came on board. He's a journeyman plumber, which means he's not only got years of experience, he's earned multiply licenses.

The staff goes valley wide, so call for not only plumbing, heating and cooling, but also to take advantage of government rebates, for instance, on ductwork. Have yours checked for optimal performance and get money back!

There are countless reasons to call AC by Jay. If the aforementioned is not enough, note they are the leader in geothermal installations. (This is the most efficient AC and heating system on the market!) And, they are available, every day, all day, to keep you and your family comfortable whether it is above 100 degrees or below 30.

Check out Air Conditioning by Jay online at dialcomfort.com for general information as well as an informative article called Guide to Understanding AC (under the Residential tab). For service, call 480-422-4335.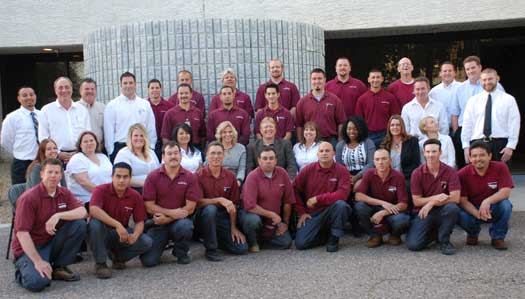 BY MARIELLE D. MARNE | JULY 6, 2011
Lianne Sefcovic invites new clients to try her family, criminal and mediation practice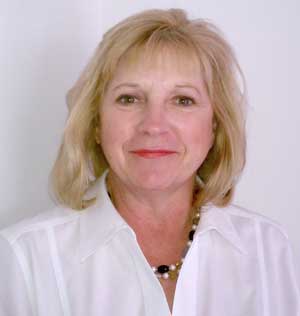 CAREFREE – Popular opinion holds you don't need a lawyer until trouble is afoot. Attorney Lianne L. Sefcovic, who specializes in family law, mediation, and criminal defense, believes otherwise and reminds that an ounce of prevention is definitely worth a pound of cure.

Gleaning from her family law background, she asks how many people see an attorney before getting married. Sefcovic is aware it's not many. However, when taking such a huge step in one's personal life, isn't it smart to know what the legal obligations are? Same with any contract; doesn't it make sense to be aware what any legal ramifications may be? "People just don't realize this," she reiterated.

Sefcovic offers a unique perspective to her clients. She's been on both sides of the bench. More traditionally, representing clients. However, prior to relocating to Arizona, she was a magistrate for the Court of Common Pleas in Delaware County, Ohio. "I've seen what works in court, as well as what doesn't. It's a real eye-opener as to what's effective," she explained.

While Sefcovic demonstrates stellar skills in court, one of the focuses in her Carefree practice is mediation. She thinks outside the proverbial box to find solutions for all parties involved. For instance in a custody battle. Perhaps two school districts are involved given where the mother and father now live, and neither wants to make the commute to the other parent's locality. Sefcovic proffered there are more than two options. Her suggestions? A private school situated in the middle of both homesteads. Homeschooling? Maybe an Internet school. Remove the emotion from the scenario, as an attorney can effectively do, and a viable option will present itself.

If seeking (or requiring) a lawyer for the first time, clients will no doubt feel comfortable with Sefcovic. She has 30 years experience, she's smart, personable and approachable. She prides herself on being a bit of a "concierge lawyer." As such, she invites potential clients to come see her. "If it's something I can't handle, I'll find someone who can." Another aspect of using Sefcovic's sole practice is you will always interact with Lianne; there's never anyone to whom you'll be handed off.

Lianne Sefcovic has opened her new office at 7005 E. Cave Creek Rd. #202. For an appointment, call (480) 595-2691.