BY PETE MOHR | JULY 6, 2011
Meet the Football Falcon seniors … Tommy Pritchard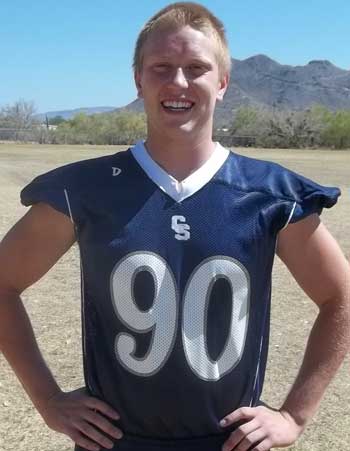 I began my interview with Thomas John Pritchard by asking, "Tommy, do you realize how important you're going to be to the 2011 Falcons?" "No, I don't," he modestly answered, "but you're telling me I'm gonna be." That's Tommy Pritchard. Like Teddy Roosevelt, he's always going to speak softly – but play with a big stick. Count on it!

Born in Scottsdale on March 15, 1994, Tommy is the older son of Creekers Tom and Sue Pritchard. Younger brother, Erik, 15, is a rising sophomore at CSHS and plays on a "travel hockey" team, no small accomplishment. In 2010-2011, Tommy skated as a defenseman for Head Coach Joel Van Conant's "Frozen Falcons," and plans to play again after football season is over.

Tommy's football "career" started earlier than any senior I ever expect to profile. He made clear that he wanted my readers to know that Mom Sue "taught me how to throw and catch a football when I was three, maybe four."

"(The) boy named 'Sue'" first played organized football as a 7th grader, coached in (then) Pop Warner by "P.J." Stephens. Including the upcoming season, he's been a Football Falcon for four years, lettering as both a sophomore and junior. In 2010, at defensive end, Tommy recorded 2.5 sacks and 53 tackles, ten for losses. Those stats earned him 2nd Team – Defense, All-Region recognition.

What does it mean to Tommy to be a Falcon? "Everything!" he enthuses to this writer. "I love football. Falcon Stadium is my house … where I grew up … I want to play my hardest and be the best for the Falcons that I can be."

Is he ready to be one of the senior leaders on this team? "I'd like to be; but I'm not going to change who I am. My coaches and teammates: they'll decide if they want me to be one of their leaders."

How does he feel about playing "both ways"? "I'm excited! I've always wanted to be a tight end receiver. And now, especially with Bryce (Kinsler) throwing the ball." At 6'2", 225 pounds, Tommy will be a big target – and hard to bring down. But he'll still be striving "to lead the team in sacks … to make an impact on defense … to make sure that I leave it all out there."

Tommy sees the head coaching transition as "going great! Coach Davis, he can connect with anybody. If we keep working hard … giving 100 percent effort, I really believe we're going to make things happen."

English and Science are his favorite subjects, identifying Ms. Molly Gum (English) as a teacher who has positively influenced him in the classroom. Does he aspire to play at the "next level?" "Absolutely! It's my dream! My Mom won't want to hear this; but if I don't get to play college football, I'm thinking seriously about joining the Marines." But before he embarks in either direction, he'll still find time to go deep-sea fishing with his Dad.

And so, when Tommy Pritchard catches his first touchdown pass, I expect to hear the West Stands chant, "Sue! Sue! Sue!" Have a great senior season, Tommy! I know you will.