BY PETE MOHR | JUNE 29, 2011
John Michael Leonard, III, CSHS '11, is Sonoran News Boys "Athlete-of-the-Year"
2010 Falcons "Most Valuable Player" already practicing at Scottsdale Community College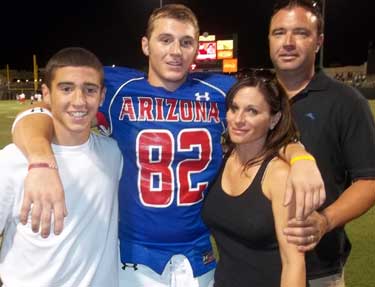 Arizona All-Star John Leonard, his parents, John, Jr. and Kristine, and 16-year old brother "Mikey," a rising sophomore defensive back. Photo by Pete Mohr

CAVE CREEK – June 28. For the 2010 football season, "John", "John-O", sometimes "Johnny" to this writer and, most meaningfully, "Tiger" to his father, recorded a record-setting 112 catches in 11 games (he broke Kyle Watkins' 2006 record of 88 catches in 15 games), good for 1,390 total yards and 17 touchdowns. His average yards per catch was 12.41; and in eight of the Falcons' 11 games, he had 100+ yards receiving. And he played "both ways." From his free safety position, Leonard had six interceptions, two of which he ran back for touchdowns. Leonard was credited with 33 tackles and was named by his CSHS coaches as the team's "Most Valuable Player."

Those statistics, alone, would be more than sufficient to earn him recognition as Sonoran News 2010-2011 "Boys Athlete of the Year." And yet, no Division I programs recruited him.
So what has John Leonard done? First, he's never felt sorry for himself. About his senior season, he is quick to enthuse, "I loved every minute of it!" Second, he went back into the weight room, adding ten pounds of muscle to his 6' 2 ½" frame, telling me, "Even at 210 lbs., I'm actually faster now." He's enrolled at SCC, where he'll line up at either slot receiver or tight end for the "Artichokes." "I've no contacts yet; but playing Division I football is my goal," he determinedly states.

He could've enjoyed a laid-back senior spring. Instead, he opted to play right field for the Baseball Falcons, hitting .375, and hoping he might get a State Championship ring. Near the end of the regular season, attempting to steal 2nd against McClintock, a headfirst slide got him seriously spiked on the middle fingers of his left hand, which, on "Big John's" cellphone camera looked like a piece of raw meat. I wrote that John was "lost for the rest of the season." Did he come back? "Of course!," he recalls, as if I'd asked a dumb question. And in State 1st Round, top of the 7th at Saguaro, with the Sabercats leading CSHS, 6-0, two outs, a Falcon on first: Leonard just missed lining a home run over the left field fence. You see, John Leonard doesn't know how to spell q-u-i-t!

But my most-photographed John Leonard memory came on November 12, 2010 at Apollo, the #9-ranked Falcons vs. the #8 Hawks, 1st Round, State Playoffs. Midway through the 3rd quarter, the Falcs, stunned at 0-35, had driven to the Hawks' 30. Quarterback Bryce Kinsler (John on Bryce: "Our friendship is forever!"), with Leonard running a deep post pattern, fired high toward his favorite target. Almost under the cross bar, it came down to John Leonard outfighting Apollo's "superman," quarterback-defensive back Jon Brown. Touchdown, Falcons! John remembers, "I was determined to catch that ball! If we score, that brings back some 'mo'(mentum), and we might have a chance to fight back."

Didn't happen. John catches his second TD pass from Kinsler, and Kyle Gladstone's first touchdown reception eventually brings the Falcons to a turn-out-the-lights, 20-49. But the Hawks weren't done. With less than two minutes remaining, their female placekicker nails a 24-yard field goal to make the final: Apollo, 52 – CSHS, 20. Competitive-to-the-very-end John Leonard: "That was disgusting!"

Nearing the end of our telephone interview, he recalls "growing up in Cave Creek ... going to every home game on Friday nights … playing football for Cactus Shadows was what I wanted to do most." And so, right before we hang up, I'm not surprised by his asking, "Tell everyone, 'Thanks for supporting me'."
BY PETE MOHR | JUNE 29, 2011
FAC hosts CSHS Principal Steve Bebee and three new varsity head coaches, June 23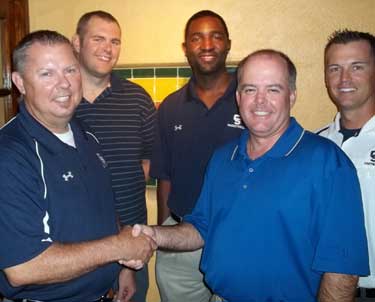 Following FAC's first regular monthly meeting, June 23, under its new name, "Falcons Athletic Club," CSHS Principal Steve Bebee (left foreground) thanks FAC President Brad Mayer for his hospitality after expressing appreciation to the Club for its continuing support of Cactus Shadows athletics. The evening's program was highlighted by Mayer's introduction of three new Falcon head coaches: (back, l-r) Jim Swetter (wrestling), Jamaal Scott (basketball) and Greg Davis (football), each of whom outlined their respective coaching backgrounds and described their preseason practice programs and expectations for the coming season. Baseball's Guy Gianni and Girls Golf's Mark O'Bryan had prior commitments and could not be present. Principal Bebee emphasized the importance of now having all varsity head coaches in on-campus teaching positions, stating his confidence in the maturity and leadership potential of the five new head coaches. Falcon supporters, mark your calendars for FAC's golf tournament fund-raiser, Saturday, August 20. Details to be announced.
BY PETE MOHR | JUNE 29, 2011
"The Falcon Express" rolls to All-Stars!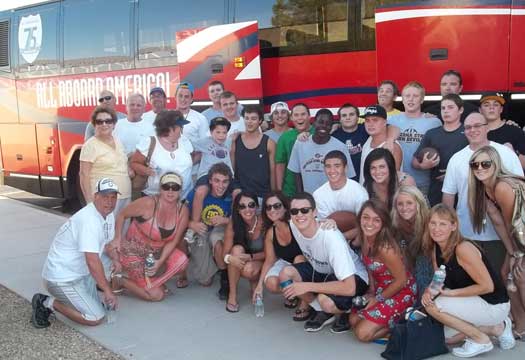 From wide receiver John Leonard's maternal grandparents, Frank and Vincentina Caporaso (second row, far l.) to The Foothills' most irrepressible eight-year old, Thomas "Stonewall" Larson (second row, riding Joree Schneider's shoulders), Football Falcons (past, Tyler Souva, and present, Bryce Kinsler) and fans of all ages rode "The Falcon Express" to Surprise Baseball Campus, late Saturday afternoon, June 25, to cheer on #82's final high school appearance. His Arizona All-Stars were soundly beaten, 27-7, by the Southern California All-Stars in the finale of the Arizona Football Coaches Association's inaugural three-game event.

Kristine Leonard coordinated the delicious "tailgate" spread, featuring Honey Bear's barbecue, her own watermelon margaritas and Cierra Stewart's strawberry topping cupcakes! Disappointingly, and inexplicably, John had only two passes thrown to him; but he did hold successfully for the Arizonans' only P.A.T. late in the 1st half.

Great company plus great eats equaled a great time! Thanks to Kristine and her "Big John" for hosting me.
BY PETE MOHR | JUNE 29, 2011
Falcon Baseball's "family" answers Coach Guy Gianni's call to first "Field Day" in Tuesday afternoon's triple digits
"We've got a long way to go, but we'll get there!" ~ Coach Gianni
Bad things usually happen when you, as a homeowner, neglect your yard areas. No different for Falcon Field, which was paid little (if any) maintenance attention following the late-April end of the 2011 season. Shortly after his mid-May selection as new head baseball coach, Guy Gianni, accompanied by his wife, Danica, quietly inspected the total condition of Falcon Field and its support facilities. Coach Guy Gianni ("Coach No. 2" to me) was close to aghast – but undaunted, Head Softball Coach Danica Gianni ("Coach No. 1") to Sonoran News: "My husband knows how to get a baseball field right – and he will!"

So out from Guy Gianni went an e-mail "call to arms" for his first "Field Day," Tuesday afternoon, June 28. Some 50-60 members of Baseball's "family" came out in temps that were at least 105 degrees! You'll see this work crew seated in the "bleachers" photo while others are specifically identified in the accompanying slide show.

As the two-hour work effort was winding down, a very gratified Coach Guy Gianni rhetorically questioned Sonoran News: "Do you remember four, maybe five, years ago, when this field was selected as one of the Top Ten high school baseball venues in Arizona?" "Yes, Coach, I believe that was in 2004," "Well," he quietly committed, "that's what we're going to be again.'

All together, now, "Family!"