JUNE 24, 2011
City of Scottsdale Economic Vitality to host "Merchant Talk" meeting
To support downtown merchants, Scottsdale's economic vitality department will begin a series of "Merchant Talk" forums to enhance dialogue and grow the health of the local economy. The first meeting will be held from 8 a.m. until 9:30 a.m. Thursday, June 30 in the economic vitality office at 4021 N. 75th Street (Suite 102) – a short walk from City Hall, the Civic Center mall and downtown Scottsdale.

The open forum will encourage merchants to share questions, challenges and triumphs with other merchants and city staff in a collaborative and relaxed atmosphere.

"As we enter the off-peak months and with the relocation of the downtown group's services, we have an opportunity to strengthen our relationships and collaborative efforts," said Rob Millar, strategic programs manager. "That's what these merchant talks are designed to do."
For more information, contact the economic vitality office at 480-312-7989.
BY MARIELLE D. MARNE | JUNE 22, 2011
Cave Creek Armory is already going great guns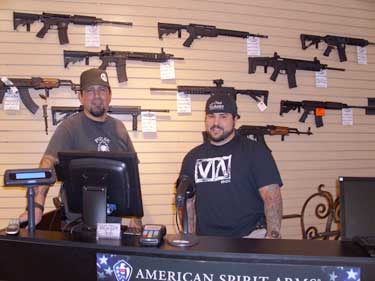 CAVE CREEK – If it was a Late Show list from Letterman, the top three comments most heard by proprietors Jeff Iacovelli and Joe Soucy at the Cave Creek Armory would be: 1) We/I didn't know you were here; 2) Awesome or awesome prices!; and 3) So glad you're here! The evidence is clear, after only two months of being open for business, Cave Creek Armory is well received.

As the name implies, customers will find guns, shooting accessories, knives, Tasers, even pepper spray, all at competitive pricing.

As a special thanks to those who put their lives on the line, military, law enforcement and firefighters receive discounts at Cave Creek Armory. "We're striving to give people incentive to come to Cave Creek for their firearm needs," Soucy explained, "and we do our market research on the best pricing."

In addition to an extensive line of firearms (new and used) from major manufacturers-Smith & Wesson, Glock, Ruger, to name a notable few – customers can find ammo, holsters, gun cleaning services and supplies, optics and accessories, and firearm transfers. You'll receive free laser bore sighting on purchased optics.

Iacovelli and Soucy will gladly special order an item, always passing on savings to you. If you're not sure what you need, both owners are knowledgeable in weaponry and will offer guidance as to the optimal pistol, rifle, revolver, shotgun or stun-gun for an individual. They'll even share some basic but valuable gun safety instruction!

Soucy, who grew up in Cave Creek, pointed out, "We are right between Seven Springs and the Ben Avery shooting range, so we are a good place to stop in for supplies." Cave Creek Armory could not be more ideally situated. With an economy that continues to struggle, it's thoughtful to shop locally, and particularly support two hard-working, Desert Foothills neighbors.

To learn more about Cave Creek Armory, visit cavecreekarmory.com, stop in seven days a week at 6812 E. Cave Creek Rd. (between the Circle K and Sonoran News) or call 480-595-2858.
BY MARIELLE D. MARNE | JUNE 22, 2011
Fabrics, furniture and design
Out West Quality Upholstery & Interiors for Your Hacienda has got you covered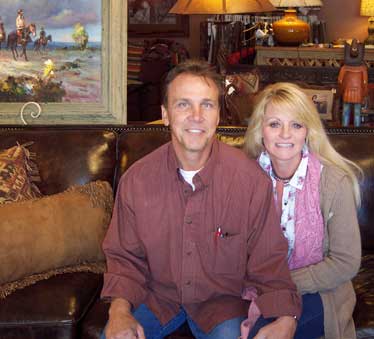 They have been working together since they were teens, toiling away at a custom furniture manufacturer in Phoenix. Now 24, years later, married, with three children ages 12 to 21, Robert and Beverly Sexton are still working side by side, helping clients customize their décor.

Since 1998, the Sextons have offered clients their expertise: Robert as the upholsterer and Beverly the interior designer. In June 2009, they opened the Out West Quality Upholstery & Interiors for Your Hacienda showroom in Cave Creek, featuring hacienda-style furniture and accessories. An extensive supply of fabric samples is on hand for designing custom window treatments, bedding, pillows and other accents.

Beverly's expertise includes full-home interior design. She consults with clients on color, style, scale and space planning. She also offers staging services. "We are not just a retail store; we are a complete design studio," says Beverly Sexton, co-owner of Out West.

Many pieces in the showroom are Beverly's custom creations. She designs furniture and accent pieces of wood, iron, stone, tile, fabric – and any combination of materials. "I can handle projects as focused as one room or as complete as the entire home," adds Sexton.
Beverly and Robert can both advise on upholstery fabric and style choices, either in the client's home or at the showroom. Furniture is picked up and returned refurbished, usually in about two weeks. "To take a piece of furniture and make it better than new is quite an accomplishment," said Robert.

Beverly oversees production on custom projects, taking their clients step by step, through to the end. "So come on in and check out our showroom," Robert said. "We are here to help you decide what would work best for you, and for your home."

Out West Quality Upholstery & Interiors for Your Hacienda. Located at 38252 W. Jacqueline Drive, #C, Cave Creek. Call 480-575-8000 or e-mail outwestaz@gmail.com.
BY MARIELLE D. MARNE | JUNE 22, 2011
Red Velvet Tailoring is 'sew' excellent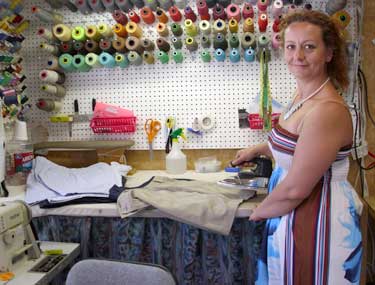 CAVE CREEK – A certain image conjures in one's mind with red velvet; it's a soft and lovely material. When you think of red velvet, you think of excellence. Anyone who has had alterations from Red Velvet Tailoring knows the name fits the workmanship. Owner/operator Katerina Miroshnichenko takes an overwhelming pride in her stitches. She admits if a seam doesn't pass her inspection, she removes it and redoes it. "All the time I try to do my very best for my customers," she said.

Katerina does the basics-hems, sleeves, taking in, letting out. She can replace zippers and does leather work.

Because she hails from Russia, Katerina knows fur. Many times, she will transform customers' calf-length coats, perfect for wearing in the northeast or Midwest, into a vest suitable for Arizona weather. "It's one way to recycle it," she agreed.

Katerina is not your typical tailor. She comes from a family that sews. "My mother started from my grandpa. All four girls in the family learned to sew from him." Katerina graduated from a three-year tailor college in Russia. She also did custom work in her home country, which included special orders for military officers. No doubt, that work had to be precise!

Katerina MAKES clothes as well. She can work from a pattern or take an article of clothing and sew a duplicate from it. She does some basic upholstering, primarily seat cushions, and can make curtains. Bring in your own fabric; her talents are endless and she can sew magic!

Red Velvet Tailoring and Alterations is open every day but Sunday. Katerina is very accommodating and will adjust her schedule when able should her customers need a few extra minutes to pick up something after closing.

Stop in at 6554 E. Cave Creek Rd or call 480-208-8699 for your tailoring/ alteration needs. Quotes are given upon drop-off, so customers will never be shocked with the price upon pick up.