BY PETE MOHR | JUNE 22, 2011
For Gianni, new head of CSHS Baseball: coaching the Falcons will be all about "family"

Photos by Pete Mohr
CSHS – June 16. After Gaetano ("Guy") Gianni had been introduced by Principal Steve Bebee as "an outstanding educator … a man who will be a role model both in the classroom and on the baseball diamond … and a successful, experienced coach," Coach Gianni's first assurance to the Cactus Shadows baseball community was this: "Everything I do, I do with passion." And that passion was learned from "my Italian family," in which he was the youngest (and only son) of five children. "They taught me pride, respect and the value of a strong work ethic." Write down his Gianni heritage as Coach Gianni's anchoring belief in family.
In 1997, Guy Gianni, Chicago born (Feb. 5, 1970) and already a high school baseball coach (after a brief professional career with the Cincinnati Reds and Detroit Tigers), met and married Danica, a dynamic, athletic young woman of Serbian descent. Selected by Notre Dame Preparatory School to build its baseball program, the Giannis and two-year old daughter Gabriella arrived in Scottsdale, July 5, 2002. In his nine seasons at Notre Dame, Gianni led the Saints to seven consecutive State 4A-Division II appearances, highlighted by three straight runner-up finishes in 2007, 2008 and 2009. Obviously, I can't predict the exact season, but the State Championship that has frustratingly eluded Coach Gianni will be won as head coach of the Falcons.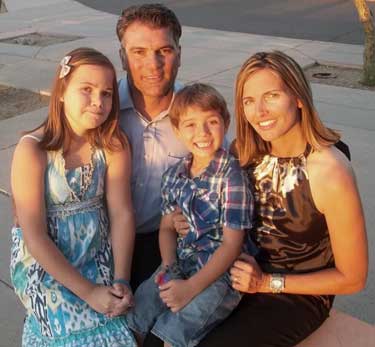 His desire to spend more quality time with his family (Danica, Gabriella and five-year old son Antonio), was an important factor in Coach Gianni's decision to accept the challenge of first, stabilizing, then growing, Cactus Shadows Baseball. The drive to CSHS is a maximum ten minutes – to Notre Dame, rarely less than 30.

Challenge, family and logistical convenience all combined to influence his applying for the position. Principal Bebee said it best in his welcoming introduction: "We're excited to have you here!"

Guy Gianni's coaching philosophy is simple: "It's easier to build kids than to rebuild men. I'll respect my players, expecting the same from them. Our success – and the progress of Cactus Shadows Baseball – will be built upon mutual respect." From the foundation of that principal, Coach Gianni is confident, eager to take on the responsibility of molding a "third' family: his players, their parents and his coaches. He expects to hire his coaching staff based upon three principal criteria: "character, chemistry and confidence." He challenged the CSHS baseball community – and himself: "We don't have a choice but to be family … to work together, with pride and mutual respect. Family."

With only two rising seniors (Sean O'Grady and Nate Lisena) returning from the 2011 Falcons, Coach Gianni knows that the 2012 season will be challenging, to say the least. He thanked Principal Bebee and the audience for their welcome. And then he closed, pointedly and realistically, "We have work to do."

Having had the privilege of knowing Coach Gianni well over the last eight seasons, I can confidently assure my readers that he'll get done whatever "work" it may take for the Falcons to become State Champions again. But first, they'll have to become "family."
BY PETE MOHR | JUNE 22, 2011
Meet the Football Falcon seniors … Gunnar Collier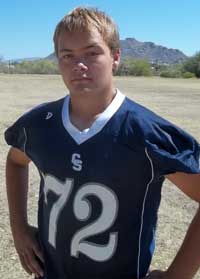 Monday evening, after interviewing Gunnar Collier for his senior profile, I found myself concluding, "If I were a high school football head coach, I'd want at least one Gunnar Collier on my team." So I "asked the man who owns one," Falcon Head Coach Greg Davis.

"Gunnar," he shared with me, "is a very hard worker, a player I can trust and rely on. He's willing to do anything you ask of him, and he's especially enthusiastic about helping others."
Born May 29, 1994 in Phoenix, Gunnar is the "middle" son of north Scottsdalians Jim and Kim Collier. Older brother Jimmy, 19, CSHS '10, is taking the firefighter's curriculum at PVCC, following the tradition of his Dad, Jim, who, for the last 14 years, has been a captain in the Tempe Fire Department. Younger brother, Matthew, 15, is a rising CSHS sophomore and, like Gunnar, a wrestler and football player. Gunnar has earned three varsity wrestling letters, with his fourth sure to come this season under new Wrestling Head Coach Jim Swetter.

Why does Gunnar play football? "The Falcons are a 'family' to me. I love the teamwork and the challenge. Being a Football Falcon is like an extension of my family: I love my teammates and my coaches!"

He also "loves" being a senior, "leading by example … showing the younger players that hard work and dedication will put you on top." Personal goals for his senior season? Not surprisingly, his first priority is "doing everything I can to help the team be successful," A defensive lineman, linebacker and special teams player, Gunnar "hopes to start both ways … to stay healthy (at 5'11", 200-205 lbs) … to enjoy my last season as a Falcon.

His favorite football memory? "Knocking Matthew on his butt in the Freshman-JV scrimmage before last season! He was like a car running into a semi!" The competition between the two brothers doesn't end on the football field. Both hunters, Matthew has bagged an elk; Gunnar, the biggest mule deer. In the classroom, he "guesses I'm doing alright," identifying History as his favorite subject under teachers Chris Dodrill and Geoff Johnson.

To play football and wrestle at the next level is "definitely a dream," Another dream might be flying, so Embry Riddle (Prescott) is currently his college first choice.

But on this night of June 20, his near-term football sights are set on the September 23 Homecoming Game against Prescott. "Hey!" he revs up. "It's our house! Our field! We gotta make sure they'll be a victim!" Watch out, Badgers! Here comes Gunnar Collier!

My young friend, I love your spirit! Don't ever lose it!