BY PETE MOHR | JUNE 15, 2011
James J. (" Jim") Swetter is new CSHS head wrestling coach
"It's all about recruiting," he tells Sonoran News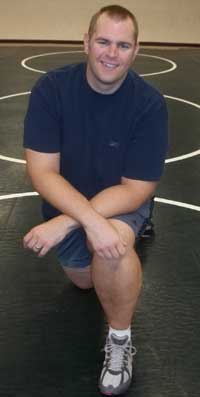 CSHS – Were I privileged to know new Head Wrestling Coach Jim Swetter beyond our first interview, Thursday afternoon, June 9, I would likely bestow upon him the admiring nickname, "Big Jim." Coach Swetter is a big man – 6'6", 275 lbs., plus or minus ten. If, as they say, it takes a big man to get a big job done, Jim Swetter is the right man to tackle the big job of first stabilizing, then rebuilding and growing Cactus Shadows Wrestling Quiet and soft-spoken, Coach Swetter, 31, knows that none of those three objectives can be achieved overnight.

He'll start with recruiting. At this point in early summer, he's looking for 15-20 returnees from the 2010-2011 Falcon matmen. "My wrestling kids are my best recruiters," he observed to Sonoran News. "We need a large team to consistently replenish our Varsity. I believe 40 wrestlers is a good target." Before the scheduled November 1st start of formal practice, his first captive audience, so to speak, will be his Freshman Health class.

He has to recruit kids who want to wrestle, meaning those young men who are eager to take on the threefold challenge of wrestling competitively: mental toughness, physical strength and training discipline. He has coached previously – and successfully – at an Ohio high school with male student demographics similar to Cactus Shadows, so he knows the recruiting challenges he faces are not insurmountable. C'mon, young Falcon men!
Prove Coach Swetter correct.

Jim Swetter, a native of Brunswick, Ohio, has personally achieved significant wrestling success. In his collegiate wrestling career at Miami University of Ohio and Kent State University, Swetter recorded 100 wins and is the all-time pins leader in Kent State history.

Coach Swetter graduated from Kent State in 2003 and married his wife, Alison, on June 16, 2009. She is a nurse practicioner with LIFEprint, which, as a subsidiary of United HealthCare, concentrates in preventive nurse care. The Swetters, who currently reside in Peoria, moved to The Valley one year ago. Coach Swetter has earned graduate degrees in Curriculum & Instruction and Education Administration, both from the University of Phoenix.
His coaching philosophy? "We're all here to help kids." And he strongly believes that wrestling competitively can play an important part in that helping process. Now he has to find young Falcons who'll step up to share in his belief.

I'm not going to bet against "Big Jim!"
BY PETE MOHR | JUNE 16, 2011
Varsity Falcons end 'Passing League' play with annual trek to San Diego State, June 17-18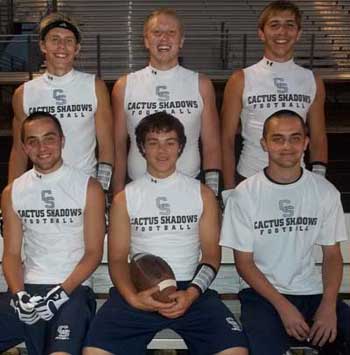 Falcon Air Corps: Quarterback Bryce Kinsler (front, c.) with his probable 2011 receiving quintet: (back, l-r) Connor Cozen, Tommy Pritchard, Kyle Gladstone; (front, l-r) "The Folts Twins" [Cody, l. and Connor], photographed by Sonoran News after June 1 Passing League Tournament at Desert Mountain High.
Photo by Pete Mohr

CSHS – What's a Passing League Tournament? Normally, a round robin competition between four teams (using "skill positions" players only) in what would appear to be a glorified touch football game: no running plays, no kicking game, four periods of ten minutes each with alternating possessions: in shorts and T-shirts – no pads, no helmets. But to a coaching staff, significant "value added" in the building of a passing offense (and pass defense) before the A.I.A.'s permitted August 1 start of "organized" (translate, "contact") full practice.

With rising junior Bryce Kinsler at the quarterback throttle after his highly-successful 2010 season, fans can count on the Falcons to "air it out," which ratchets up the preparation importance of "Passing League" play. As both a ball carrier and receiver out of the backfield, rising junior R.J. Anderson will give Head Coach Greg Davis a multi-dimensional offensive threat. By whatever skill criteria you want to apply, "B.K." and "R.J." will be an exciting tandem. And in critical short yardage situations, Kinsler has proved his effectiveness. When in the same backfield set, Kinsler and Anderson will present a challenge to opposing defensive coordinators.

On offense, Coach Davis and Assistant Coach - Receivers Charlie Ulrich [CSHS '94] play center(s), quarterback(s), running backs and receivers. Defensive Assistant Coach Ervin Hernandez and Assistant Coaches Kenny Gibadlo (linebackers) and Norman Williams (defensive backs) get a look at their linebackers, cornerbacks and safeties. Coach Davis expects to hire on his defensive coordinator shortly.

With temps now consistently in triple digits, Varsity Falcons have an opportune weekend on tap to end their "Passing League" play by making their annual appearance at San Diego Sate's tournament, June 17-18.

From June 15, it's "T-minus-71 days and counting" to "LIFT OFF!" when the Falcons fly up to Anthem for their season opener against the Division 1 Boulder Creek Jaguars. Complete 2011 Varsity schedule will follow in later Sonoran News issue.