JUNE 15, 2011
Art-Touring: A visit to Judith Durr and Roger Kull art studio and Gallery
Sculptor Roger Kull to demonstrate his leather sculpting techniques in Cave Creek
Who: Artist Judith Durr and Sculptor Roger Kull
What: Art-Touring – Open studio and gallery.
When: 10 a.m. to 5 p.m. Friday, June 17 – Sunday, June 19
Roger Kull sculpting demonstration from noon – 1 p.m. on Saturday, June 18
Where: Mountain Studio – 6033 E. Skyline Drive, Cave Creek, AZ 85331
Cost: Free – artwork will be available for sale.
Why: Spend part of your Father's Day Weekend visiting with these two talented artists. It's a fun and educational event for the entire family. Refreshments served. Free.

About Judith Durr – Artist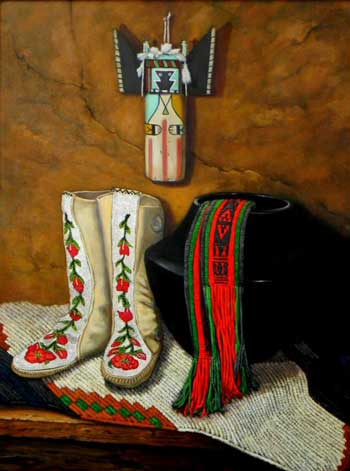 Judith Durr was recently inducted into Western Artists of America, a prestigious organization of the world's finest western artists. Membership is by invitation only. Judith Durr claims her Native American heritage. Raised in the Southwest, a native of Arizona, Judith Durr resides in Cave Creek, Arizona with her artist husband, Roger Kull.

"My Southwestern oil paintings are created from respect for my Choctaw/Cherokee heritage. I preserve the legacy of the First People's artifacts and rugs portrayed in my oil paintings. However, I paint artifacts from tribes and clans throughout the Americas. By capturing the emotions of the viewer, my objective is illusion," said Durr.

Durr's exquisite oil paintings, her spectacular style, and dedication to realism are internationally recognized. Her Native American heritage is the inspiration for her First People's still life oil paintings. Her genre includes Western Life, landscapes and historical research. She is a member of Oil Painters of America, Southwestern Premier Artists and the Sonoran Arts League.

Durr's masterpieces are collected by prominent museums and are featured in corporate and private art collections around the world. Her work is featured in Western Art Collector, Southwest Art, Art of the West and Arizona Art Collector. Judith lectures for museums, universities elder hostels, foreign exchange students programs, fine art councils, annual Native American art shows and many private
organizations though out the country.

Visit her website www.JudyDurr.50Megs.com.

About Roger Kull – Sculptor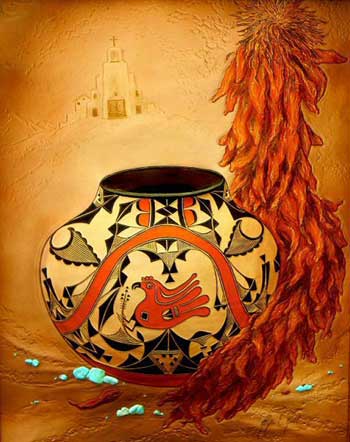 Arizona artist, Roger Kull, broke the "leather craft" barrier and took his fine art into a gallery and museum quality level. Described as Southwestern Pictorial Leather Sculpture, Kull's signature style is three-dimensional realism. His recent acceptance into the invitation-only Western Artists of America (WAA) now has him competing at their annual exhibit and show with other sculptors whose work is more traditionally in wood, clay, bronze and stone. Having worked with over 14,000 hides in the 30-plus years of his artistic career shows the incredible demand for his work.

Kull approached his art in a very non-traditional way taking the technique of general leatherwork, and chose only a saddle maker's knife and clay modeler's spoon as the sole implements that create his incredible artwork. There is no hammering, no stamping, only a sculpting process that forms the back bone of his technique.

"I am a firm believer, that art skills are paramount," Kull explains. "As free hand artist I believe that art skills come first and leather skills provide the medium to show case my creations. Each leather sculpture guarantees originality and is a one of a kind."

Utilizing the natural hews of leather and specialized dyes along with the colorful blues of turquoise, there is a continuous flow between tradition and innovation creating constant interest in this uniquely sculpted leather. Always artistic, Roger experimented with various art mediums but was always drawn to leather as a medium for his fine art work.

Now Kull's artwork is recognized, appreciated and represented by several prominent galleries and sold internationally. His fine art hangs in the permanent collection of the prestigious Booth Museum of Western Art in Cartersville, Georgia and the Johnson-Humrick Museum in Roscoe Village, Ohio.

Visit his website: www.RogerKull.50megs.com.
JUNE 16, 2011
Desert Stage Presents 'And Then There Were None'
Show Opens this Weekend – Fri. June 17 through Aug. 21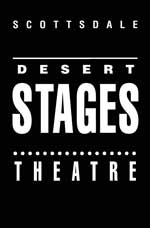 SCOTTSDALE – Desert Stage Theatre (www.DesertStages.org) presents And Then There Were None, this weekend, Fri. June 17, in the petite Actor's Café, delivering a delightful summer entertainment escape.

Directed by stage veteran Jay Rabin, whose credits include stage manager on Broadway for Tommy Tune Tonite! and Legends and Showstoppers, among others, has spent years in television and film production, with local stints at Arizona Theatre Company, Phoenix Theater, among others.

The cast of And Then There Were None features Todd Sloan, most recently in DST's critically acclaimed production of The Miracle Worker, along with Jennifer White, who also starred in that show and is a favorite in DST productions each season. Also in the ensemble is veteran TV, stage and film actor Charles LeSueur who recently starred in DST's The Dinner Party. LeSueur also hosts his own daily syndicated radio show The Old Hollywood Trail. Seasoned actor Clayton Marlow, Mary Beth Smith who makes her stage debut in this production and Wade Moran, in DST's Art and The Dinner Party also appear in And Then There Were None.

The suspense yarn is perhaps a favorite among the written works of Agatha Christie, queen of the mystery genre. The book, written in 1949, has been the basis of at least two feature films in 1965 and 1989, along with several other renditions worldwide.

The captivating murder mystery sees 10 strangers invited to the isolated Indian Island off the English coast. A butler and housekeeper greet them as they arrive at a cavernous home where they are told they've been gathered to solve a past murder. Curiously, one by one, each guest runs into a fatal mishap, and then there were …

The show enjoys a long summer run through Sun., Aug. 21, with performances Fridays and Saturdays, 7:30 p.m.; and matinees Saturdays and Sundays, 2 p.m.

Coming soon to Desert Stages in the Mainstage Series in Cullity Hall theatre-in-the-round is the musical Hairspray July 8 – Aug. 7. Presently playing in DST's Children's Series is Willy Wonka Jr. wrapping up a wildly popular run this Sun., June 19.

About Desert Stages Theatre. A bustling community playhouse, Scottsdale's nonprofit Desert Stages Theatre was founded in 1995, and presents more than 400 performances every season, from August to July. Three show schedules occur simultaneously throughout the year: Actor's Café performances in the intimate, proscenium-style 60-seat theatre; the Mainstage Series in Cullity Hall, an innovative theatre-in-the-round; and the Children's Theatre Series, also performed in Mainstage Cullity Hall. DST is led by cofounder and executive director Laurie Cullity; business manager and cofounder Joan Thompson; and artistic director Terry Helland. Included in each DST season are children's productions of original scripts, musical scores and lyrics by cofounder Gerry Cullity whose work is still relished five years after his passing. Desert Stages has developed thousands of thespians, young and old, many with compelling personal stories of triumph and major stage success and all of whom perform at DST for the pure love of the theatre.
JUNE 15, 2011
Greasepaint Youtheatre announces 2011-2012 season!
Tickets will go on sale in August

Disney's Aladdin Jr runs October 21 through October 30 with performances on Fridays at 7 p.m., Saturdays and Sundays at 2 p.m.
Auditions - September 12 and 13 from 5-9 p.m. Call for an audition appointment: 602-889-7609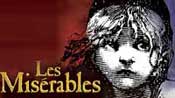 Les Miserables runs January 20 through January 29 with performances on Fridays and Saturdays at 7 p.m., Sundays at 2 p.m.
Auditions - December 5 and 6 from 5 – 9 p.m. Call for an audition appointment: 602-889-7609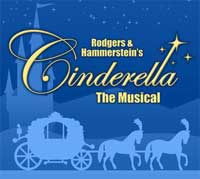 Cinderella runs March 23 through April 1 with performances on Fridays at 7 p.m., Saturdays and Sundays at 2 p.m.
Auditions - TBA

Greasepaint encourages actors age 6 to 19 to audition for all of our season shows! Give your young actor, ages 6-14, the experience and confidence to audition for our mainstage shows by enrolling and performing in one of our summer theatre performance camps, Fairytale Courtroom or Dear Edwina Jr.!

Limited slots still available for select sessions. Check out our website for more info! Visit www.greasepaint.org.

Greasepaint Youtheatre. 7020 E 2nd St., Scottsdale, Arizona 85251. Call 602-889-7609.