JUNE 8, 2011
Southwest Wildlife names Director of Development
Former Arizona Game & Fish Commissioner Brings Conservation and Regulatory Experience to further Organization's Work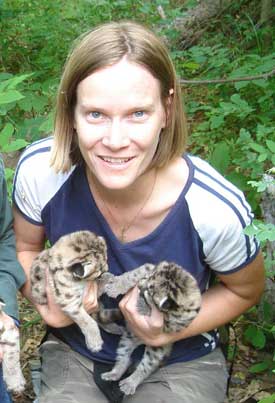 SCOTTSDALE – Southwest Wildlife Conservation Center (SWCC) has named Jennifer Martin as its new Director of Development.

In this role, Martin will lead a strategic planning process and develop a funding plan for the organization, which rescues and rehabilitates orphaned and injured wildlife, provides education to the public and participates in wildlife research.

SWCC returns to the wild about 70 percent of the animals it takes in, and operates a sanctuary in northeast Scottsdale that provides a home for animals that cannot be released. Residents of SWCC's Nature Center include foxes, coyotes, wolves, mountain lions, bobcats, coatimundis, bears and others. The sanctuary also serves as a holding facility for the Mexican Gray Wolf Recovery Program. In addition, Southwest Wildlife provides veterinary interns from around the world the opportunity to practice wildlife medicine.

"I was drawn to the Southwest Wildlife Conservation Center because of the depth of its mission," says Martin. "The way they are weaving together rehabilitation, education, sanctuary and wildlife studies is unique, and provides some great opportunities for the public and for wildlife."

Martin grew up in the Superstition Mountains outside of Apache Junction and resides in north-central Phoenix. After obtaining a Bachelor of Science degree in Biology with an emphasis in Wildlife Management, she worked as a biologist in many roles, including Environmental Protection Agent in West Africa for the Peace Corps, wildlife technician surveying prairie dogs for Northern Arizona University, and Arizona Bird Conservation Initiative Coordinator for the Arizona Game and Fish Department.

She was appointed to the Arizona Game and Fish Commission by Governor Napolitano in 2006, and recently completed her five-year term. She has served on and chaired many wildlife and natural resource committees at the state, regional and national levels. As a Commissioner, she was best known for her leadership role in forming and chairing the Conservationist Committee, the mission of which was to bridge the gap between hunting and environmental advocates to work together on common wildlife objectives, such as maintaining wildlife habitat.

Tour the Southwest Wildlife Conservation Center
Tours of the SWCC Nature Center are designed to meet the needs of the individuals or organization requesting the tour, and are available by appointment only.

Tours fees are: Adults, $10; children ages 3-15, $7. To arrange a tour, you must contact our Education Department at 480-471-3621.