BY PETE MOHR | JUNE 8, 2011
Kate Accola is Sonoran News "Girls Athlete-of-the-Year"
Sonoran News
is pleased to select Kate Accola as 2011 "Girls Athlete of the Year."
Kate does not shrink from identifying what pleases her; and when she's made that choice, she gives100 percent effort. She's tough-minded, more than a little on the feisty side: asking no quarter from anyone – and giving none. Born September 30, 1992 in Edmond, Okla., the only child of north Scottsdalians Gina and Paul Accola, Kate moved to The Valley with her parents at age 5 – not so headstrong at that early age. Like most young girls, she took gymnastics and dance lessons, then first participated in organized athletics (at age 8) as a soccer player for DFAC's "Pink Panthers."

At age 14, she came under the life-influencing mentorship of Mike O'Guine, coach of the highly-regarded (Club) "Arizona Rebels." "For me," she recalls emphatically, "Mike was the best! He always pushed me to be better … to pursue what I love … and taught me that passion in everything you undertake goes a long way."

"The Ac Attac" will volunteer that she had difficulty with the differing levels of competition between top level club basketball (the "Rebels") and high school hoops; and so, at the end of her junior season, she gave up basketball altogether. But in that junior year, she'd already discovered she "loved" cross country, "finally realizing that running made me happy." She explained to this writer, "Cross Country was a sport in which I could overcome within myself. It's such a great feeling – especially when you finish!" Kate was hooked on the "mental toughness" of cross country and distance running.

But when Cross Country ended ("I loved being captain, someone the younger girls could look up to"), close friend and Girls Soccer Co-Captain Tiffani Maitland recruited, "Katie, we need a goalie!" Wearing her Sports Authority cleats she'd used to win a year's free eats at Outback Steak House by kicking a 25-yard field goal at Homecoming halftime, and using borrowed football receiver's gloves, into the nets she went! Head Coach Jeff Vittorio: "Kate's progress from her first practice on was amazing!" And for "The Ac," it was "a new team, new teammates, new adrenaline … so much fun … a blast!"

Outside of her CSHS sports career, Kate appreciatively remembers her vice presidency of DECA, where she was exposed to business, marketing and management principles. Also, Advanced Placement Art under Ms. Robin Ray, "such a free spirit … an inspiration!" Like they say, "It takes one to know one!"

After her two years at SCC, Kate looks to ASU, where she'll pursue a business curriculum, anticipating a possible career in nutrition and health services. "Planning is in my blood!"
And with total self-confidence, she ends our interview, "I'll always be me!" Watch out world! "The Ac Attac" means that!
BY PETE MOHR | JUNE 8, 2011
Two Falcs, four 'Cats in All-Star win!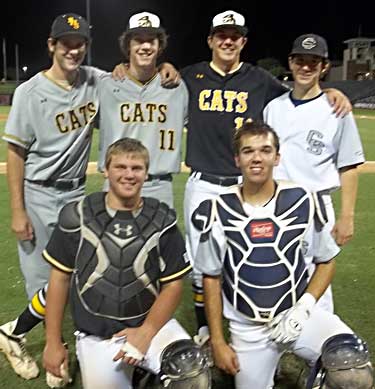 Desert Sky Region (now AIA-disappeared) rivals (Cactus Shadows, Saguaro) became South All-Star teammates as the South, behind the two-hit pitching of five hurlers, defeated the North, 5-1, in the 2011 Arizona Baseball Coaches Association 4A-I All-Star Game, Saturday night, June 4, at Surprise Stadium. South 4A-II squad won the opener, 12-8. (foreground) Saguaro's Brandon Demerest (l.) caught the first four innings before Connor Sabanosh (r.) took over for the last five, including a scoreless 9th pitched by Falcon teammate, Joey Ford, who dramatically ended his high school career by retiring the last North batter on a called third strike. At the plate, Sabanosh went 2-for-2, blasting a triple in the 5th to the right-center alley's 400 ft. mark. (Standing, l-r) starting pitcher Travis Steinheiser, outfielder Kyle Young, relief pitcher Mike Benson and Ford. Canyon del Oro pitcher Sam Hamlett pitched six up/six down in the middle innings; got the win; and was voted the game's Most Valuable Player. Good luck to CSHS '11 graduates Ford and Sabanosh who'll play at the next level. And congratulations to AZBCA for sponsoring yet another enjoyable doubleheader of top quality high school baseball.