BY PETE MOHR | JUNE 1, 2011

First of three Phoenix Herpetological Society's "Night Hikes" slated for Saturday, June 4, 6 p.m. start at Pinnacle Peak Park


SCOTTSDALE – At dusk and after-dark, there're all kinds of critters and creepy-crawlies that come alive in the desert. And Phoenix Herpetological Society (PHS) will introduce adults and children to the desert-after-dark through three "Night Hikes" scheduled for June 4 (this Saturday), July 16 and August 6. These easy hikes will provide a unique and safe way to see and learn about many of the creatures that are active at night in our desert.

During these guided tours, hikers will:
• Learn about desert reptiles, insects and bats
• Receive advice about desert safety
• See live animals
• Hear from a venom expert

Hikers should meet at 6 p.m., Pinnacle Peak Park, 26802 N. 102nd Way, Scottsdale. Children 8 and older, accompanied by an adult, are welcome. Cost of the two-hour event is $15 (children 8-17) and $35 (adults). All proceeds will benefit the more than 1,400 rescued reptiles cared for by PHS at its north Scottsdale sanctuary.

Register online at www.phoenixherp.com or call (480) 223-3813. "Hoo-Hoo! Hoo-Hoo! Hoo-Hoo-aaahhh!" That's the sound of a Great Horned Owl, folks.
JUNE 1, 2011
Phoenix Pools open Memorial Day Weekend
The Phoenix Parks and Recreation Department pools opened for the 2011 season on Memorial Day weekend. Pools will reopen for the full 2011 season on June 4 from 1 to 7 p.m. The 2011 season will run through July 31. Regular hours for the 20 pools open for this summer* will be 1 to 7 p.m. six days a week (all pools will be closed Fridays).

Daily admission is $3 for adults and $1 for seniors age 50 and over and youth age 17 and under. A season pass for a family of four Phoenix residents is $75 ($7 for each additional family member). A season pass for an individual resident senior or youth is $20; adult passes cost $30. The Kool Kids program is back again this summer, bringing free pool admission to all youths ages 17 and under at 15 of 20 city pools. Kool Kids is made possible through the generous financial support of the Oakland A's, Milwaukee Brewers, Salt River Project, Watermill Express, Sonic, Subway, Pepsi, and Bear Essential News.

Phoenix pools also are a great place for affordable swim instruction and team competition. Swim lessons cost $15. The full 2011 swim lesson schedule currently is viewable online, along with comprehensive pool information, at phoenix.gov/parks. Information is available by phone at 602-534-6587. Registration is currently open. Those interested can sign up online with any major credit card or in person at any department community center. Thanks to generous financial support from Salt River Project, parents can enroll themselves and their children in Parent/Child and Level 1 swim classes at select pools for just $3.

*The 20 pools open for summer 2010 are Alkire, Cielito, Coronado, Deer Valley, Eastlake, Encanto, Falcon, Grant, Hermoso, Holiday, Maryvale, Mountain View, Paradise Valley, Pecos, Perry, Roadrunner, Roosevelt, Starlight, Sunnyslope, and Telephone Pioneer. Cortez Pool is closed indefinitely for major repairs. The 2009/10 fiscal year budget contained provisions for a rotating closure of 8 pools each summer for three consecutive years. Twenty-eight pools are scheduled to reopen for the 2012 swim season.
JUNE 1, 2011
Get Down and Dirty! Tradition continues with 36th Annual Mighty Mud Mania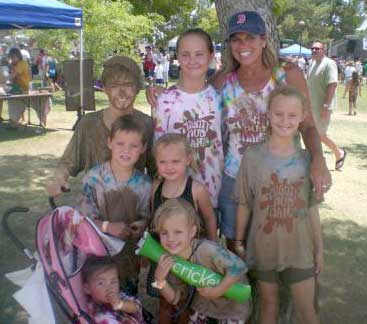 SCOTTSDALE – Jill Birt has participated in Mighty Mud Mania since … well, "forever!" She fondly recalls running the race as an 8 year-old when it was called the "Shout It Out Decathlon." While Jill didn't specifically say how long "forever" is, she did reveal that she is now the proud mom of 10 kids, ages 2 to 20 – all of whom participate in this annual event.
The 36th annual Mighty Mud Mania will be from 8 a.m. to 1 p.m. Saturday, June 11, at Chaparral Park, 5401 N. Hayden Road.

The event features activities for two age groups – 6 and younger and 7 to 17. The younger set can enjoy the mini-mud obstacle course, mud pits, a waterslide, sand castle building and an area dubbed "Mudville." Older kids can check out the original mud obstacle course, waterslides, sandcastle building and mud pits. There's something for everyone.

That "something" for Jill is the opportunity to continue a family tradition she started long ago. "My kids and I look forward to this event months in advance, year after year." The Birt family even goes as far as planning its summer vacations around Mighty Mud Mania.

Jill sums it up … "Love, love, love everything about the event. The city of Scottsdale employees, volunteers, partners and sponsors put their hearts and souls into ensuring a safe, good time is had by all!"

What to bring: A signed permission slip or parent/guardian to the event to sign one.
What to wear: Lace-up or Velcro shoes – no sandals or flip flops.
More things to bring: Swimsuits and towels - fully rinsed kids can swim at Chaparral Pool from 11 a.m. to 3 p.m. for $1.
Cost: Free, but nonperishable food donations for the Vista del Camino food bank are appreciated.
Bonus! Parents, we're even sending your kids home clean! Scottsdale firefighters and city plumbers will provide a "kidwash" and portable showers. (You're welcome!)

Get more event information at www.ScottsdaleAZ.gov/mightymudmania. For questions, call (480) 312-0217 or (480) 312-2771, or e-mail terickson@ScottsdaleAZ.gov.

Scottsdale Solid Waste Services and Parks and Recreation are partnering to promote recycling at this year's event! Event sponsors include SRP, Clif Bar/Clif Kid and Radio Disney.