BY PETE MOHR | JUNE 1, 2011
Flying the Falcons Baseball Flag!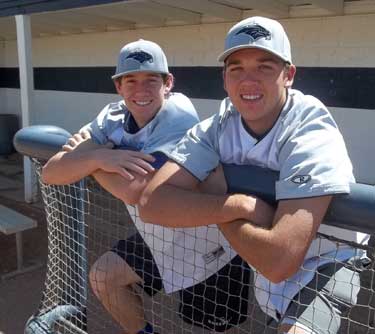 Pitcher-outfielder Joey Ford (l) and catcher-designated hitter Connor Sabanosh, both CSHS '11, were selected May 15 by the Arizona High School Baseball Coaches Association to play for the South squad in the Association's annual 4A Conference North-South All-Star Game, Surprise Baseball Campus, Saturday, June 4, 7 p.m. first pitch. Head coach for the South All-Stars will be Saguaro High School Head Baseball Coach Ron Dyer, whose Sabercats recently won their second consecutive 4A-I State Championship. Belated congratulations to Coach Dyer and his 'Cats, who were classy victors. And, of course, baseball caps off to graduates Ford and Sabanosh on receiving All-Star recognition. Photo by Pete Mohr
BY PETE MOHR | JUNE 1, 2011
Meet the Falcon football seniors … Landon Weaver
Beginning with this issue, Sonoran News will profile each of the 13 Falcon Football seniors – in order of the dates each player randomly pulled from his writer's "CS" baseball cap! I hope that football fans will enjoy getting to know these young athletes who will provide to the 2011 Falcons that important intangible, "senior leadership." Pete Mohr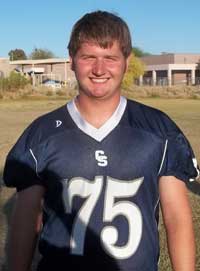 On June 1, I bestowed my first nickname of this imminent football season (Friday evening, August 26, at Boulder Creek) upon Landon Weaver: "Doc." Why "Doc?" Because this quiet, serious-minded young man is already focused on becoming a surgeon – either pediatric or cardiovascular. "For me, that would be a great avenue of service to others."

But first, in this, his second season as a Falcon, Landon will be one of five offensive linemen who will need to take care of junior starting quarterback, Bryce Kinsler. Landon understands the old adage, "As Bryce goes, so will go the Falcons!" Graduated are left guard Andrew Miller, center Chris Noell and right guard Alez Yazdi. Returning at right tackle is classmate Saul ("Sah-ool") Monteon. Filling the three interior linemen positions will be critical; but Landon believes that he and Saul will provide an experienced nucleus for the protection Bryce must have.

Born Dec. 14, 1993 in Comanche, Texas, Landon is the older son of Creekers Shane and Julie Weaver. Younger brother Caleb, 10, is a rising 6th grader at Black Mountain Elementary School. "He's probably my biggest fan," Weaver acknowledges with affection. The Weavers moved to the Valley in the summer of 2010, when Shane became Sherwin-Williams' district manager for the Phoenix area.

Landon first played organized football as a 5th grader. "I've always been in the trenches," he points out. And that's where he expects to stay in 2011, "the end of the line for me. "I've enjoyed football, but I want to concentrate upon my pre-med curriculum wherever I attend college." TCU is presently his first choice, with Rice, SMU and Texas in the mix.

By his nature, Landon, a National Honor Society member, will be a quiet senior leader. "I want to lead by example," he explains. "Personal goals" he shrugs off in favor of "team" objectives. "If we all come together, I think we'll be fine … have a winning season … and make the State Playoffs."

His favorite memory from the 2010 season? "Queen Creek. Even though we didn't win, when our two-point conversion try failed on the last play of the game, the competitiveness that night … I think that's how football should be."

I predict that Landon Weaver, M.D. will be one fine surgeon. I'd want him operating on my great-grandchildren!