BY PETE MOHR | MAY 25, 2011
Thor Kellin to play in U.S. Youth Soccer National Championships if Sereno/Chelsea '93 wins Regional title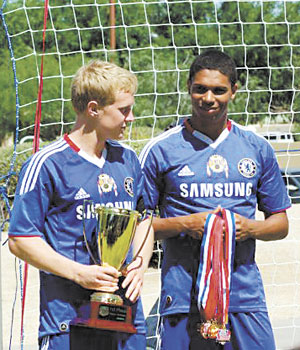 Courtesy Photo
PHOENIX – In this 2011, soccer standout Thor Kellin has been a busy young man. First on Feb. 7, he made a "leap of faith" by signing with Butler University (Indianapolis, In.) before he's visited the school. He took care of that detail in late March, enthusing to Sonoran News, "It (Butler) was more than I had even hoped for."

Sports fans know the Bulldogs for their two consecutive appearances (2010 and 2011) in the NCAA Basketball Championship Game, but Butler was soccer prominent before its hoop fame. The bulldogs were one of only two D-I schools finishing unbeaten in the 2010 regular season and #5 in national rankings. Kellin was the first player recruited by Butler's new head Coach Paul Snape.

On Saturday, May 14, Sereno/Chelsea, one of only five U.S. Soccer clubs sponsored by Chelsea (of England's Premier League), blanked San Tan, 3-0, to win the Arizona Youth Soccer League's U18 (players born in 1993) State Championship. The victory advances Sereno, co-captained by halfback/ midfielder Kellin and midfielder Owen Steinwall [Notre Dame Prep. '11], to the June 20 Regionals in Boise, Idaho.

If Sereno wins, they'll return to Phoenix for the July 26-31 National Championships to be played at Reach 11 Sports Complex (on Deer Valley Road, just east of Cave Creek Road). At the Sereno/Chelsea level, this writer finds the speed and athleticism of soccer needs to be seen to be believed! Currently, Sereno ranks #2 nationally behind the Alpharetta (Ga.) Ambush '93.

Kellin, son of Carefree residents Sandy and Robyn Kellin, was an All-State selection at midfield for Head Coach Tony Vos's 2010-2011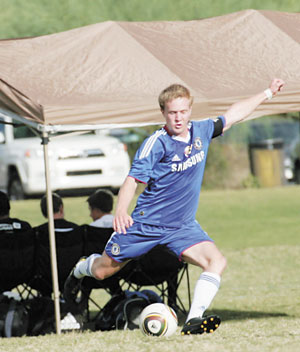 Soccer Falcons, who were eliminated in the State Semis by (Tucson) Catalina Foothills. "Coach Tony" on Kellin: "He has a great knowledge of the game, respects his teammates, and gives 100 percent effort every time he's on the field. I was fortunate to coach Thor. And I consider Butler lucky to have successfully recruited him." At CSHS, Thor was a member of National Honor Society and finished in the top 10 percent of his class. He was one of four student-athletes to win an "Outstanding Athlete " Senior Award.

If soccer fans didn't get a chance to see Thor play for the Falcons, mark your sports calendars for July 26-31. Hopefully, Thor and his Sereno/Chelsea teammates will be competing for the U18 National Championship. Closer to the above dates, Sonoran News will publish details of the tournament pairings.

Congratulations, Thor, as both outstanding student and co-captain of soccer-prestigious Sereno/Chelsea. Sonoran News salutes your accomplishments.