BY PETE MOHR | MAY 20, 2011
Lauren Lazo, Thor Kellin, John Leonard and Gracie Goulder honored as "Falcon Athletes of the Year"
CSHS – "Graduation Week" events kicked off with the annual Senior Awards Ceremony, Monday evening, May 16, in the Fine Arts Center auditorium. Cactus Shadows Athletic Director Rick Swearengin presented soccer standouts Lauren Lazo and Thor Kellin, and MVPs John Leonard (football) and Gracie Goulder (softball) as "Falcon Athletes of the Year." Lazo heads to Princeton University; Kellin to Butler University (Indianapolis), a power in Men's Division I Soccer. Goulder will play at the University of Georgia. Falcon football fans can watch "Big John" in action at Phoenix College. Post-event, only Lazo and Leonard were available for Sonoran News' photo. Congratulations and good luck to four outstanding athletes.
BY PETE MOHR | MAY 19, 2011
Jamaal Scott confirmed by CCUSD as new head coach of Cactus Shadows Basketball
Former Shadow Mountain teammate, Ryan Wolcott, tabbed to be Assistant Coach; Anthony Smith, JV Head Coach; Kyle Deimer [CSHS '06], Freshman head
CSHS – Jamaal Scott, varsity assistant coach last season under Head Coach Tyler Dummett who is departing for the private sector, was confirmed by CCUSD at its May 10, 2011 regular meeting to be the new head coach of Cactus Shadows Basketball. His selection is certain to be a popular one among the Falcon Basketball community. Keep reading ...
BY PETE MOHR | MAY 19, 2011
Track qualified 19 of 80 athletes for State Championships to end 2011 successful season
Senior Joree Schneider, junior Jenny Gormley receive "Most Valuable Athlete" honors
CSHS sent 19 qualifiers to the Division 2 State Championships, May 11-14, at Mesa Community College's Briggs Stadium.
Keep reading for list of qualifiers and award winners ...


BY PETE MOHR | MAY 18, 2011
Eleven Falcons make All-Region
Ford, Sabanosh named All-stars
A delicious barbecue lunch at Cody's, Saturday, May 14, was enjoyed by the CSHS Varsity Baseball family, capping the Falcon's successful 20-9 season. Head Coach Spencer Grace proudly announced the 11 Falcons who earned All-Region honors: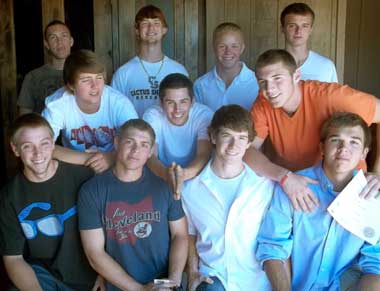 First team, front row (l-r): Sean O'Grady, Brent Nurre, Joey Ford, Connor Sabanosh
Second team, middle row: Max Patterson, Charlie Dominick, John Leonard
Honorable Mention, back row: Scott Freeman, Ryan Nemger, Brett Beiser, Joey Wise

On Sunday, May 15, pitcher/outfielder Joey Ford and catcher Connor Sabanosh were chosen by the Arizona High School Baseball Coaches Association to play in next month's 4A Conference All-Star game. Congratulations to the All-Region honorees and to Ford and Sabanosh on their All-star selection.
Photo by Pete Mohr
BY PETE MOHR | MAY 18, 2011
Menís Club founders honored; Brad Mayer is new President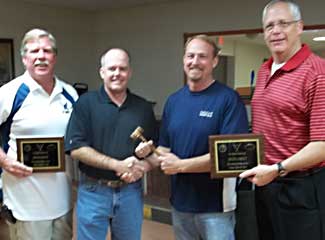 Founding and organizing members of the Falcon Men's Athletic Club, Jim Manship (far left) and Kevin Aholt (far right) thank the incoming leader Brad Mayer and outgoing Club President Brian Kunkle (center l-r) at the club's monthly meeting, Wednesday, May 11.

Founded in late summer 2004, the Men's Club is all about providing manpower and financial assistance to athletic-related projects. At Falcon football games, Club volunteers man the "chain gang" – and grill up the most delicious foot-long hot dogs in the Valley!