BY VALERIE MARSMAN | MAY 18, 2011
Town of Cave Creek sponsors Desert Foothills Film Festival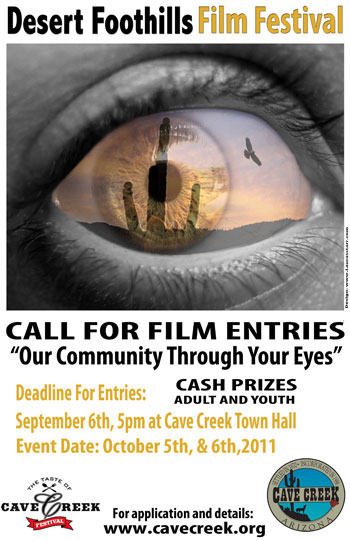 The Town of Cave Creek in conjunction with Cactus Shadows Falcon Media is proud to present to the community the all new 2011 Desert Foothills Film Festival. Taking place at the renowned Taste of Cave Creek event in the fall, it is an honor to showcase such great talent within the Desert Foothills area.

Students from Cactus Shadows High School, on behalf of the Town, are responsible for the production of the 2011 Desert Foothills Film Festival. Voluntarily they have taken on planning, budgeting and all coordination and follow-through. Handling all the details, producers Samantha Spence (Junior) and Valerie Marsman (Senior) are working with advisors Bill Watters and Suzanne Johnson. Special recognition for outstanding media design goes to Laura Morten (Junior) and Sean O'Day (Junior) who have designed the Call for Entries announcement, posters and mailers seen throughout the community. Mike Rigney is acting as executive producer on behalf of the Town.

The judges are comprised of both filmmakers and dedicated community members. These five distinguished jurors are Gary Brigham, Diana Andree, Ron Walker, Ric Parish, and Skot Beazley.

Bringing this event all together is the theme: "Our Community Through Your Eyes." Community members are asked to share their compassion and talent, and create films no longer than ten minutes describing what living in the Desert Foothills area means to them. Sponsored by the Town of Cave Creek, generous prize monies will be awarded to first, second and third place winners in two categories. Winning contestants will receive awards ranging from one thousand to five hundred dollars for their entries.

The Call for Entries is now open and the deadline for film submissions is 5 p.m. at Cave Creek Town Hall, Tuesday, September 6, 2011. There are two categories eligible with minimal entry fees: Youth (18 and under) and Adult (19 and over). For more information including competition rules and guidelines and to download the application, please visit cavecreek.org and find the tab "Desert Foothills Film Festival." Further information about the event will also be available on Facebook.

All the films entered in the competition will be screened both nights at the Taste of Cave Creek in Stagecoach Village on October 5 and 6, 2011.