MAY 12, 2011
Lake Pleasant hosts 2nd Annual Paddle Fest
PEORIA – This weekend, outdoor enthusiasts will pack up their kayaks and canoes and head to Lake Pleasant Regional Park to take advantage of the beautiful weather and a paddle program. The 2nd Annual Lake Pleasant Paddle Fest runs from 8 a.m. to 5 p.m. on Saturday, May 14.

"If you've never tried out a paddle craft, now's your chance! Go Stand Up Paddle, Arizona Hiking Shack, REI, Sports Chalet and Cabela's Great Outdoors will have paddle crafts available for a test rides. The folks from River of Dreams Adaptive Recreation will also be on hand providing kayaking instruction for individuals with disabilities. In addition to the water activities, we're offering workshops on how to build your own paddle craft, GPS geocaching, proper paddling techniques, how to upright your boat from a roll over, kayak fishing and much more," stated Terry Gerber, Lake Pleasant Regional Park Interpretive Ranger.

The event is included in the $6 park entry fee. Additional fees for watercraft and camping apply and registration is not required. For more information on the event, visit www.maricopa.gov/parks/lake_pleasant. Lake Pleasant Regional Park is located at 41835 N. Castle Hot Springs Road in Morristown. From I-17, take SR-74 (Carefree Highway) west; turn right at Mile Post 19; three miles to the park entrance. Lake Pleasant Paddle Fest will be staged at the north end of the lake in Fireman's Cove. Watch for directional signage beginning at the main contact station.
MAY 11, 2011
Diva – Wildlife Weekly
She may not look like your typical rock star, but she was the star of HopeKids day at Southwest Wildlife Conservation Center (SWCC) last Saturday. The HopeKids families oohed and ahhed over all the wonderful wildlife at SWCC, but they cannot touch or interact with the wild animals.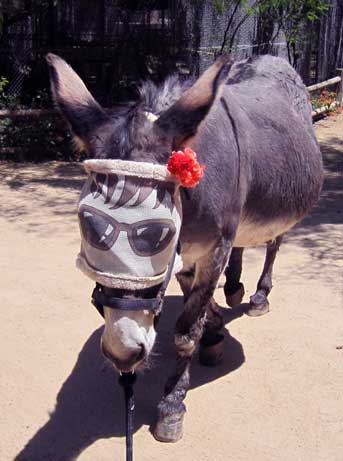 So Diva, the director's rescue burro, got a bubble bath (not a burro's favorite activity – she is still holding a grudge over that), put on her best sun glasses, added some flowers to her hair, and off she went to see the kids. From the bucket of carrots provided, each of our special guests gave Diva a carrot or two and had the opportunity to pet her. This delighted Diva. It was almost enough to forgive the embarrassing bubble bath incident.

One little girl was so enthralled with Diva that she told Diva her name, much to the delight of her father, who said she seldom spoke. It just goes to show how animals can heal our hearts and souls and give us joy. They never judge us and accept us as we are, and children seem to instinctively know this.

Well, with the exception of one carrot that made a brief detour up Diva's nostril, SWCC's HopeKids day was a wonderful day!

Dr. Orison Swett Marden said, "There is no medicine like hope, no incentive so great, and no tonic so powerful as the expectation of something tomorrow." This was the 5th year we have been able to give the families of HopeKids something to look forward to.

Their smiles, their hope, and their courage gave us more than we could ever give to them, and inspires us to do more. Thank you, HopeKids, for sharing your day with SWCC and all our staff, volunteers, and animals.

Learn more about HopeKids.