MAY 12, 2011
Legislative report card marks true friends of small business
NFIB voting record considered Main Street's gold-standard measurement
PHOENIX – Arizona's voice of small business, those Main Street enterprises that employ more workers and generate almost every new job, today issued its legislative report card on which state representatives and senators were its true friends.

In releasing its 2011 legislative Voting Record on the eve of National Small Business Week (May 16), NFIB, the state and nation's leading small business association, graded legislators on their floor votes on 15 issues of maximum importance to Main Street, mom-and-pop enterprises.

"Though every legislator claims to be a friend of small business, our voting record provides a powerful tool for distinguishing between those who are pro-small business in deed from those who are only in word," said NFIB/Arizona State Director Farrell Quinlan. "It's easy for a lawmaker to pose for a photo at a small business back in their district and send out a nice press release commemorating Small Business Week, but it's how a legislator presses that button on the floor of the House or Senate that's ultimately the only meaningful way to gauge how high a priority voting with small business is to them."

The Voting Record looked at the votes of all 60 members of the state house of representatives and 30 members of the state senate. Thirty-seven of 60 House members and 21 of 30 Senators scored 80 percent or better on the 15 issues, and an impressive seven House members and four Senators racked up perfect, 100-percent, pro-small-business voting records.

"The Voting Record does not reflect all elements considered by a lawmaker when voting, nor does it represent a complete profile of a legislator," said Quinlan, "but it can be a guide in evaluating a legislator's attitude toward small business."

A brief description of all 15 bills and the voting records of each lawmaker can be found by clicking the hyperlink above. The record and more information about NFIB and small business can be found at www.nfib.com/arizona.
BY MARIELLE MARNE | MAY 11, 2011
Pane e Vino is the pinnacle of Italian taste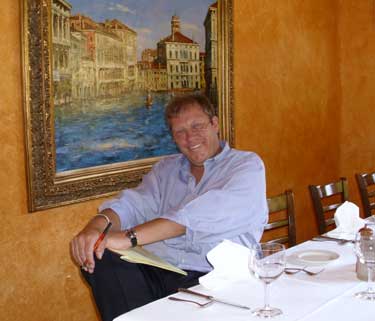 More often than not, diners will find Stuart Bailey, general manager, somewhere in Pane e Vino, so it's no surprise he thinks of the restaurant's customers as more than mere clients but as friends.
Photo by Marielle Marne


SCOTTSDALE – It's a fine time for fine dining. For 14 years, Pane e Vino Ristorante has served its neighbors well. General manager Stuart Bailey sees to it.

Originally from the UK, Bailey has been in the valley and the food service industry for 25 years. When not at Pane e Vino, he enjoys a round of golf and on his rare night off you'll find him pouring wine and cooking for friends and family.

"I know all my regulars," Bailey explained. "If I've not seen someone in a while, I get on the phone and call them. I want to assure all is well and invite them to come in and see us."

That's the kind of service you can expect at Pane e Vino. Of course, it extends beyond that.

"We'll be open seven days a week (starting at 5 p.m.) this summer." Bailey proffered that he is aware they are in the service industry and they fully intend to be there to provide service to the neighborhood. Again, the attitude has paid off, Pane e Vino is thriving!

Check out some summer specials: Mon., in the lounge, (1/2 lb Angus) burger, fries and a (domestic) beer, $6.95! You can't walk out of a fast food joint for less than that! Tues. (lounge), hand-tossed pizza and wine (Pinot Grigio or Chianti), $19.95. That's dinner for two and wine, less than $20. Weds., 1/2 off selected bottles of wine. Happy hour is unbelievable. Daily 5-7 p.m. 1/2 off well cocktails, wine by the glass and beer along with bar appetizers. Items like bruschetta, crab cakes, beef sliders, chicken tenders. Portions large enough so "no one goes home hungry."

Aside from the stellar service, patrons can expect consistency. Any item diners try will be as good as the first time they fell in love with it. Yet, if you have a suggestion or comment, Mr. Bailey would love to hear it. He personally visits each table to assure the food, the wine and the service exceed expectations. He cares.

Head over to the La Mirada Shopping Center at 8900 E. Pinnacle Peak Rd. where you'll find Pane e Vino intimately tucked away, so look for the sign. Preview the menu at the new website www.paneevinoaz.com. Join the e-mail list or like them on Facebook and you'll see and receive some terrific money-saving offers. Want more details? Call 480-473-7900.