BY PETE MOHR | MAY 11, 2011
Softball breaks Raymond Kellis hearts, 10-9, in extra innings thriller!
Ladies advanced to Tuesday's quarterfinals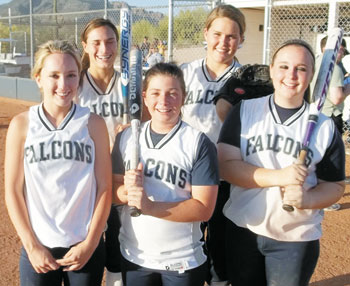 Photo By Pete Mohr
CSHS – Junior Hollis Edwards and sophomore Kendall Anderson are certain to play a lot more winning softball for Head Coach Danica Gianni's Lady Falons; but it's doubtful that these two teammates will share a more dramatic moment than Edwards' 9th inning single that drove in Anderson from third with the winning run , as the #7-ranked Ladies toughed out a 10-9 victory over #10 Raymond Kellis, Friday afternoon, May 6. The win advanced the LadyBirds to Tuesday's quarterfinals at #2 Shadow Mountain, which just got by (Tucson) Flowing Wells, 7-5, in their 1st Round game. See sonorannews.com for results at Shadow Mountain.

Coach Gianni to Sonoran News: "Obviously, our win against Kellis was a momentum-builder for us. How 'bout Hollis and Kendall?! And I can't say enough about Camille's (McIver) courageous pitching. After Kellis had tied the score with four runs (off three homers!) in the top of the 7th, I went to the mound and told Camille, 'Amber (Underdown) can't pitch off her sore ankle (injured earlier in the game); so you've got to do it. And she did!" Lady Falcon Softball historians will remember McIver for her outstanding three-year Varsity career in which she pitched two perfect games. This writer opines that McIver's last three innings against Kellis should be recorded as her most significant winning performance.

If the LadyBirds upset Shadow, Semifinals will be played Thursday, May 12, Rose Mofford Field #2, Peoria Avenue at 9833 N. 25th Ave., 6:30 p.m. first pitch. Finals are scheduled for Saturday, May 14, Rose Mofford Field #1, 8 p.m. first pitch. Go Lady Falcons! You can do it!
BY PETE MOHR | MAY 11, 2011
Senior Joey Ford "does it all" at State, but #2 Saguaro sends #15 Falcs home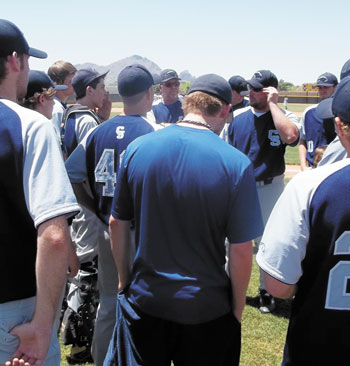 Photo By Pete Mohr
SCOTTSDALE – The #15 seed (CSHS) wasn't supposed to beat #2 seed (Saguaro) – and they didn't, in spite of pregame encouragement to this writer from Craig O'Grady, father of No. 10 Sean O'Grady: "You, know, in any sport, it's tough to beat the same team three times in the same season."

But Saguaro, after allowing the 'Birds to sniff an upset at the end of three and a half scoreless innings, touched starter Ryan Nemger for a monster home run by catcher and clean-up hitter Brandon Demerest leading off the 4th, which proved to be the only run the 'Cats would need. Two batters later, Nemger didn't get a strikeout on a questionable 3-2 pitch to shortstop Matt Morris. Designated hitter Reed Austin followed with a line shot to left that a leaping Brent Nurre had no chance of keeping in the park: Saguaro, 3 - CSHS, 0. Whatever defensive "mo" had kept the Falcs in the game was gone.

On came "Pitching Committee" Co-Chairman Joey Ford, who, from his centerfield position, had accounted for six fly ball putouts of the first nine Saguaro batters. If they're in his outfield territory, Joey Ford will track 'em down! Pitcher Ford deserved better from the Falcon defense. Two air mailed throwing errors, a bloop only trapped and a sun field muff plated three unearned insurance runs for the 'Cats in the 5th. In his two innings' relief, Ford struck out five – and also had two singles – but he was too little, too late to bail out the 'Birds. Congratulations, Joey, on a standout performance to end your Falcon career.

Saguaro righthander Travis Steinheiser scattered seven Falcon hits, striking out ten while allowing only one extra base hit, Connor Sabanosh's two-out double to the leftfield fence in the CSHS 1st. Congratulations to the 'Cats, one fine baseball team.
BY PETE MOHR | MAY 11, 2011
Good news, news scoreboard!



The new scoreboard beyond the centerfield fence proclaimed the good news of the Lady Falcons' dramatic 10-9 extra innings win over Raymond Kellis, Friday, May 6. Thanks to CCUSD Facilities Manager Dennis Roehler for putting up the new 'board, and to JV Softball Coach Doug Schwartz and a crew from Ferguson Electric (Varsity Assistant Coach Bill Ferguson) who installed the necessary wiring. A terrific addition to Lady Falcon Field!