MAY 4, 2011
Desert Foothills Theater summer class for adults
Slaying the Monologue Monster taught by Petey Swartz
This class will explore the many elements involved in improving the actor's selection and performance of monologues, along with invaluable audition tips.

Monologue Class Synopsis
The first four weeks will include dramatic monologues and the last four weeks will emphasize comedic monologues.

Class elements will include:
Choosing a Monologue
Breaking down and analyzing a monologue
Monologue Audition Eye-Openers~~invaluable audition tips!
Effective Methods of making your monologue more natural and believable
Practicing your monologue
Timing your monologue to meet audition requirements
Student performances and individual instructor's notes for each student
Addressing Monologue FAQ's:
How do I know what kind of monologue to do at an audition?
Where do I find a monologue?
What kind of monologue do "they" want?
How long should my monologue be?
Is it okay if I do 2 dramatic monologues, instead of one comedic and one dramatic?

Enrollment deadline is June 14, 2011.
Visit: www.desertfoothillstheater.com.

Testimonials from previous Petey Swartz classes:

"Petey clearly cares passionately about actors and acting and always sets a high bar, not least for herself as the instructor. She has a brass tacks, no nonsense approach that I personally find very welcome."
~Peter Strupp~ "Make a Scene!" Scene Study class-Winter/Spring session

"I cannot say enough about Petey. She is a great, great instructor; intelligent, experienced and knowledgeable. She teaches the basics step-by-step so you are able to prepare for that next audition or role with confidence."
~Nancy Mercurio~"Make a Scene!" Scene Study class-Winter/Spring session

"Petey makes it look easy; she inspires. Her dedication to the craft of acting makes one feel that they can go and do likewise with the same hard work and dedication. It takes a great instructor to show (her) students how to build a strong foundation. Petey does that!"
~Linney Allen~"Make a Scene!" Scene Study class-Winter/Spring session

"The course was well laid-out with the right balance of encouragement and critique. Petey is a very gifted actor and director, and a wonderful teacher. She has made me a better "thinking" actor and helped me to be in my truth as a character."
~Paula McKenny~"Make a Scene!" Scene Study class-Winter/Spring session
MAY 4, 2011
Young actors immerse themselves in theater at DFT Gecko Teatro Summer Theater Camp
June 20-July 1 at Cactus Shadows Fine Arts Center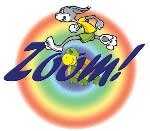 Zoom!
DFT Gecko Teatro Summer Theater Camp
June 20 - July 1, 2011
Cactus Shadows Fine Arts Center
9 a.m. - 3 p.m.
Mon.-Fri.
Performance: June 30, 7 p.m.
Desert Foothills Theater (DFT) Gecko Teatro, the youth theater arm of Desert Foothills Theater (a division of the Foothills Community Foundation) is thrilled to offer their 4th Annual Summer Theater Camp offered through Desert Foothills Community Education.


Brought to you by the same youth theater that produced this spring's popular production of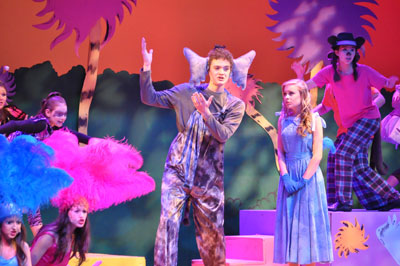 Seussical, Jr., DFT Gecko Teatro's Summer Theater Camp gives young actors (who have just completed third grade through those justcompleting 9th grade) the opportunity to study voice, movement and acting while they also help create the sets, costumes and props. It all culminates in a full-scale theatrical production. This year's show is entitled Zoom! – it is an updated version of The Tortoise and the Hare.

Harvey Hare, wealthy business tycoon, is running for Mayor but his methods are rather underhanded. When his small, shell-shuffling employee Toby Tortoise discovers the truth, he challenges Harvey and the stage is set for the race of all time. It's a race between fast and slow, big and small, right and wrong... but who will win in the end? With nine outstanding songs ranging from beautiful ballads to show-stopping chorus numbers, the show is humorous mix of comedy and pathos brought to life by a cast of colorful characters.
Forty-five students will bring to life this fun-loving show. Every camper receives a speaking role in the production and every character in the show provides some great opportunities to explore in-depth character development.

DFT Gecko Teatro Summer Theater Camp students spend two weeks under the guidance of six Desert Foothills Theater Gecko Teatro instructors (who are all professionals in the field) and highly qualified teen and college aides learning every aspect of theater production. "Students study acting techniques and apply them to their character development, memorize their lines, learn the songs, learn choreography, help build the sets and help create the costumes. It is a full-immersion theater camp," said Meribeth Reeves, camp director. "It is truly amazing what they can accomplish in only two weeks."

"This is a great starting point for young actors interested in being in our main stage productions," continued Reeves. "Campers get to work with our directors and learn the expectations we have for our productions. Many actors in Seussical, Jr. and The Rocky Monster Show this season got their start in our summer camp."

DFT Summer Theater Camp camp runs June 20-July 1 at the Cactus Shadows Fine Arts Center. The cost is $395 per camper plus a one-time registration fee of $25.00. Register at FCF-Holland Community Center, 34250 N. 60th Street, Scottsdale. Camp slots are filling fast. The final performance is open to the public. It is June 30 at 7:30 p.m. at Cactus Shadows Fine Arts Center. Tickets are $10 for adults; $5 for students and are available online at www.desertfoothillstheater.com OR by calling 480-488-1981.