BY PETE MOHR | MAY 5, 2011
Tournament Talk
Lady Falcons softball, ranked #7, will host Raymond Kellis at Cactus Shadows on Friday, May 6, 4 p.m. first pitch.

Baseball Falcons slipped to #15, good enough to make the State playoffs. They face the tough assignment of playing at #2 Saguaro, Saturday, May 7, 11 a.m. First pitch.
BY PETE MOHR | MAY 4, 2011
Baseball, at #14, plays State 1st round away, Saturday, May 7, 11 a.m., opponent and site TBD
PHOTOS/CUTLINES: Celebrating "Senior Night";
"The Committee" and a Big Double
BY PETE MOHR | MAY 4, 2011
Lady Falcons earn Cactus Shadows softball's first "top eight" finish
First Round State Playoffs game probably at home, Friday, May 6, 4 p.m. first pitch, opponent TBD
CSHS – Ah, the inexplicable world of A.I.A. Power Points calculations! Ranked #2 entering the week of April 25, the Lady Falcons rallied to beat Saguaro, 8-4, on "Senior Day" (April 26), then traveled to McClintock, where they "mercifully" dismounted the Lady Chargers, 13-0. Good enough to drop the LadyBirds to #6 as of Wednesday, May 4. Keep reading ...
BY PETE MOHR | MAY 4, 2011
2011 Spring Football gets underway, Monday, May 1
Fifty report for practice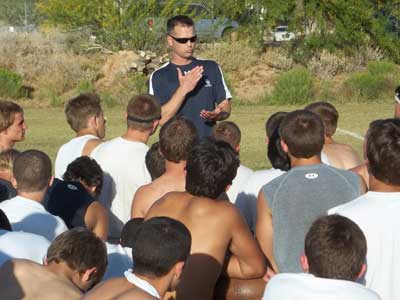 Head Football Coach Greg Davis addresses his Falcons at the May 2 conclusion of the second day of Spring Practice, which will extend through Friday, May13.
Photos by Pete Mohr




CSHS – On Monday, May 1, at 3 p.m. Head Football Coach Greg Davis welcomed approximately 50 Falcon "aspirants" to the first session of Spring Football Practice – and he's "looking for a few (more) good men" – 25, to be exact. Coach Davis to Sonoran News: "By the May 13 end of spring practice, we want to have 75 athletes in our program. We're recruiting Cactus Shadows boys who want to play football – maybe for the first time. My coaches and I will do the teaching." His best recruiters? The 50 player candidates already "out" for football.

Coach Davis's central message is clear: "My coaches and I are dedicated to building strong young men; because we believe strong young men make strong football players." And he stressed to his players the importance of upcoming final examinations. "I'm pleased with our first two days of practices," he evaluated to this writer. "These guys are already working hard."

Sonoran News had an opportunity to speak briefly with rising junior quarterback Bryce Kinsler, who confirmed that his basketball season ankle injury is completely healed. That's the best news Coach Davis could possibly have. You don't have to be a John Madden level football analyst to recognize that, "As Bryce goes, so will the Falcons."
The 2011 football schedule will be posted soon.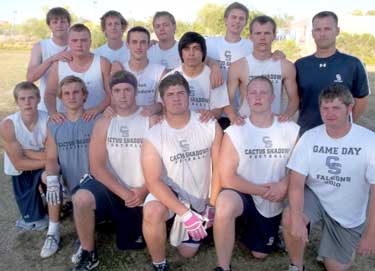 Sonoran News photographed the Football Falcon seniors after spring practice, May 2: (back, l-r) Colby Brown, Ben Souva, Gunnar Collier, Eric Johnson; (center, l-r) Bryan Lynn, Tino Morales, Michael MacIntosh, Bryan Downing; (front, l-r) Connor Cozen, Phillip Keown, Ashton Elletson, Saul Monteon, Tommy Pritchard, Landon Weaver. "Senior Leadership," guys, is the foundation of a winning season.
BY PETE MOHR | MAY 4, 2011
Native Creeker Ry Eikleberry, 22, "three-peats" as top jockey at Turf Paradise track
After summer's season at Minnesota's Canterbury Park, this outstanding young rider will likely advance his career to Hobbs' (NM) Zia Park Racino
PHOENIX – Even though Ry Eikleberry now lives in north Phoenix, I'm going to claim him as a "three-peat" champion for Cave Creek, where he was born and raised. And he attended (and wrestled for) Cactus Shadows his freshman year before pursuing his dream to become a horseracing jockey. Keep reading ...