APRIL 27, 2011
Signup now for Greasepaint Youth
Theater's Summer Camp!!
Sessions filling up. Don't miss the chance for your child to perform at Greasepaint in a Summer Production … and don't miss School House Rock Live May 6 – 15.

For those of you whose summer plans don't leave a lot of time open for camp … there are three (1 week) sessions that will focus on fun music and themes and culminate in a share session on the last day of camp for family and friends:

June 6-11 HEROES – This musical theatre camp revue will focus on musical numbers performed by the most beloved Heroes of theatre from shows favorite Disney musicals and Broadway shows! Final day of camp showcase performance at 3 p.m. Cost $175

June 13-17 VILLIANS – This week we take a look at and perform music sung by all of the great villains from shows like Wicked, Sweeney Todd and others!
Final day of camp showcase performance at 3 p.m. Cost $175

June 20-24 SCHOOL HOUSE ROCK LIVE JR- JR – Shortened version of our final show this season with numbers like Conjunction Junction and Interplanetary Janet.
Final day of camp showcase performance at 3 p.m. Cost $175

For those who want the full play production – costumes, lights set and two performances open to the public.....!

June 27-July 8 (no camp on July 4th) FAIRYTALE COURTROOM – During this two week camp, we will present a play where the audience becomes the jury! See all of your favorite characters, including Sleeping Beauty, Snow White, the Charming Prince, Little Red, Hansel and Gretel, the Three Little Pigs and many more come and testify against the Big Bad Wolf and the Wicked Witch when they are finally brought to justice!

School show with invited audience last day of camp plus performances on Friday evening, July 8 and Saturday afternoon, July 9! Cost $350.

And, finally for those kids who are looking forward to a fully staged musical production with two performances open to the public on Friday, July 29 and Saturday, July 30!

July 11- 29 DEAR EDWINA JR – Thirteen year-old Edwina Spoonapple would do just about anything to be a part of the Kalamazoo Advice-a-palooza Festival. While her siblings both have proof "up on the fridge" of their accomplishments, poor Edwina has nothing. When a talent scout from the convention visits her hometown of Paw Paw, Michigan, she trots out her musical advice giving shows live from the family garage in hopes of finding her place in the spotlight. She is assisted by her older siblings and a host of quirky friends and neighbors: Becky, the perky cheerleader; Kelli, the cool, sophisticated ballerina; Annie, the girl-scout cookie-selling champion; the Vanderploonk triplets; Bobby, the befuddled new kid on the block; and Scott, who is helplessly and hopelessly in love with Edwina. Together they set out to tackle the world's problems, in number after hysterical number about everything from birthday party etiquette to the proper way to set a table ("salad fork, fork, plate, knife, spoon"). Cost $550.

All camps are appropriate for kids ages 6-14. For more information or to register, you may call 602-889-7609 or register online at www.greasepaint.org.
Arts Council of the North Valley announces winners of the 6th Annual Regional Teen Art Competition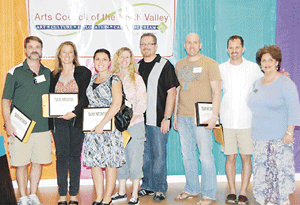 PHOENIX – Hundreds of visitors were greatly impressed by the artistic talents of these visual fine art students from eight area high schools and one charter school at the 6th Annual ACNV Regional Teen Art Competition and Exhibit presented by the Arts Council of the North Valley (ACNV).

"We were thrilled with the response to the exhibit," said Willine Evans, event chair. "People were amazed that the artwork was done by high school students from ninth to twelfth grades and not professional artists."

Students from Barry Goldwater-Phoenix, Boulder Creek-Anthem, Cactus Shadows-Cave Creek, Deer Valley-Glendale, Mountain Ridge-Glendale, Sandra Day O'Connor-Phoenix, Sunrise Mountain-Peoria high schools, and The Caepe School-Anthem, all part of the north valley, competed for honors, their artwork having been selected from their respective schools. The exhibit was judged by Michelle Korf, Executive Director, from the Scottsdale Artists' School.

Best in Show was awarded to India Williams for her pencil drawing titled "Trashy Treasure." India, a student of Jason Lohmeier at Sandra Day O'Connor received a gift certificate for $300 from the Scottsdale Artists' School, a gift card for $75 from Arizona Art Supply, large portfolio from The Caepe School and an artist portfolio from ACNV.

The Award of Excellence went to Andrea Eaton for her mixed media piece titled "Delirium". Andrea, a student of Larry Page at Barry Goldwater received a gift certificate for $200 from the Scottsdale Artists' School, a gift card of $50 from Arizona Art Supply, $25 gift certificate and art supplies from The Caepe School, and an artist portfolio from ACNV.

The following students were awarded Honorable Mention: Spencer Lee, Reyna Mosley, Soo-Young Park, David Lester, Amanda Wells, Kelsey Shores, Chuck Harrison, Alex Spayde, Patrick Swan and Brock Baird. Each of these winners received an artist portfolio from ACNV.
In recognition of their achievement, all students whose artwork was on exhibit received a Certificate of Participation award from ACNV. As well, teachers of the exhibitors were awarded an Art teacher Certificate of Participation.

People's Choice Award winner was Amanda Wells for her detailed pencil drawing. Amanda, a student of Stephanie Sullinger-Dukarm at Deer Valley High School received a gift card for $25 from Arizona Art Supply and a certificate from ACNV.

"The Regional Teen Art Competition was made possible with the support of the Outlets at Anthem, Scottsdale Artists' School, Arizona Art Supply, The Caepe School, the Arizona Commission on the Arts, the Ida G and Stanley T Halbreich Foundation and our ACNV members and volunteers. Thank you all so much!" said Ms Evans.

To learn more about the Arts Council of the North Valley call 623-516-2268 or visit acnv.org.