MAY 3, 2011
Statement of Superintendent of Public Instruction John Huppenthal for Teacher Appreciation Week 2011
PHOENIX – Superintendent of Public Instruction John Huppenthal released the following statement for Teacher Appreciation Week 2011:

"Today, during Teacher Appreciation Week and in honor of Teacher Appreciation Day, I ask everyone across Arizona to join me in expressing their deep appreciation for the invaluable roles that teachers play in shaping our children's lives and their futures. As Benjamin Franklin once said, 'Genius without education is like silver in the mine,' and within the school building, no one plays a more important role in a child's educational career than the teacher. Every one of us can think back to that one special teacher who inspired us or challenged us to strive a little bit harder to be successful, who encouraged us to dream a little bit bigger.

Such a teacher changed my life.

I wasn't planning on going to college. But my high school wrestling coach Jack Segerson saw in me potential that I was not able to see in myself. His encouragement and strong regard for higher education inspired me to go to college and attain a bachelor's degree; and later, an MBA.

If it wasn't for Jack Segerson, a teacher, I would have never truly realized the importance of a quality education. I would not be the Superintendent of Public Instruction today.

So on behalf of everyone at the Arizona Department of Education, I join with parents and students across Arizona in extending my sincere thanks for the important job over 60,000 teachers perform on a daily basis to educate Arizona's children, and for their inspiring efforts to help our children realize the dream of a successful, enriching life."
BY PETE MOHR | APRIL 27, 2011
Falcs cling to #8 ranking after home win over Queen Creek
Finish at 16-0 Saguaro (April 26); April 28 "Senior Day" hosts "Mac"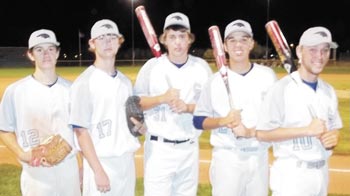 Chaining up the Bulldogs were (l-r) reliever Joey Ford, starter/winner Ryan Nemger, Max Patterson (three-run homer in the 2nd), Connor Sabanosh and Sean O'Grady (game-winning RBIs in the 3rd).
Photo By Pete Mohr
FALCON FIELD – Baseball Falcons played tough, coming up with a 5-3 "golden egg" win over Queen Creek, Thursday night, April 21. Pitching by Head Coach Spencer Grace's promised "committee" (starter/winner Ryan Nemger, four solid innings, and reliever Joey Ford, three scoreless frames/six strikeouts) and timely hitting (Max Patterson's three-run homer in the 2nd and game-winning RBIs from Connor Sabanosh and Sean O'Grady in the 3rd) carried the 'Birds to a 1-1 split with the Bulldogs in the season's two games.

As of Tuesday morning, April 26, Cactus Shadows was ranked #8 in A.I.A. Power Points (64.2203), narrowly ahead of #9 Nogales (63.9801). The importance? "The Elite Eight" will play their 1st Round State contests at home. In Desert Sky Region standings, CSHS and McClintock are virtually tied for 2nd place. Falcons challenged 16-0 Saguaro on the road, Tuesday, April 26. McClintock will be the opponent for the Falcons' "Senior Day," Thursday night, April 28, 7 p.m. first pitch. Thirteen seniors and their parents will be honored.

Post-Queen Creek, Coach Grace enthused to Sonoran News, "We're in a playoff mode now!" Here's hoping the 'Birds will stay that way.
BY PETE MOHR | APRIL 27, 2011
LadyBirds "flat" at Queen Creek; Rebound at "Flag"
CSHS – Head Coach Danica Gianni, doing her best Howard Cosell number, tells it like it is: "Last Thursday afternoon at Queen Creek?
Terrible
game! We were absolutely
flat
!" Lady Bulldogs, 6 - Lady Falcons, 1. Still, the Ladies are ranked #2 in the latest A.I.A. Power Points.
At Flagstaff, in Monday's make-up game, the HomeLadies trailed, 0-4, at the end of three innings, but shook off their travel blahs to explode for four runs in the 4th, five in the fifth and one in the 7th to defeat the Lady Eagles, 10-6. Camille McIver started and went the distance for the win, striking out seven. Gracie Goulder led the Lady Falcons' attack, going 4-for-5 with two doubles and a triple, good for six RBIs. Kristen Hillier ignited the 5th innings rally with a lead-off home run.
The LadyFalcons hosted Saguaro at Tuesday's "Senior Day," with the durable McIver hurling on back-to-back days. "She can do it," Coach Gianni assured
Sonoran News
. Either McIver or classmate Amber Underdown (if recovered from sickness) will appropriately get the start at McClintock's Lady Chargers, Thursday, April 28.
Congratulations, Ladies, on your winning regular season! Good luck at State!