APRIL 21, 2011
Special public art unveiling begins the countdown to Scottsdale's 60th anniversary
On April 25, Mayor W.J. "Jim" Lane will unveil the Scottsdale Gem Wall -- an interactive public art display created by the city's 60th Anniversary Committee, Scottsdale Public Art and the city of Scottsdale. The unveiling is the official kick-off of 60 days of celebration that will lead up to Scottsdale's 60th anniversary on June 25.
There are 60 bandanas covering the Scottsdale Gem Wall, each folded with a message celebrating Scottsdale inside. During the celebration, bandanas will be removed and the messages read. At the end of the 60 days the complete sculpture will be revealed.

Also at the April 25 kick-off celebration, Mayor Lane will join Scott Yarosh, local soda brew master, to pour some special "Scottsdale 60 Sarsaparilla," which has been custom brewed for the celebration.

The culmination of festivities will be June 25 with a community birthday party as well as an evening celebration at the W Scottsdale. Dozens of community events will be part of the community celebration. Here are few notables:
Scottsdale cowboy history and poetry night – hear cowboy tales & prose at Troon North
Frontier Town Days - western entertainment, cooking demonstrations and a thief's market & sidewalk sale in Old Town Scottsdale
Zap! Pow! Bam! Costume Ball – celebrate the history of pop art in Scottsdale
Amazing Race Family Scavenger Hunt – be the first to find Scottsdale's interesting places
History of the Scottsdale Art District – learn about this world-famous art destination
Mayor and Council Breakfast & Scottsdale's Birthday Party – hosted by the Mayor and City Council
The Grand Sioree for Scottsdale's 60th Birthday – at the W Scottsdale
Learn more and see the full list of events at www.Scottsdale60.com.
APRIL 20, 2011
ASU Vault Gallery presents "Ephemeral Moments & Systemic Tides"
PHOENIX – This spring, the Vault Gallery showcases an exhibition of art works from artists Christine Cassano and Rebecca Bergman entitled "Ephemeral Moments & Systemic Tides" at ASU's downtown Phoenix Campus Library at the University Center. A reception for the artists will take place on Friday, May 6 from 6:30 to 9 p.m. The exhibit runs through June 25. Both events are free and open to the public.

Previously the First National Bank of Arizona, the University Center has kept the original bank vault and the columns and incorporated them into the library on the lower level of the building. While all the walls within the library exhibit artwork, the vault itself is the center piece of the gallery.

Although these two valley artists have very different styles and approaches to their art, it is clear that both artists have a common thread within their work as they both explore ideas regarding the micro [fleeting moments] & macro [tidal movements] elements as they relate to human behavior. Both artists will be present to discuss their works included in "Ephemeral Moments & Systemic Tides" during the artist reception on Friday, May 6.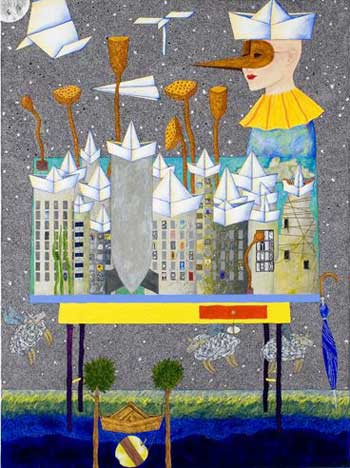 Rebecca Bergman's paintings on canvas are comprised of incredibly detailed and surreal imagery. Her work seems to capture ephemeral moments in time, and while viewers engage that moment her work has a larger undercurrent which speaks of the wonderment of constantly living one's life free without boundaries.
(right: "Papers" by Rebecca Bergman)

Christine Cassano's medium is concrete which she casts into wall panels. Her recent works explore ideas relating to apathy in our society. Each piece references specific moments about conversations that she has had when she inquired about apathetic behavior towards solving current pressing social and economic issues. Each concrete piece has both manufactured [auto parts, gears, etc.] and organic components [plants, sand, etc.] embedded into the concrete. These elements create small, yet enticing details that beg the viewer to lean in and become intimately engaged while posing an undertow of the larger question regarding our dwindling ability to resolve complex problems in these modern times.



(above: "One Versus 6 Billion" by Christine Cassano)

Both artists have also decided that they will be donating 25 percent of all art sales from this exhibit directly to the Icehouse in downtown Phoenix. Upon hearing about Hugo Medina's fundraiser exhibition for the Icehouse and reading the Phoenix New Times article of how the Icehouse was slated to close at the end of 2011, Christine and Rebecca both decided that donating a portion of their sales from this exhibit was a way they could also help. "The Icehouse has been an enormous foundation for all forms of art here in the valley" says Cassano. "It's important that, as artists, we do what we can to help with the resources that we have. Hugo's idea is inspiring. It's time to give back." Christine also donated a few art pieces for Hugo's fundraiser exhibition at the end of May.

Location: Vault Gallery inside ASU's Downtown Phoenix Campus Library: 411 N. Central Ave. Phoenix, AZ. ASU Downtown Phoenix Campus Library is located in the Information Commons in the lower level of the University Center Building.

When: Through June 25, 2011 (during normal library hours)
Artist Reception / Special viewing on Friday on May 6, 2011, 6:30 - 9 p.m.
APRIL 14, 2011
Art Raffle yields $1,200 to benefit Foothills Caring Corp
The 90 minute Raffle held by the Terravita Art League in March at its 11th Annual Art Exhibit Artists' Reception brought $1,200 to benefit the Foothills Caring Corp. Items bid for were: a sterling silver pendant crafted by Nadine Leo; a pastel painting, "On Par", by Cheri Saffro; a hand-crafted gourd and "In The Land of the People", by Cheryl Bloom.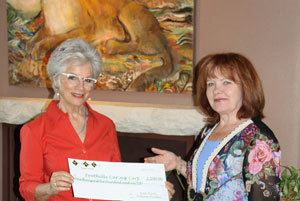 Pictured is Rita Flynn, President of the Terravita Art League, presenting a mock check to Debbra Determan, representative from the Foothills Caring Corp.
Courtesy Photo