APRIL 8, 2011
Desert Foothills Library hosts Art Talk and Slide Show April 12

The Library is hosting an Art Talk and Slide Show presented by local artists at 4 p.m. on Tuesday, April 12. This event is part of a week long silent auction that began on April 4 during which local artists are displaying their work in the Library. You may bid on these items and auction winners will be notified at the Art Talk. All proceeds will be donated to the Library!

Local artists include Judy Bruce, Marty Gibson, Mary Wells, Margit Kagerer, Susanne Flowers, Sue Lewis and Katalin Ehling.

If you wish to place a bid in the silent auction, please stop by the circulation desk at the Library.

For more information please call the Library on 480-488-2286.


APRIL 6, 2011
The International Wildlife Film Festival comes to Cactus Shadows Fine Arts Center in Cave Creek
Pre-Festival Event April 9
The Arizona Wildlife Education Foundation (AWEF) will sponsor a festival of award-winning films from the International Wildlife Film Festival on April 9th at the Cactus Shadows Fine Arts Center from 10 a.m. – 5 p.m. AWEF has selected several top award-winning programs specially selected to appeal to audiences of all ages, including Lords of Nature (as seen on PBS), Chick Flick, and others.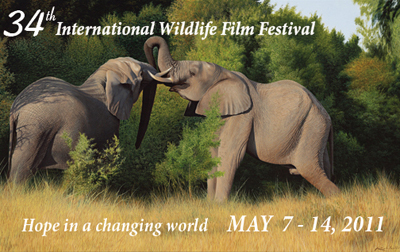 The International Wildlife Film Festival & Media Center, located in Missoula, Montana was established in 1977 and is the longest running event of its kind in the world. The Arizona Wildlife Education Foundation is proud to sponsor this event for the first time in Arizona.

In addition to films, look for children's activities, wildlife displays, a silent auction, Arizona wildlife, and more. Spend a few hours or the entire day!

Ticket prices are $5 for children ages 3-12 and seniors age 60 and over, $8 for adults.
APRIL 6, 2011
The Arts Council of the North Valley Presents the 6th Annual Regional Teen Art Competition and "Artists in Studio" Exhibit
Emerging young artists from North Valley high schools will exhibit their work as part of the Regional Teen Art Competition and Exhibition at the Outlets at Anthem.

No Admission Fee – Open to the Public

~10 a.m. – 5 p.m. April 16-17: "Artists in Studio" will feature mixed media, ceramics, oil, acrylic and more!

~3 – 5 p.m. April 17: Awards Ceremony

~Noon April 16 and 1 p.m. April 17: Performances by Musical Theater of Anthem
Outlets at Anthem, 4250 W Anthem Way, Suite #550