APRIL 6, 2011
CSHS new head football coach recommendation goes to CCUSD Board, Tuesday evening, April 12
"Insider" selection process is a disappointment to this writer
CSHS – I sincerely hope the gentleman to be recommended by Principal Steve Bebee as
the new head coach of Falcon Football will become the most successful in Cactus Shadows' gridiron history. Bebee's "referral," resulting from the first completed selection process ever for a new head football coach (the 2003 bizarre details of one Ricky Watts, former Chicago Bear, will appear in a future issue), goes before the CCUSD Board, Tuesday evening,
April 12. Keep reading...
BY PETE MOHR | APRIL 6, 2011
A CSHS distance running tradition!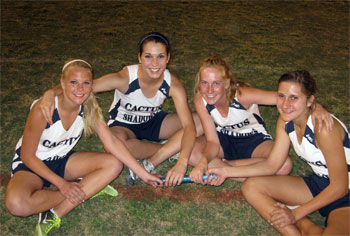 In a strong field, Falcon Girls 4x800m relay team finished a solid 3rd, serving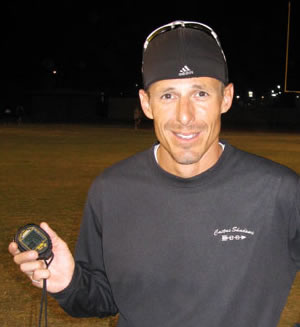 notice that the CSHS tradition of excellence in that event will continue this Track season. Pictured are (l-r) freshman Sloane Myers-Lenz, senior Kate Accola (a/k/a "The Ac Attac"), sophomores Terri Baker and Dani Zalewski. A familiar Falcon to watch: Joree Schneider, as Head Track Coach Geoff Johnson and his coaching staff mentor this versatile, determined athlete toward earning a Track scholarship in the decathlon (ten track and field events). Next (and last) home meet: Wednesday, April 13, with Notre Dame, Seton Catholic and Williams Field.
Head Track Coach Geoff Johnson blazed his way to a 5:31 in the "Community Mile" in last Friday's Scottsdale Distance Classic run at Saguaro Stadium's track.
BY PETE MOHR | APRIL 6, 2011
Their bats treed the 'Cats!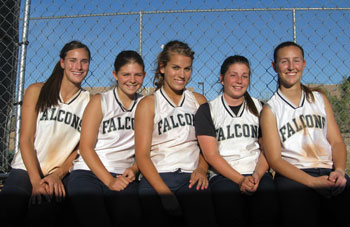 After getting football-crunched by the eventual 4A-I State Champs ; two decisive basketball losses; upset, 1-3, for the Boys Soccer Region title; and Baseball's 7th inning rally falling two runs short (8-10) on March 31, it looked like the Saguaro Sabercats had the Falcons' varsity "number" in 2010-2011. Only Cross Country, Girls Basketball and Girl Soccer had upheld Falcon Pride. But on the afore-noted March 31, Head Softball Coach Danica Gianni's Lady Falcons shook off a tough March 29 home loss (7-8, in eight innings) to Queen Creek's Lady Bulldogs and bounced back with a solid 7-2 win over the Lady Sabercats at (even sweeter!) Saguaro. Backing starting (and winning) pitcher Camille McIver were LadyBird hitters (l-r) Gracie Goulder, Megan Scarpulla, Amber Underdown, Hollis Edwards and Elyssa Hartsock. Nice work, Ladies!
BY PETE MOHR | APRIL 6, 2011
"The Gracie Goulder Show" in 7th inning lifts Lady Falcons to 3-2 victory over stubborn Campo Verde
Elyssa Hartsock's perfect sacrifice bunt sets up winning run; A.J. here, April 7
Lady Falcons Field – April 4. In baseball or softball, how many times have you fans seen a great defensive play for the third out send up the playmaker as the leadoff hitter in the following half-inning? Keep reading...
BY PETE MOHR | APRIL 6, 2011
Injured flinger belts a dinger!

Baseball teams can suffer devastating injuries. See "Arizona Diamondbacks and Brandon Webb." CSHS Head Baseball Coach Spencer Grace wasn't calling starting pitcher/outfielder junior Sean O'Grady's shoulder injury "devastating" – but it sure-as-heck could have been a blow to the Falcons, who were expecting to lose O'Grady, as a pitcher, for the season. Fortunately, an MRI exam revealed no structural damage to O'Grady's right shoulder. He should be back on the mound within 2-3 weeks. Keep reading...