APRIL 6, 2011
Thousands of children's educations saved at U.S. Supreme Court
ADF attorneys win Arizona parental-choice-in-education case
WASHINGTON — The U.S. Supreme Court handed down a huge victory for proponents of parental choice in education Monday. The high court agreed 5–4 with the arguments of Alliance Defense Fund attorneys and dismissed an American Civil Liberties Union lawsuit against an Arizona program that promotes school choice. The program, like others across the country, allows state residents to claim a tax credit for donations to private organizations that provide scholarships to private schools. Keep reading...
MARCH 31, 2011
Drawing results for elk, pronghorn hunts now available
Permits remaining issued first-come, first-served beginning April 25
PHOENIX – The drawing results for Arizona's 2011 elk and pronghorn antelope big game hunts are now available. The more than 120,000 eager applicants can find out if they were drawn for the limited permits by visiting the Arizona Game and Fish Department's website at www.azgfd.gov/draw or by calling (602) 942-3000 and selecting option two. Keep Reading...
BY PETE MOHR | MARCH 30, 2011
Falcs "kick Butte" 12-1 at home March 24
"Laughers" will end at Queen Creek March 29, hosting Saguaro, 2010 State Champs, March 31
CSHS – The Baseball Falcons' three most recent regular season games: CSHS, 12 - Poston Butte, 1 (March 24, H); CSHS, 24 - Campo Verde, 2 (March 22, A); and CSHS, 20 - J.L. Combs, 3 (March 17, A). Hopefully, the A.I.A.'s scheduling realignment, to be completed by the start of school year 2011-2012, will significantly reduce both geographic insanity (the round trip to Combs is at least 170 miles) and the brutal mismatches (in certain varsity sports) for "newer" schools. Keep Reading...

BY PETE MOHR | MARCH 30, 2011
These batteries are fully-charged!
Hope the Combs Lady Coyotes enjoyed their two hours (max) in the scenic Foothills on March 17. The Lady Falcons trapped 'em… "mercyed" 'em, 16-0. Camille McIver hurled her second perfect 2011 game; Gracie Goulder led off the home 1st with her sixth home run of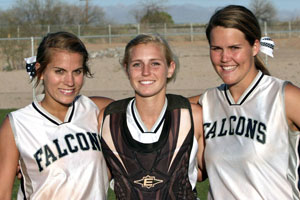 the season; and Megan Scarpulla knocked in four runs. At Poston Butte, Monday, March 28: Brutal! LadyBirds, 14 - "The Butte," 2. Winning pitcher McIver belted a two-run homer, and Taylor Decker went 4-for-5. The Ladies' "vacation" is over. Queen Creek here, Tuesday, March 29; then the Lady Falcons are at Saguaro, Thursday, March 31 – both tough Region tests. The difference makers will likely be the batteries of seniors Amber Underdown (l.) and McIver (r.), flanking sophomore catcher Decker, who has impressed Head Coach Danica Gianni with her solid performance behind the plate. "New" Campo Verde (April 4), McClintock (April 5) and Apache Junction (April 7) will give the Ladies the luxury of three D-Sky home games in a row. Nice!