MARCH 23, 2011
Gypsy Soul performs a live concert at Cave Creek Coffee Company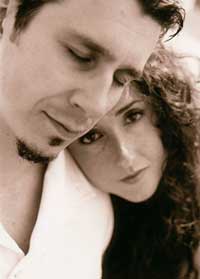 CAVE CREEK – On Saturday, April 2 acclaimed artist duo Gypsy Soul performs a live concert at Cave Creek Coffee Company. Known for their Soulful, Acoustic Rock with Celtic and Americana Roots, vocalist, Cilette Swann's soaring four plus octave soprano voice, and Roman Morykit's fretless bass, acoustic and electric guitar will present songs from their hit albums including "Grace & Tranquility," "Wanderlust," "Distant Early Warning," and more!

People Magazine says, "Transcendent. Her voice is haunting and his musicianship is superb. Their music stirs the soul and moves the spirit."

Their music has aired on Television shows such as Providence, Felicity, Roswell, the Young & The Restless, MTV Specials and Movies of The Week and won accolades such as "Critic's Choice" in over 50 publications including; L.A. Times, OC Weekly, San Francisco Chronicle, Mail Tribune, Seattle P.I., OC Register, Performing Songwriter, Park Record, Where San Francisco, Standard Examiner and more!

The performance begins at 7:30 p.m. with doors open at 7 p.m. at Cave Creek Coffee Company located at 6033 E. Cave Creek Rd., Cave Creek.

For more information on the Gypsy Soul concert please call 480-488-0603 or visit the website at www.cavecreekcoffee.com.
MARCH 23, 2011
Scottsdale Culinary Festival April 5 – 10
A festival for all tastes!
SCOTTSDALE – The grills are firing up for 33rd Annual Scottsdale Culinary Festival, another round of the nation's longest continually running food festival. This year you can look forward to numerous talented chefs, a larger variety of foods to savor and even more captivating entertainment. The event runs from April 5 – 10 at several delicious Scottsdale locations.



With a menu of luxurious dinners, chic cocktail parties, and casual feasting favorites, the Scottsdale Culinary Festival has something to satisfy every palate.

Between the celebrity-chef dinners, Champagne brunch, cocktail parties and a food-filled picnic, it's easy to lose track of the Festival's tastiest takeaway. In 2010, 38,000 people attended the festival, which donated $302,000 in fundraising for 54 Arts and Arts Education charities! Digest that a bit, it's some food for thought.

For the "menu of events" and festival information visit www.ScottsdaleCulinaryFestival.org.

The Scottsdale League for the Arts is a nonprofit (501(c)3) charitable organization that raises funds for arts and arts education programs throughout Arizona. Since 2002, the League has contributed more than $3.5 million to numerous organizations benefiting children, such as Ballet Arizona, Childsplay, Free Arts of Arizona, Greasepaint Youth Theatre, Jazz in Arizona, Phoenix Boys Choir and the Scottsdale Center for the Arts. For additional information about the League or about becoming a member or volunteer, contact SLA at 7309 E. Evans Rd., Scottsdale, AZ 85260 or by phone at 480-945-7193. Or visit the website, www.ScottsdaleCulinaryFestival.org.