'MY VIEW' BY DON SORCHYCH | MARCH 16, 2011
Election post-mortem
Elections in Cave Creek and Carefree are final. Cave Creek has no runoffs and candidate Alice Kunka is out. Carefree has a runoff between Jim Peirce and Jim Van Allen, while David Schwan remains as mayor.

Cave Creek sent out 3,308 ballots in its first year of voting by mail and 1,093 votes were cast. Although most assumed the count would be much higher, there was a lack of real competition. In some ways it seems voters are satisfied with the council, although they really didn't have a choice.

From my perspective it was positive Ernie Bunch and Dick Esser got the highest votes, at 734 and 721 respectively. Both were adamantly opposed to a property tax, as I am. Hopefully they will lead the opposition against the people seeking an initiative to shove a property tax down our throats.

Next was Planning Commissioner Shelley Anderson at 685 votes. She showed the wisdom of running after learning experience on the commission and boards.

Ex-councilman Thomas McGuire at 680 votes showed the effect of name recognition and also public sympathy for his razor thin loss by card draw to Adam Trenk, who, as predicted, used his council seat as a stepping stone and is now moving into the state arena.

That leaves our two liberal attorneys, who despite their lineage do a good job except on judging Cave Creek as ripe for a property tax. Jim Bruce got 661 votes and Steve LaMar got 639 votes.

Mayor Vincent Francia earned the title of "Mayor for Life" as did Mayor Herb Drinkwater in Scottsdale as Francia entered his seventh two year office term. Even uncontested, his 828 votes from a total of 1,093 was substantial.

Food for thought Mayor, did you open the door for opponents in the next election? Francia was pushed by the faction wanting a property tax to pay for fire protection and he conceded even before the council vote where the idea went down in flames thanks to Bunch, Esser, Ralph Mozilo and Adam Trenk. Francia always votes last and he didn't have to cast the useless third vote for a property tax, but he did. Was that a signal to friends or to people he presumed are for a property tax? My desire and many others I have talked to, like a mayor who is dead set against property taxes. We have about a year to argue the pros and cons before the public votes assuming the liberal initiative is successful.

Cave Creek's home rule expenditure option won with 859 votes and Proposition 424, Southwest Gas Franchise won with 744 votes.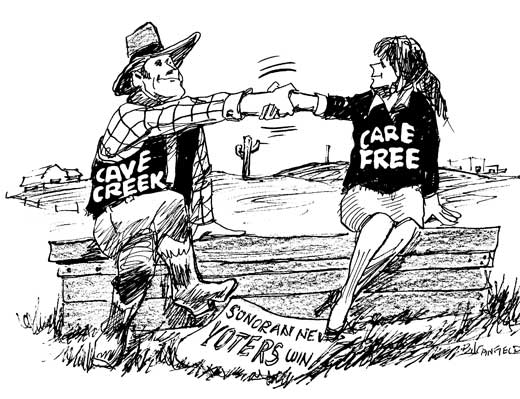 In Carefree, I mentioned David Schwan prevailed over Doug Stavoe 729 to 651 votes.

Immediately after reporting the results online I received this "Your View" which is published this week:
"Mayor Schwan: Doug Stavoe lost the Carefree Mayor race with 46 percent of the vote in his favor, which means roughly every other Carefree citizen you see in town doesn't want you in office."

When you consider about five percent separate the two, Schwan's margin should have been at least 10 points higher. Let this be a lesson to future mayor wannabes; you have to spend money, you need an effective organization of volunteers and a plan to meet as many voters as possible. Schwan did all of that and narrowly won. And consider that Schwan was against every winning initiative, ran a sloppy ship and lied through his teeth. He covered up open meeting violations, lied about his desire for a property tax and was involved in firing a whistle blower. In any case, Schwan's victory can't be considered a mandate.

Carefree deserves better, and given term limits opportunities will arise.

The highest vote, 927 out of 1,400 votes cast went to Michael Farrar. I had heard Farrar speak a couple of times when he ran for a state rep. seat and I believe he will be effective.
Next was Melissa Price with 892 votes, followed by Marty Salzman with 813. Both are deserving of the confidence voters placed in them.

Vice Mayor Glenn Miller got 777 votes and Arthur (be civil, but I won't be) Gimson was next with 730 votes. Neither are qualified to serve on the council.

The runoff candidates: Jim Peirce got 612 votes shy of the requisite 50 percent plus one and write-in candidate Jim Van Allen showed lightening can strike as he remains in the running with 585 votes.

Both will run off in the May election.

What is ironic is every initiative filed by Jim Peirce has won with decent margins. All three of the initiatives on the ballot won with a margin of about two to one. Stavoe's Proposition 421, term limits, got 881 votes. Proposition 422 which requires a 3/5 vote of council to present property tax or increase to voters got 805 votes. And finally Proposition 423, which requires voters to approve any property tax, received a whopping 929 votes.

Previous to this Peirce fronted two other winning initiatives.

But I can tell you Peirce is hated by the GOBs. One reason is his understanding of what Carefree needs, as shown by his initiatives, all of which Schwan didn't want nor would any of his ilk have offered the public what Peirce did. Peirce is also a financial genius; know anybody else at town hall who is?

It is too bad Peirce and Van Allan can't both be on the council. They are both eminently qualified.

Peirce has been a thorn in the side of the town for years and once signed away rights to avoid paying a court awarded settlement. He was recently denied filing a referendum and the town claims he gave up that right. If this is true they could have stopped his initiatives if they had enough long term memory. The issue will be if constitutional rights can be bargained away by contract.

Stay tuned. We will track this issue closely.