MARCH 21, 2011
World Down Syndrome Day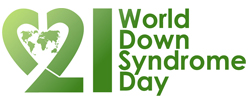 Please join DSNetwork in support of World Down Syndrome Day! To show your support, contribute a tax deductible donation of $21 or more by selecting this link.

21 March 2011 marks the 6th anniversary of World Down Syndrome Day and each year the voice of people with Down syndrome, and those who live and work with them, grows louder. But there is still so much more we can do.

Down Syndrome International encourages our friends all over the World to choose your own themes, activities and events to help raise awareness of what Down syndrome is, what it means to have Down syndrome, and how people with Down syndrome play a vital role in our lives and communities.

The internet is a powerful tool for raising awareness and we encourage people to celebrate World Down Syndrome Day through your own websites, blogs and social networking sites. However, we want to create a single meeting place where everyone can share their experiences and advertise their activities.

So please send information to us at wdsd@downsyndrome-singapore.org and we will share this with the rest of the World at our dedicated website www.worlddownsyndromeday.org.
Join our cause to create a single global voice for advocating for the rights, inclusion and well being of people with Down syndrome on 21 March.
MARCH 17, 2011
Outdoor workers need to be aware of stinging insects, biting snakes
In the Sonoran Desert, spring brings with it greater insect, bug and snake activity. Outdoor workers should pay special attention to their surroundings to avoid the stings and bites that can set them back with minor and sometimes major medical issues.



When working outside, employees should avoid wasps, bees, ants, spiders, scorpions, mosquitoes, snakes and other stinging or biting insects or animals. In fact, nearly 900 workers' compensation claims were filed with SCF in 2010 because of an insect or animal sting or bite. Keep Reading...

MARCH 16, 2011
Walk, Jog or Run in the Relay For Life
Join your friends and family on Saturday, April 30 from 6 p.m. to 6 a.m. in the Inaugural Relay For Life of Cave Creek/Carefree - a fun-filled overnight event. Relay For Life is a celebration for cancer survivors, remembrance for those we have lost and hope for the future. It's about raising money for research and programs for the American Cancer Society.

This event will take place at Cactus Shadows High School and teams will take turns walking, jogging or running laps on the track from 6 p.m. to 6 a.m. the next morning. Each team tries to keep at least one member on the track at all times. The registration fee is $50 per team and you can register online at: www.relayforlife.org/cavecreekaz.

Meetings will be held at 6 p.m. for team captains and committee members at Paradise Valley Community College, Black Mountain Campus (boardroom) on the following dates: March 29, April 12 and 26. The Relay for Life theme will be Carnival for the Cure. The event will be open to the community from 6 to 11 p.m. providing fun for the entire family with games, activities and a memorable Luminaria Ceremony at 9 p.m.

To register your team or to register for the survivor lap and dinner go to www.relayforlife.org/cavecreekaz. For additional information call Jan at 480-861-3535.