BY BECKY FENGER | MARCH 16, 2011
OSU's nuclear meltdown
The eyes of the world are on Japan and its Fukushima Daiichi Nuclear Power Plant where there have been two explosions since a devastating earthquake and tsunami hit on March 11. The cost has been reported as second only to Hurricane Katrina that hit Florida in August of 2005.

There is another storm brewing over Corvallis, Ore., at Oregon State University that could have long-lasting effects on the reputation of this institution. This explosion involves the potent mixture of academic ideology and politics at the OSU Nuclear Engineering Department. The fallout could be just as ugly.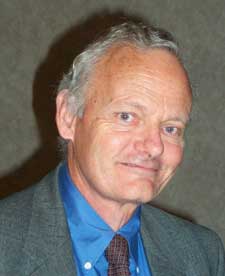 Arthur Robinson, Ph.D. (right), is a research professor of chemistry and co-founder of the Oregon Institute of Science and Medicine, along with his wife, chemist Laurelee Robinson, physicist Martin Kamen, and later joined by Nobel-winning biochemist R. Bruce Merrifield. The man is brilliant and – no surprise – has a brood of brilliant children. Three of them are graduate students at OSU.

Dr. Robinson stepped forward to direct the Petition Project, which has been signed by well over 31,000 American scientists, that opposes the hypothesis of human-caused global warming. Even though the statement was based entirely on scientific grounds published in peer-reviewed journals, the Al Goreans blasted it as merely the unsupported rantings of a few skeptics.

As if that weren't heresy enough, Dr. Robinson had the gall to run as the Republican nominee for U.S. Congress in Oregon's 4th district against incumbent Peter DeFazio, who controls the Democrat machine and directs earmark pork to OSU. DeFazio, with the help of a smear campaign bolstered by money from George Soros, defeated Robinson who was a neophyte in politics.

These two insubordinate moves did not go unnoticed. As soon as DeFazio was back in his D.C. with his far-left buddies at the House Progressive Caucus, liberal OSU moved to jettison Robinson's three children – Joshua, Bethany and Mathew – from graduate school, even though their grades are stellar and their research work outstanding. Perhaps too outstanding.

In Dr. Robinson's own words on World Net Daily: "Democrat activist David Hamby and militant feminist and chairman of the nuclear engineering department Kathleen Higley are expelling four-year Ph.D. student Joshua Robinson at the end of the current academic quarter and turning over the prompt neutron activation analysis facility Joshua built for his thesis work and all of his work in progress to Higley's husband, Steven Reese." Reese has said he will use Joshua's things for his own professional gain! Why not? Joshua's apparatus earned Joshua the award for best Master's of Nuclear Engineering thesis at OSU and has been widely complimented by scientists at prominent U.S. nuclear facilities.

The situation is just as grim for four-year Ph.D. student Bethany Robinson whose work is being terminated by faculty member Todd Palmer who is taking over her thesis and all her work in progress for himself.

The white hat in all this is OSU Professor of Nuclear Engineering Jack Higgenbotham who got wind of the scheme and warned Dr. Robinson that faculty administrators were going to make certain that Joshua, Bethany and Matthew, too, never got their Ph.D.s. He tried to help. For his efforts, Prof. Higgenbotham, president of the faculty senate and a faculty member for 24 years, is under brutal attack and may be stripped of his position and research grants. His students and staff may also get blown up as collateral damage. What a happy day for Congressman DeFazio that would be!

Nuclear engineers are not so plentiful as to be disposable. To do so because of political payback is a disgrace. But don't suggest that Robertson's offspring should sue. OSU would use their taxpayer-funded lawyers from the Oregon Department of Justice, whose pockets are deep and who have all the time in the world to drag out the suits. Not so with the plaintiffs, whose mother died when they were young and left their father to raise them and their other siblings alone.

I know Dr. Robinson and his children, and they are a credit to humanity. When the kids were very young, they would sit quietly and straight upright as their father participated in lecturing to some of the top scientific minds in the country. Soon, his children were impressing those same sharp minds with their own brains and discipline.

It is time to question our taxpayer commitment to public education when the mean-spirited Al Gores and Peter DeFazios of the world are wreaking havoc on our young scholars.