BY MARIELLE D. MARNE | MARCH 16, 2011
Soar into Ground Control Hobby Corral for family fun
Open house hosted March 19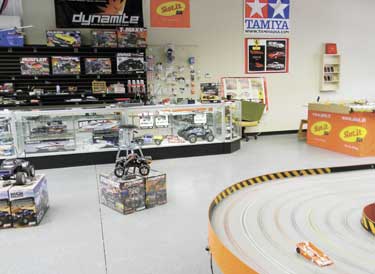 CAVE CREEK – Ground Control Hobby Corral & Slot Car Raceway may have the latest and greatest in remote control vehicles, but what stands out about this family-run business is the old-fashioned, we-care-about-our-customers attitude. Stop by the store, that opened Jan. 10, in Stagecoach Village and you'll find the friendly faces of Phil and Sharron, who strive to make your shopping experience one you'll remember. "One of the reasons we opened this type of store was to bring families together, let them have something fun to do and get the kids away from always being inside on the computer!" they explained.

You'll not only find remote control planes, helicopters, boats, cars and off-road trucks and quality name brands like Losi, E-Flight, Slot-It and Carrera, amongst others, at Hobby Corral, customers can experience the thrill of a custom-built (by Mike McConnell of Peoria) eight-lane 1/24th and 1/32nd slot car raceway track! Additionally, there's a 1/32nd digital raceway track. Rent either (or both!) by the hour or day or for corporate events or birthdays. It's a terrific way to bond with real people and not have to sit home alone playing a cheesy video game.

Along with competitive pricing on merchandise, you'll find parts, service and advice. Phil said they'll stand behind their products and demonstrate not only how to use but they'll repair where they can. "We're a true mom-and-pop business," he stressed.

Given Arizona's breathtaking and beautiful skies, Hobby Corral carries various Celestron telescopes so as to offer you (a close-up glimpse of) the moon and stars. Given telescopes can be challenging to use, guidance as well as set-up are yet other perks you can expect.
Learn more at groundcontrolhobbies.com or enjoy the open house festivities on Sat., March 19. Ground Control Hobby Corral & Slot Car Raceway is located at 7100 E. Cave Creek Rd. Open seven days, however, phone 480-575-4352 for hours.
MARCH 16, 2011
A call for support from the Cave Creek community
Pet families are counting on it
Cave Creek is home to Animal Guardian Network, a valuable community re-source providing assistance to needy pet families through outreach programs and resources. One such program is the pet food relief bank currently the largest of its kind in Arizona that provides over 7,500 pounds of pet food per month to struggling pet families. Animal Guardian Network also provides assistance with veterinary care, no fee adoptions to low income seniors and rescue and rehabilitation of dog victims in cruelty cases.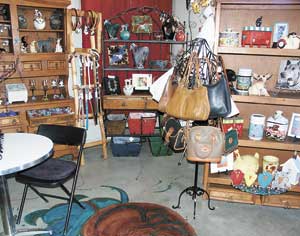 All of the programs are funded through donations and, until recently, the operations of Roxie's Charity Boutique and Gallery, which unexpectedly has been forced to find a new location. All of the income derived from Roxie's goes to support the life-saving efforts of the Animal Guardian Network, and is essential to the well being of the organization.

The Animal Guardian Network is reaching out to the community in hopes of finding a small commercial space into which to move Roxie's Charity Boutique and Gallery. During the short time Roxie's was open, it quickly became quite popular with signs of a promising future supporting a vital resource so many depend on. It is essential not to lose the momentum we have worked so hard to gain.

In our difficult economic climate it is critical that the community supports organizations providing a lifeline to those in need. Those in need count on Animal Guardian Network for assistance and we are counting on our community. By providing a new home for Roxie's you will not only be supporting Animal Guardian Network's efforts but you will be providing Cave Creek with another shopping venue as well as receiving a tax deduction.

For more information contact Carrie Singer at carr@animalguardiannetwork.org or 480-488-9298.