MARCH 10, 2011
A jewelry sale to benefit FAR!
You can help our furry friends by dropping in at the Foothills Animal Rescue Boutique store in North Scottsdale on March 19th! The store will be sponsoring a special Jewelry Sale by designer Robin Coady – where part of the proceeds will go to the Rescue! Find yourself something new for Spring, or pick up a unique Mother's Day or birthday gift.

Robin Coady sold her jewelry from 1993-2007 at Nordstroms across the nation. She sells her jewelry at private parties and functions. Her collection consists primarily of semi-precious stones and fresh water pearls with sterling silver or 14k gold and a smaller collection of finer jewelry with black diamonds, London blue topaz, sapphires and rubies with 14k gold.

Robin has a passion for animals which is why she chose Foothills Animal Rescue as one of her charities. Her jewelry is quite reasonable, as she sells all items at wholesale prices.

Foothills Animal Rescue Boutique store is located at 23030 N. Pima Road, Scottsdale. Any questions on this event, please contact volunteer Lori Bedford at 480-241-8180.
MARCH 9, 2011
Cave Creek gal is for the dogs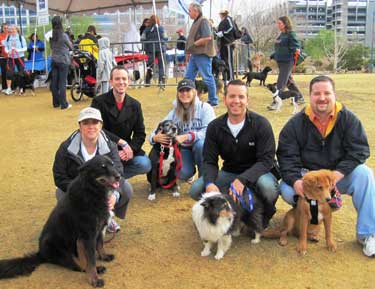 Cave Creek resident and animal lover Marla Hummel and her pooch (left in photo) partnered with her Grant Thornton co-workers and their four-legged friends to participate on the recent "PetSmart Charities Petwalk and Adoption Event," a fundraising walk and festival to help raise money for local animal-welfare agencies that will help thousands of homeless pets throughout Arizona. This walk and fundraising activity is just one of the many community outreach programs supported through Grant Thornton C.A.R.E.S. (Community Awareness and Responsibility Expressed through Service), a program created by Grant Thornton designed to demonstrate leadership not only in its industry, but also in its community. Through the program, nicknamed GT CARES, employees contribute time, money and expertise to local civic organizations, charities, universities and professional associations.
MARCH 9, 2011
Miniature Horse visits VA Hospital
Arizona Touch of Class Miniature Horse Show March 25 – 27 at Westworld
PHOENIX – One little horse put big smiles on the veterans' faces on a recent visit to the VA Hospital on 7th St. and Indian School Rd. For the past twenty years, Miniature horse owners, Jimmie and Marcia Sizemore of the Mini Occasions Ranch, north of Scottsdale, load up Mountain Dew, a 26 year old Miniature horse mare, for a trip to the VA Hospital.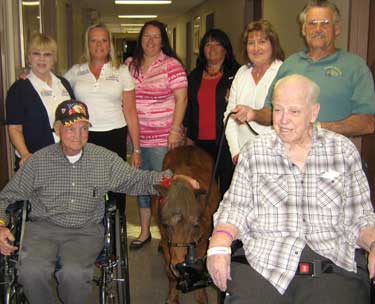 The small red chestnut mare rides in the back of the Sizemore's van, and then in the hospital building she rides up to the upper floors in the elevator along with people, patients, doctors and staff. The patients can hear the muffled sound of Mountain Dew's little clippity-clop footsteps since she wears rubber booties on her hooves so not to slip on the slick floors. Patients wait with great anticipation to see the furry head with big brown almond-shaped eyes peek around the door with her friendly whinny as if to say, "How are you today?"

Miniature horses stands 34 inches or less measured from the last hair of the mane and that makes them about the size of a large dog. Because of her tiny 32" stature, Mountain Dew can maneuver about the hospital interior with ease. She greets patients in their beds and those sitting in wheelchairs. The veterans enjoy petting her as she "muzzles up" to them, and she in turn enjoys all the attention that they give back to her.

Mountain Dew is one of several Miniature horses at the Sizemore's Mini Occasions Horse Ranch. Other talented stall mates of Mountain Dew's are Queen and Nuisy that perform as a two-horse team hitched to an elegant surrey with fringe on top. The Sizemore's horses, besides many others from all over Arizona, will be performing at the upcoming Arizona Touch of Class Miniature Horse Show on March 25, 26, and 27 at the Westworld of Scottsdale. It is a FREE event for all spectators. All are welcome to come out and meet face to face the Miniature Horses, small horses with great big personalities. Info: 480-471-3813 www.azminis-mhaa.com.