MARCH 8, 2011
Arts Council of the North Valley announces The Donna E. Kublin Art Scholarship winner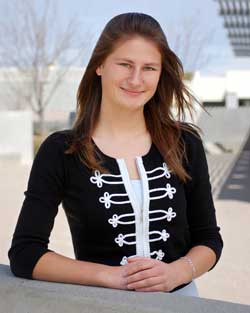 PHOENIX – Madeline Pado was awarded the Arts Council of the North Valley, Donna E. Kublin Art Scholarship for artistic excellence in Photography.

Attending Sunrise Mountain High School, Madeline was described by the judges as an impressive young woman with great promise. "Madeline's photos integrate musical arts into photography. This creative approach was very impressive. As well, Madeline has maintained an extensive regimen of extracurricular activities that showcase her dedication and commitment to achieving her goals," said Linda Schwartz, co-chair of the ACNV Scholarships Committee. Among Madeline's activities is the varsity soccer team in which she serves as co-captain, concert choir, varsity choir and drama. In addition, Madeline is an honor student.

Madeline is interested in photojournalism and will be attending Arizona State University. "I am greatly honored to receive this generous scholarship from the Arts Council of the North Valley. This award will be an immensely beneficial aid to my pursuit of a photojournalism degree at Arizona State University," said Pado. "I cannot thank the ACNV enough – not only for their monetary support, but also for their expression of confidence in my artistic potential as well as their enthusiastic encouragement regarding my photography career goals."

The Donna E. Kublin Art Scholarship will be awarded to Madeline Pado on April 30, 2011 at the ACNV Picnic Under the Stars Event held at the Anthem Community Park. In addition to the scholarship award, Madeline has been selected to photograph the event; adding to her already impressive portfolio.

The award is named after past President and Executive Director of the ACNV, Donna Kublin. One of its founders, Kublin helped guide the organization during the first five years and continues to assist the new leadership team. "I am deeply honored that the board has named the 'Artistic Excellence Scholarship' after me", said Kublin. "It was totally unexpected and heartwarming to be recognized in this special way."

Tickets for Picnic Under the Stars, the fun and fabulous fundraiser, are $35 and available by calling 623-551-3254 or visit www.acnv.org.

To learn more about the Arts Council of the North Valley, educational outreach programs, major fundraising events, upcoming programs and annual membership opportunities to support the arts here in the north valley, please visit www.ACNV.org or call 623-516-2268.
MARCH 2, 2011
Artists in Studio: Regional Teen Art Competition and Exhibit April 16 and 17
Sixth Annual Event presented by Arts Council of the North Valley
NORTH PHOENIX – Emerging young artists from North Valley high schools will be exhibiting their work as part of the sixth annual Arts Council of the North Valley (ACNV) Regional Teen Art Competition. The exhibition, which is open to the public, will be held on Saturday, April 16 and Sunday, April 17 from 10 a.m. – 5 p.m. at the Outlets at Anthem, Suite 550.

"Artists in Studio" will feature mixed media, ceramics, oil, acrylic and more. Students will be recognized at a reception open to the public on Sunday, April 17 from 3 – 5 p.m. As part of the reception, ACNV will present awards for Best in Show, Award of Excellence and Honorable Mention. The public is invited to cast their vote for The People's Choice Award.

To add a special flair to the event this year, live entertainment will be presented by Musical Theatre of Anthem on Saturday, April 16 at noon and Sunday, April 17 at 1 p.m.

The ACNV is committed to promoting the arts and has established this competition to encourage young artists to excel and showcase their work in a professional venue. Invitations are distributed throughout north valley high schools and students are nominated by their art teachers. This year's participating schools include Barry Goldwater, Boulder Creek, Cave Creek, Deer Valley, Liberty, Mountain Ridge, Sandra Day O'Connor,
Sunrise Mountain, and The Caepe School.

"The teen art program is one of the earliest educational outreach programs developed by the Arts Council and through the dedication of the board and with the support of many volunteers this program makes it possible to exhibit in a gallery like setting the visual fine artwork by ninth to twelfth grade students, to compete for top awards", said Willine Evans, program chair.

"The ACNV is passionate about providing opportunities for young people and we encourage the community to support these artists by coming to the exhibit" said Doug Clark, president ACNV. "It is exciting to see such young talent!"

To learn more about the Arts Council of the North Valley visit ACNV.org or call 623-516-2268.