'MY VIEW' BY DON SORCHYCH | MARCH 2, 2011
• Carefree • Cave Creek
There is an evil phrase bantered in Cave Creek and Carefree. That phrase is "property tax" and what could be more vile than a property tax?

In Carefree, people against a property tax allege current Mayor David Schwan is for a property tax, which he vehemently denies. But politicians have been known to lie. For instance, Schwan claims two days after his secret meeting with two other council members and three former council members (they are called walk-a-ways because all three quit rather than face a runoff election) that he couldn't remember what the meeting was about.

But is it plausible Schwan would forget what the meeting was all about two days after the event? Of course not, unless he is delusional, has dementia or lies. Take your pick. All possibilities rule him out as a mayoral candidate. His answer that he couldn't remember what he had for breakfast is a serious self-indictment.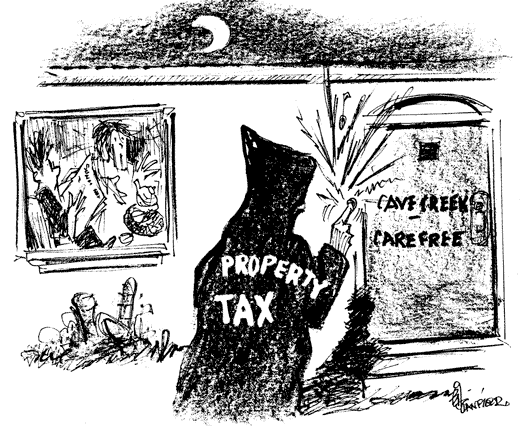 But there are three other reasons not to believe him. He was overheard by Councilman Peter Koteas indicating he was considering a property tax.

The second reason is he is against the initiatives drafted by council candidate Jim Peirce, which require a two-thirds majority vote of council to present a property tax to voters. He was also against the vote for mayor and term limits.

Another reason is when Carefree is built out, absent significantly more business, they will have no choice but to have a property tax.

So let's be honest. Carefree needs to make it profitable for tax bearing businesses to move in, not by subsidies of taxpayers' money as they are now doing for the Carefree Business Group, whose principle writes to an inane blog using a dead person's name, as Hollis Pagliaro did.

Towns can improve their attractiveness to business by discarding ordinances which send an "unfriendly" alarm signal to prospective businesses. It doesn't help to have 18th century traffic policies which result in Carefree's listing as a speed trap with horse and buggy speed limits.

Now, GOBs, like the village idiot Joe Intenzo, say I hate Carefree. Empty heads have such illusions. I don't hate Carefree, I just don't support people on council who are led by the nose by people like Intenzo and his friends.

GOBs preach civility for everyone but themselves, as does the Democrat party. Dr. Herbie Hitchon even admitted in writing that he videos council meetings to have a record of what mayoral candidate Doug Stavoe says. If he were an activist he would try to keep both sides honest, not just the gifted challenger to Mayor "I can't remember what I had for breakfast" Schwan.

It is even more hilarious to see Herbie's wife (Lyn) justify that the many-named Hollis Pagliaro baptized name also included her deceased mother's name so it was OK that she signed her mother's name. However, it still doesn't justify using a name by which no one would identify her. It is clear Pagliaro tried to trash Stavoe without being identified. I hope there is a motion on council to dump Pagliaro and stop giving taxpayers' money to such causes and politically aligned people who don't even live in Carefree. It is not council's job to spend tax money for businesses; they just need to get out of the way.

Cave Creek
Speaking about getting out of the way, that is what Ernie Bunch, Disk Esser, Ralph Mozilo and Adam Trenk did by voting down the idea of seeking voter approval for a property tax. They were saying there was insufficient information provided to them to do something as drastic as a property tax.

Yet they are being pilloried by those anxious to pin a property tax on all citizens. Venom is being visited on Bunch and Esser, since both Mozilo and Trenk are stepping out of council. The likelihood is that Shelly Anderson and ex-councilman Thomas McGuire will be seated assuring a liberal big government majority. McGuire is a well-known, way-left liberal since he spent his working life teaching school.

The good news is a property tax will not come up again until May 2012. Maybe that is enough time for sanity to prevail.

There is a guy named Ted Farris who wrote a long e-mail to an unknown group of recipients advising voters to not vote for Bunch and Esser. He is one of the twenty seven who were hand chosen by the town manager to draft a petition to the council to approve a public vote for a property tax.

They did and they lost.

Ted Farris apparently lives here but he has been a bureaucrat for years. He was once an aide to Governor Hull and argued for the ill-fated use of propane and gasoline vehicles with a heavy state subsidy to purchase the vehicles. Hull, about as bright as Ferris, bit, the alt-fuel fiasco later went down in flames and a state legislator lost his powerful seat with a messy conflict of interest.

Hull was unhappy with Ferris but gave him golden handcuffs with a position as the President and CEO of the Arizona Sports and Tourism Authority. It was bad enough the Bidwell family got a tax-paid stadium, but Ferris presided over a substantial cost and schedule overrun and rumors flew the Cardinals were trying to get rid of Ferris because they were required by contract to cover the cost of overruns.

The stadium cost was initially $332 million but audit says it was over $465 million. So this bureaucrat who fooled Governor Hull into subsidizing dual fuel cars didn't do any better being responsible for a 75 percent taxpayer funded stadium and now he wants to tell us how to vote.

His missive, forwarded to a number of people by Ben Burgoon, a Rancho Mañana HOA property tax aficionado, is replete with inaccuracies and assaults anyone who has the temerity to disagree with property taxes.

Even though only one person won't be elected of those running, he suggests, "All Rural Metro (sic) subscribers should limit your 'yes' votes to Francia, LaMar and Bruce and any new candidates to the council who support our position – and withhold your votes for the incumbents Trent (sic), Mozilo, Esser and Bunch."

Just reverse his suggestions and avoid the nanny state that wants to pick our pockets with a property tax.