MARCH 4, 2011
Pinnacle Peak Country Club hosts Tee it Up for the Troops Golf Tournament
SCOTTSDALE – Pinnacle Peak Country Club is honored to host the 'Tee it Up for the Troops' Golf Tournament on Wednesday, March 16. Tee it up for the Troops, Inc. is a non-profit organization that supports the fallen and disabled members of our Armed Forces, and their families. They contribute scholarships, transportation, housing and athletics to those currently serving and their families, and to a variety of military support programs.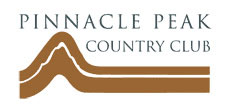 Pinnacle Peak Country Club's members have displayed unwavering support for this event as more than 150 golfers will take to the links to raise money for those who have been wounded in battle and to show their appreciation for the troops. Each foursome will be accompanied by a wounded warrior, Military person or a celebrity. The real celebrities will be the troops from Walter Reed Army Medical Center who will be flown in to play this event.

To kickstart the tournament at 12 p.m. there will be a military ceremony with a stirring tribute to our men and women of our military, past and present, complete with a bag piper, Honor Guard honoring all service branches, and a flyover. The National Anthem will be performed by Country Musician Rockie Lynne. At 5:30 p.m. a reception and dinner is scheduled that includes prizes and a live auction. Rockie Lynne will entertain throughout the evening. Rocky was Billboard Magazine's #1 Country Singer for 10 weeks.

"Tee it up for the Troops does a great job of using golfers' love for this great game to show support for the bravest of American men and women," said Brian Straight, General Manager of Pinnacle Peak Country Club. "I'm happy our members are excited to step up to the tee to say thank you to those who have served us so well."

Pinnacle Peak Country Club is located at 8701 E. Pinnacle Peak Road, Scottsdale. Visit www.pp-cc.org.