BY PETE MOHR | FEBRUARY 16, 2011
#9 Hoop Gals, #15 'The Gumps' at State; Same venue vs. #8 Peoria Girls, #2 Peoria Guys
Ladies in 8th straight State Tournament; Guys, 1st since 2007
CSHS – Former Head Coach Bill Dolezal (now STMS principal) is rightfully credited with laying the foundation for a competitive Girls Basketball program at Cactus Shadows. His Lady Falcons went to three consecutive States, including a "Final Four" loss to then (Flagstaff) Sinagua in '06. Keep Reading...
BY PETE MOHR | FEBRUARY 16, 2011
'Other' Falcons eliminate our 'Birds in Soccer Semis
Lauren Lazo named Desert Sky Player of the Year; Jeff Vittorio honored as Region Coach of the Year
CSHS – Darn those (Tucson) Catalina Foothills "other" Falcons! First, they eliminate our Gals and Guys from the Soccer State Tournament; then they roll on to capture both State Championships. Keep reading...
BY PETE MOHR | FEBRUARY 16, 2011
Easterbrook, Curley ice 'Senior Night' win!
For the Desert Sky Region champion Lady Falcons, headed for their eighth straight State Tournament appearance, Feb. 10's 37-28 victory over the tenacious Campo Verde Lady Broncos had just about the perfect ending. After junior Tri-Captain Ashley Nguon had driven the lane for a 33-28 home lead, senior Tri-Captains Kelsey Easterbrook and Kara Curley stepped to the line and nailed two free throws each to ice the game.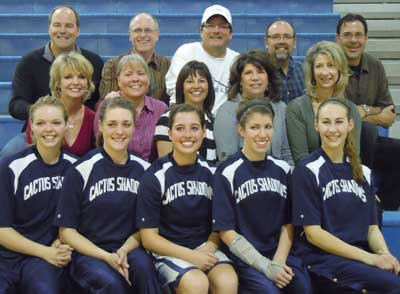 There were Postgame smiles all around for the five seniors and their proud parents: Mackenzie Coleman (Lori and Bruce Coleman), Curley (Kathleen and John Curley), Easterbrook (Lori and John Easterbrook), Rachel Manak (Norma and Charles Manak), Kaylee Paciora (Christine and Alan Paciora).

Congratulations, Ladies and parents, on your CSHS basketball careers. Keep the "mo" goin' at State!