BY PETE MOHR | FEBRUARY 9, 2011
Cheer (1st), Pom (2nd), Stunt (2nd) regain A.I.A. Spirit Line Title
Sixth straight championship for Cheer! First Spirit Line win in "new" Division 2
PRESCOTT VALLEY – Late afternoon, Saturday, Feb. 5, having shopped successfully at Garland's Indian Jewelry (Oak Creek Canyon) for my only grandson Will Parker's 12th birthday present, I did my best Charles Kuralt imitation by opting to drive (for the first time) 89A southward through Sedona, then Jerome, next over Mingus Mountain's 15 miles of switchbacks. Destination: Tim's Toyota Center, Prescott Valley, site of the 2011 Arizona Interscholastic Association's Spirit Line Championships. Keep Reading...
BY PETE MOHR | FEBRUARY 9, 2011
Soccer squads advance to Semis; both face Catalina Foothills at Tucson High
Girls, Feb. 9; Boys, Feb. 10, 7 p.m.
CSHS – There will be "Falcons" in Saturday's Girls and Boys Soccer, Division 2, championship matches at Tucson High School. The questions is which Falcons? Ours? Or those "other Falcons" – Tucson's Catalina Foothills? Keep reading...
BY PETE MOHR | FEBRUARY 9, 2011
McClintock spoils Feb. 4 'Senior Night', 72-64; Notre Dame protects their Feb. 8 'Senior Night', 65-51
To make State, Falcons 'must win' at Campo Verde, Wednesday night, Feb. 9
CSHS – Friday evening, Feb. 4, Falcon fans were all set to honor senior co-captains Casey Perrin and Max Gersh. Terrific photographic banners of both players hung on the north wall of Barrett Gym. Keep reading ...
BY PETE MOHR | FEBRUARY 9, 2011
Repeat D-Sky champs to State!
CSHS – Like the old Smith Barney ad, these Hoop Gals "earned it," snapping (at home, Feb. 1) Saguaro's six-game winning streak, 40-35, then edging (on the road, Feb. 3) McClintock, 53-50. The two victories clinched the Lady Falcons' second consecutive Desert Sky Region championship and their eighth straight appearance at State.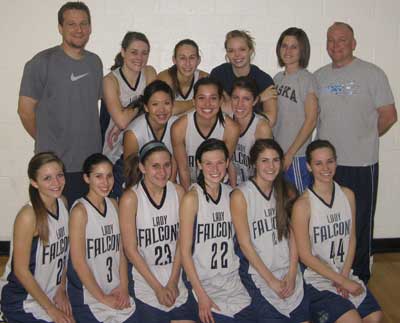 (Front, l-r) Kassidy Burns (SO), Taylor Hartman (SO), Dani Zalewski (SO), Sarah Torosian (SO), Brooke Cappel (SO), Jessica Sobieski (SO); (middle, l-r) Tri-Captain AshleyNguon (JR), Tri-Captain Kelsey Easterbrook (SR), Rachel Manak (SR); (back, l-r) Head Coach Ryan Pletnick, Tri-Captain Kara Curley (SR), Kaylee Paciora (SR), MacKenzie Coleman (SR), Assistant Coach Emily Shoulders, Assistant Coach James Carrick.

At home, Tuesday evening, Lady Falcons made it five-in-a-row, downing Notre Dame, 41-35. Thursday, Feb. 10, Campo Verde comes in for "Senior Night." Let's have a good crowd to give the LadyBirds a big send-off to State. Good luck, Ladies!