FEBRUARY 2, 2011
Business to Business

The Summit Chiropractic health center offers you relief from spinal aches and other pains now. One hour massages only $19. Set up a consultation by calling 480-656-0263 today. Located at 28230 N. Tatum Blvd., Suite C3.
Protect your pet by taking it to the Animal Hospital in Terravita. Regular check-ups can help prevent your pet from harmful and life-threatening illnesses. Call to set up an appointment or for any other of their services such as vaccinations, dental care, and laser declaws. 480-447-0751. Located at 34462 N. Scottsdale Road, Suite B-1.
If you're craving some good Italian cooking, go to Alberto's. Select Italian dishes are served just for you. To make a reservation, call 480-488-5800. Located at 7171 E. Cave Creek Road.
You can always depend on the Summit Insurance Agency. The Agency shops the market for the best possible prices for you. They specialize in both commercial and personal insurance. Feel safe today with Summit Insurance Agency. Call 480-355-1196 or visit their location in Carefree, 36600 N. Pima Road #301.
Cambridge Properties are located all around Arizona. Cambridge provides beautiful urban communities in Phoenix, downtown Scottsdale, Tempe, and Camelback. For more information call 602-493-5100 or visit their website, www.CambridgeProperties.com.
Foothills Granite Supply offers you landscape granite, top soil, gravel, and boulders. Foothills Granite will match or beat any pricing as well as assist with installation. Now buy 3 tons of any material and get the 4th free or receive free delivery of 3 tons or more rip rap. Call 480-488-9003 for additional information.
Valerie's Furniture and Accents is Cave Creek's chic cowboy/cowgirl furniture and accessories store. Check out all of the classic western furniture at their Cave Creek location, 6070 E. Cave Creek Road, or visit their website, www.ValeriesFurniture.com.
FEBRUARY 2, 2011
Local Grand Opening Event a fun success!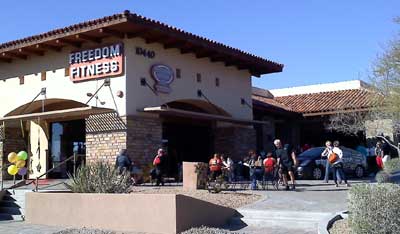 SCOTTSDALE – On Saturday, Jan. 29, Freedom Fitness held the official Grand Opening Event celebrating the launch of their second club located in Troon at Jomax and Alma School roads. Friends, family, members and the neighborhood were invited in for a day of fun, food, wine, great live jazz music and a tour of the new fitness club. The day was sunny and just perfect for a party, AZ style! Owner Rich Draizin was kept busy all day greeting members and guests.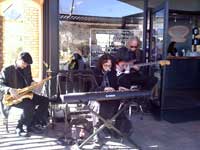 The live music of Judy Roberts and her jazz trio (regular performers at Remington's Lounge in the Scottsdale Plaza Resort) was a real treat; some folks just couldn't help themselves and just had to have a dance or two. "All in all," stated Rich Draizin, "the day was perfect. The Grand Opening wasn't just a success, it was a lot of fun!"