BY MARIELLE D. MARNE | FEBRUARY 2, 2011
Dine with your darling on Valentine's at Alberto Italian Restaurant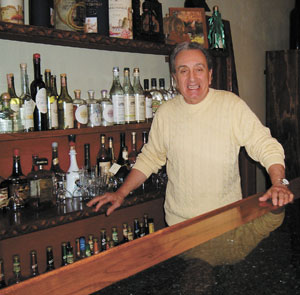 Alberto Liani, owner and chef of Alberto's.
Photo by Marielle Marne
CAREFREE - If you're looking for authentic Italian cuisine this Feb. 14, don't rule out Alberto Italian Restaurant. Yes, Alberto's is usually closed Mondays, but owner Alberto Liani assured not only will he be open, but he will be serving a special "Lovers' Menu." Details are still being tossed about, but it will be foods that can be lovingly shared, perhaps three colorful pastas on a single plate. The epitome of romance! As always for special occasions, make reservations early.

Alberto is in his ninth year in Carefree. To his longtime customers he offered, "We want to apologize for being closed so long after the fire and for depriving everyone of our good food." Since it reopened, the place looks beautiful and the food is as delicious and true to Italy as ever. With 30 years of experience and a celebrity following from his former L.A. restaurant Il Giardina for 12 years, it is certainly evident why diners missed his entrees so much while the eatery was closed for renovation.

Alberto reviews his receipts nightly and only keeps his most oft requested dishes. Some of the favorite faves? The thin crust pizza. The secret may be that Alberto makes his own mozzarella! The Caesar salad also has a following. Tiramisu is like an Italian institution. And Alberto makes it the right way. "Many chefs add liquor to the tiramisu. No, no, tiramisu means 'pick me up.' That's the espresso in it. Alcohol brings it down, it doesn't pick you up!" Alberto explained.

Not only does Alberto have the experience and the schooling to be the impressive chef he is, but he's also the longtime vice president of the organization Ciao Italia. It touts everything authentically Italian, including said sauces and nothing pre-made, as good food should be! Yet despite his success, Alberto remains humble. "I'm the second best chef," he offered. The first? "Your mother!" Truly, that's the food we first all know and love.

Join Alberto on Valentine's Day at 7171 E. Cave Creek Rd. (Remember, he's normally closed on Mondays.) Call 480-488-5800 for hours, directions and reservations.