JANUARY 26, 2011
Tierra Madre to host 'Family Day'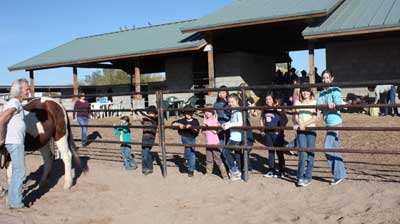 CAVE CREEK – Tierra Madre Horse Sanctuary will be hosting "Family Day" at the ranch on Saturday, Feb. 5, from 9 a.m. – 2 p.m.

As part of its on-going series of events held at the ranch, "Family Day" will provide families of all sizes and all ages the opportunity to meet and interact with the 34 horses that call Tierra Madre home.

Tierra Madre is the 'forever home' to almost three dozen horses that had been previously abandoned, neglected, injured or abused. There are ex-racehorses, ex-show horses, ex-ranch horses, ex-rodeo horses and a number of just plain ol' horses.

The one thing they all have in common now is that they're happy and healthy.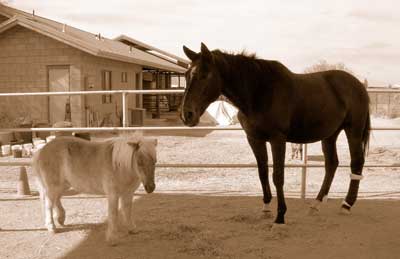 During "Family Day," kids will be able to ride horses, paint horse shoes, have their faces painted, feed carrots to the horses and just have a day of playing at the ranch and with horses.

"We're adding a couple of new touches, too," says Jim Gath, Tierra Madre's executive director. "We'll have sack races and three-legged races and other games the entire family can join in on. We want people to feel they're always welcome here – especially if they love horses."

As always, Tierra Madre will have a complete offering of horse-themed merchandise available, from horse shoe wind chimes to pillows and wall hangings to works of art actually painted by the Horses of Tierra Madre.

There will be refreshments and food provided by Rosati's Pizza, a local favorite.

There is a $5 donation for adults and children 12 and under are free.

For more information and easy-to-follow directions to the ranch, call Jim Gath at 480-747-1070.