BY PETE MOHR | JANUARY 27, 2011
Soccer Gals blank Saguaro, 6-0, to nab "last" Desert Sky Title
Bethany Park (2), Brenna Leech (1), Lauren Lazo (3) account for 6-goal winning outburst in 2nd half
FALCON STADIUM – Pick your "storyline" from the Lady Falcons' regular season finale on Jan. 26:
• Their 6-0 shutout over the Saguaro Lady Sabercats to finish a perfect 7-0 in Region, thereby crowning the LadyBirds as the "last" Desert Sky champions. Keep reading...
BY PETE MOHR | JANUARY 26, 2011
Soccer Guys blank Mac, 3-0, on 'Senior Night' but can't spoil Saguaro's two nights later
A defiant Head Coach, Tony Vos, confident Falcons will go all the way at State, starting Feb. 2
CSHS – Tony Vos to Sonoran News: "It's like I told our kids on the bus ride home: sometimes, no matter how well you play, when the breaks don't go your way, you're gonna lose some games. That's what happened tonight." Saguaro, 3 - CSHS, 1. Keep reading ...
BY PETE MOHR | JANUARY 26, 2011
Hoop Gals stumble at Campo Verde; 'get well' at home vs. Poston, 59-31
If the Lady Falcons can hold on to their #2 Spot in Desert Sky, they'll make State

CSHS – After Monday's practice, Head Coach Ryan Pletnick to Sonoran News on his squad's Jan. 21 road loss to "newcomer" Campo Verde, 37-41: "I was sick to my stomach! Up by three points with three minutes left in the game, and we couldn't finish. We've got to learn how to play with urgency; because from here on in, for us to make the State Playoffs, it's do-or-die." Keep reading ...
BY PETE MOHR | JANUARY 26, 2011
'Friday Night Fever!' CSHS, 63 - Campo, 51; Falcons get big road win at Poston, 59-48
Co-Captains Casey Perrin, Max Gersh pace both victories
CSHS – Before last Friday night's home game against Campo Verde, one of three "new" schools in the Desert Sky Region, Head Coach Tyler Dummett opined to Sonoran News, "I think Campo Verde has a pretty good team. Tonight, we should find out what we're made of." Keep reading ...
BY PETE MOHR | JANUARY 26, 2011
#2-ranked Gals (Feb. 1), #3-ranked Guys (Feb. 2) in 1st Round State Soccer at Reach 11
"If it ain't broke, don't fix it!" But the Arizona Interscholastic Association has "fixed" the format for this season's Soccer State Tournaments: no home matches. The "compensation" is the top eight seeds will play their first two matches (if advancing from the 1st Round) at the neutral site closest to their respective schools. For the Falcons – Boys and Girls – that sends them to Reach 11 Sports Complex (on Deer Valley Road, just east of Cave Creek Road), where the soccer fields are exponentially superior to the worn-down surface at Falcon Stadium. At Reach 11 there are no bleachers so bring your seating of choice. Beginning Saturday, Jan. 28, go to aiaonline.org for detailed scheduling (dates, opponents, field #s, start times), both tournaments.
BY PETE MOHR | JANUARY 26, 2011
An exciting halftime addition!
Senior Elyssa Hartsock is one of this writer's favorite Lady Falcons. Not only does she ably patrol centerfield for Head Coach Danica Gianni's softball Falcons, but she's also a talented percussionist for Music Director Gary Wykoff's "Falcon Pride Marching Band." Last Friday night, at Falcons-Campo Verde halftime, to music and a drill routine she wrote, fans were treated to the exciting debut of the band's Drum Line. Their performance was terrific! Pictured below are (l-r) Elyssa Hartsock, Senior, Max Weiden, Freshman and Tom Chabot, Junior.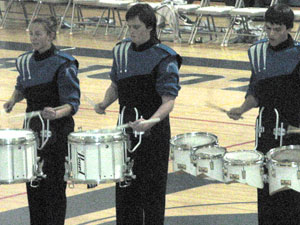 Congratulations to Elyssa and her six colleagues listed below who provided a musically-innovative addition to varsity basketball halftime entertainment:
Evan Frear, SO, bass drum
Matt Pearce, SO, bass drum
Max Wieden, FR, snare drum
Ryan Dietzenbach, SO, tenor drums
Tom Chabot, JR, tenor drums
Evan Kolbet, SO, cymbals

Drum Line will be on-court again, Friday, Jan. 28, at Falcons vs. Queen Creek halftime.